Play Therapy Activity
The Cereal Box Theater 
Your play therapy client,or Beyond Art Therapy client, can create a cereal box theater and use clip art to create the play therapy puppets.
I use this play therapy activity as a warm up to play therapy miniatures. I like to start my play therapy clients out with clip art or miniatures that represent the play therapy client's personal roles they take on in real life.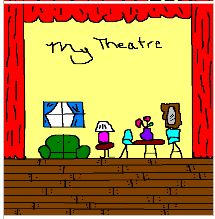 It is easier for a play therapy client to identify life roles and attach a miniature or clip art cutout than feelings.
Try this play therapy exercise before you introduce feeling miniatures to your client.
This fun play therapy activity teaches you how to create the play therapy puppet stage out of the cereal box.
Your play therapy client can decorate the stage with colored paper or construction paper.
Materials Needed For Play Therapy Activity:
- One large or small empty cereal box
- Clip Art or Magazine Cut outs
- Popsicle sticks or Pipe Cleaners
- Small props you can move around (seasons, places, past, present, future)
Magazine clip outs work well for the play therapy puppets needed in this activity.
Ask the client to preview some magazines before your session and bring the cut outs or clip art with them.
Think of how stage production uses props in a play. Create a setting or theme for your cereal box stage.
Other Materials You Could Use:
Markers Glue Glitter Sequins Fake Jewels
The Cast of Characters for the Play Therapy Cereal Box Theater: Ask the client to name several roles they have to take on in their daily life.
Examples are parent, employee, friend, daughter, son, sister, brother, artist, golfer, coach, teacher, mentor, etc.
Directions for Cereal Box Theater Play Therapy Activity:
1. Set up the play therapy cereal box theater. Cut out the front of the box to create a theater look.
2. Decorate the outside of the play therapy cereal box theater. Create props from colored paper or construction paper. You may want to think of how you would set a stage if you were writing a play on your own life. What would your personal set look like?
3. Take the clip art or cut outs from magazines and turn them into puppets or miniatures. Explore the character roles and ask each one why they are in the theater world? What job they do in the world? See more questions below.
Extension:
Have the play therapy client create a past, present, future inner world. This can take up to three sessions to complete this activity.
Questions for the Play Therapy Cereal Box Theater World Play:
1. Who, what, why and where are your characters in this play? Identify the roles and why they exist in this play.
2. What do the role character play love, hate, or fear? Who are the heroes and who are the villains? If there are any negative characters, how can they be more accepted in this play?
3. What patterns happen is play therapy theater world? Which characters are responsible for the patterns of the play?
4. Who needs to change certain behaviors or attitudes in your play therapy theater world? Who do you need to dismiss from your play, or give another job to?
Who needs a lot of attention and why do they need so much attention? Who wants to change, and who is not ready to change? Who is getting in the way of needed change?
Who sets up road blocks, and who tears road blocks down? Who is in denial? Who is distorting the reality of the play therapy theater play?
5. What characters need to be added to your play therapy play? What characters are accepting and can help you with your own growth in self-awareness?
6. What props do you need in your play therapy play to help you move closer to self-awareness? Do you need to add or take away furniture, houses, cities, bridges, rivers, or mountains for protection?
7. Who has the all-or nothing thinking (black/white, good/bad, and winner/loser) in this play therapy play? Who is happy, sad, angry, active, or sedated in this play therapy play?
8. What do you want your future play therapy theater play to look like? What characters need to leave? What characters need to stay?
Who needs to change in order to be allowed to continue the play in the future? How do they need to change to make your life better?

More Creative Creative Counseling 101 Ideas
Continue to seek training as a Beyond Art Therapy therapist and Play Therapy Therapist:
House-Tree-Person Art Therapy Technique 

What do the colors mean in Art Therapy & Color Psychology? 

Shelter House Art Therapy Technique 


Art Therapy Family Portrait Drawing 

Art Therapy Self-Portrait 


Art Therapy Interpreting Drawings 

Get More Ideas Here: Creative Counseling 101 Home 

Anger Management & Art Therapy Crinkled Paper Technique 

Art Therapy Counseling Pictionary 

Art Therapy Christmas Tree Drawing & World 

The Three Animals Art Therapy Technique

The Kinetic Family Drawing Art Therapy Technique/a> 

The Kinetic School Drawing Art Therapy Technique/a> 

String of Lights Art Therapy & Genogram Drawing Technique 


Art Therapy / Anger Mangement Angry Snowball Technique
ee More Art Therapy Ideas Here:

Adult / Child Coloring Book Page Meditation: Paradise Island Technique

Disclaimer: This website and its content is intended for trained licensed mental health professionals and school certified mental health professionals to use for their clients / students at their own discretion.
*If you ignore the disclaimer above are using these techniques on yourself and you feel any discomfort or upset it is highly suggested that you seek out a licensed  mental health professional immediately.
"Beyond Art Therapy" is the concept from Dr. Stangline that combines all creative fields in therapy. It is not the traditional "art therapy" but goes beyond to include sand tray therapy, play therapy, mindfulness, meditation, color therapy, cognitive behavioral therapy, and a vast majority of other therapies.
For any other type of mental health emergency call your local 911 / Police Number immediately.
Dr. Stangline does not offer advice / suggestions to anyone who is not a professional mental health provider, or a student who is studying this field and has questions about mental health programs of study.