Sand Tray Therapy 101 eBook

Purchase Page Found Here:
Let me teach you the techniques that I have taught hundreds of graduate students! This is a step by step book that is based on my sand tray therapy class at Mercer University in Atlanta. I will show you everything you need to know in this eBook.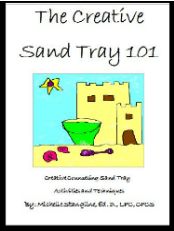 Download Your Copy of The Creative Sand Tray 101 Today for only $39.95! 
Now you can have the actual book that I teach from in my graduate classes for sand tray therapy!
This book contains 147 pages of sand tray how to do it instructions, ideas, and activities to help you be a creative sand tray therapist.
Although this is not a class, you can follow my graduate class at your own pace with these step by step instructions.
Inside this book you will find worksheets your client can use in sand tray therapy for a deeper experience.
You will love this books simple format that takes your through the actual steps of sand tray therapy.
To Purchase:
You can download your copy today for only $39.95! Just press the Buy Now Button below:
---
See More "How To Do Counseling" eBooks for sale below: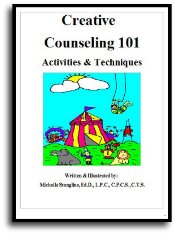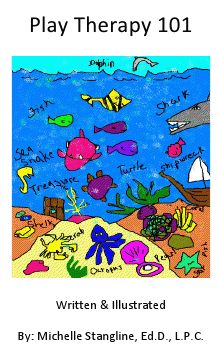 See other eBooks from Creative Counseling 101 on the links below:
Creative Counseling 101 eBook

Creative Counseling 101 is filled with colorful worksheets and activities for your clients to use in therapy.
See the link below for more information:
Creative Counseling 101 eBook Information Page 


Play Therapy 101 eBook
Now you can take my play therapy 101 class in this colorful step by step guide. This is the actual lesson format and book I use in my graduate play therapy class!
See the link below for more information:
eBooks to Play Therapy 101 eBook Information Page 

Sand Tray Therapy 101 eBook to Creative Counseling 101. com Home
Disclaimer: This website and its content is intended for trained licensed mental health professionals and school certified mental health professionals to use for their clients / students at their own discretion.
*If you ignore the disclaimer above are using these techniques on yourself and you feel any discomfort or upset it is highly suggested that you seek out a licensed  mental health professional immediately.
"Beyond Art Therapy" is the concept from Dr. Stangline that combines all creative fields in therapy. It is not the traditional "art therapy" but goes beyond to include sand tray therapy, play therapy, mindfulness, meditation, color therapy, cognitive behavioral therapy, and a vast majority of other therapies.
For any other type of mental health emergency call your local 911 / Police Number immediately.
Dr. Stangline does not offer advice / suggestions to anyone who is not a professional mental health provider, or a student who is studying this field and has questions about mental health programs of study.