The Art Therapy 101 eBook
Learn How to do Art Therapy

Here is the newest book to the collection of "How to do Therapy" eBooks from Dr. Michelle Stangline.
Over 300 pages of Art Therapy Activities and Techniques for all mental health professionals to use, not just art therapist!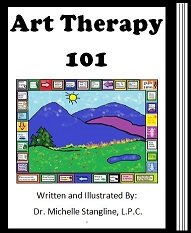 Yes, you can use art therapy in your private practice, school, home, and work place. Let us teach you how!
Dr. Stangline has taught art therapy to grauduate school counseling students at two major universities in Atlanta. Learn the exact techniques that graduate counseling students study in graduate school!  
Only $39.95
To Purchase Your eBook Copy Click The "Buy Now Button" Here:
Table of Contents Below: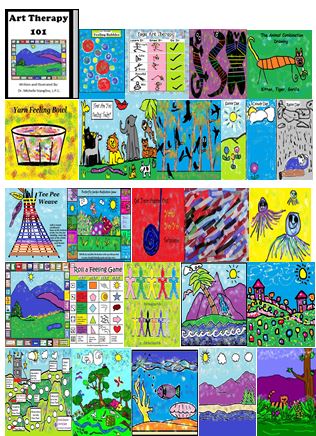 Table of Contents
My Personal Story on Art Therapy                  P. 10
The History of Art Therapy                            P. 15
The Developmental Stages of Art Therapy      P. 29
Interpret What a Client Tell Us through Their Art in Art Therapy                                                                    P. 31
The Basic Structure, Style, and Form of Art Therapy                            P. 33
Cautions of Interpretations of Art Therapy Drawings                           P. 35
Art Therapy Warm Ups        P. 36  
-     Animal Drawing Warm Up
-     Where Are You Today?
-     Art Therapy Guided Imagery Warm-Up
-     The Feelings Tree Warm-Up
The Kinetic Family Drawing          P. 44   
The Kinetic School Drawing                        P. 53
The Modified House- Tree- Person- Drawing  P. 60
The Modified House-Tree-Person Drawing    P. 62 Translations
The House-Tree-Water-Sun-Moon-Drawing P. 64
The Animal Combination Drawing                P. 69
The Three Animal Drawing Technique          P. 70
The Family Portrait Drawing / Self Portrait Drawing                                      P. 75                                                            
The Scribble Drawing                    P. 85
The Scribble Game Technique        P. 87
The Scribble Chase Game              P. 88
The Modified Scribble Game           P. 89
The Scribble Creations Technique    P. 90 
Catastrophe or Not?                       P. 91
Art Therapy Miniature Worlds          P. 95
-     The Healing Garden
-     Under the Sea
-     Cereal Box Theater
-     The Circus
-     Personal Fairytale
-     The Jungle
-     Private Islands
The Mandala                               P. 124
-     Learn How to Use the Mandala
-     Creative Mandala Ideas
Genograms in Art Therapy            P. 140
-     Male & Female Genograms
-     Family Solar System Genogram
Shelter House Art Therapy Technique        P. 151
-     Shelter House Printables
Anger Management in Art Therapy  P. 163
-     The Paper Crinkle Technique
-     Anger Management Data Collection Chart
-     The Frozen Snowball Technique
-     The Tower Anger Management Technique
-     The Angry Blob Technique
Art Therapy Groups                 P. 177
-     Art Therapy Counseling Groups Technique
-      Art Therapy Group Warm-Up
-     Positive Behavior Group Lessons
-     Caging Negative Behaviors
-     Positive Performing Animals
Mask Making & Role Play
Stress Free Confetti Activity
Family Lights Art Therapy Activity
Meet-in-the-Middle Art Therapy Activity
Sunny-Cloudy-Rainy Day- Drawing 
Art Therapy Meditation
Art Therapy Word Meditation
Highlight the Feeling Color Therapy Activity
Color Therapy Meditation Cards
One Color Art Therapy Drawing Technique
The Crayon Box Meditation Technique
Multiple Color Crayon Box Drawing
Draw in One Color Technique
Meditation in Art Therapy         P. 203
 -Coloring Book Meditation & Art Therapy
- Color Meditation Self-Portrait
- Under the Sea Art Therapy Meditation
- Paradise Island Art Therapy Meditation
Art Therapy Affirmation Cards   P. 230
Color Therapy Paper Dolls
Paper Dolls Family Portrait
Art Therapy with Yarn               P. 238
-     Yarn Monster Balls
-     Yarn Yo-Yos
-     Yarn Dolls
-     Feeling Yarn Balls
-     Plate Weaving
-     Branch Weaving
-     Tee Pee Weaving
-     Snakes, Lizards, and Butterflies Yarn Techniques
Art Therapy Games                P. 262
-     Butterfly Garden Meditation Game
-     Roll-A-Feeling Game
-     Play Therapy Pictionary
Behavior Help                         P. 267
-     Daily Behavior Game for Kids
-     Animal Crackers Behavior Help
Music & Art Therapy                P. 275
Yoga Art Therapy                    P. 276
Feeling Bubbles
Invisible Scars
Miracle Question Star Activity
Your Own Personal Growth as an Art Therapist                               P. 288
About Dr. Michelle Stangline    P. 300