See The "Award Winning" & "Best Selling" Creative Counseling 101 eBook Here!

Learn Everything You Need to Become a More Creative Therapist Today: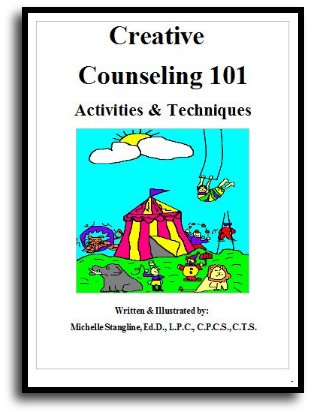 Learn everything you need to know about bringing creative counseling to life in your private practice, clinical setting, or school counseling program with  "Creative Counseling 101 eBook"!
Learn Step By Step Therapy:
Learn how to be a more Creative Therapist with the Book that started it all!
- Graduate School Counseling book used by hundreds of graduate counseling students! Learn what they teach in Creative Counseling Classes at a major university! 
- Includes full color reproducible worksheets with most activities.
- Winner of the Counselor Writer of the Year Award, 2011, Georgia Regional Award
- "This eBook is excellent for the beginning counselor as well as the seasoned therapist! , Dr. Coleen Roberts, Georgia State University College Professor.
"I wish I had this Creative Counseling 101 eBook when I first started out as a counselor. It would have made therapy so much better for my clients and for myself!" Sonja Webb, Licensed Professional Counselor.
Get Even More Creative Counseling Techniques and Activities for only $39.95!

Learn even more about Creative Counseling 101 techniques in this 159 page book. This colorful book has even more ideas to help you become the best Creative Counselor you can be!
Creative Counseling techniques that are included in the book are:
Creative Play Therapy Activities With Reusable and Colorfully Illustrated Worksheets

Creative Sand Tray Therapy

Creative Warm-ups with Clients

Creative Self-Esteem Techniques with Illustrated Worksheets

Creative Anger Management Techniques with Illustrated Worksheets

Creative Miniature Worlds with Illustrations

Ending the Therapy Sessions
"Buy Now Button"
It's a very simple download, but if you have any trouble at all, please me personally at mstangline@gmail.com and I will be happy to help you. This book comes in an instant PDF file and can be opened easily with Adobe reader.
ALL MAJOR CREDIT CARDS, DEBIT CARDS, AND PAYPAL ACCEPTED:
Please see below for information using credit cards.... Visa, Master Card, Discover, American Express credit cards, Debit cards, and PayPal are all accepted.
Directions to Buy Creative Counseling 101 eBook:
1. Hit the "Buy Now Button; above. You will come to the "Pay with a Paypal Account" first. If you want to use Paypal proceed with the "Paypal Sign In."
2. If you want to use a major credit card, or debit card look directly below the Paypal Payment Sign In and click the link, "Don't Have a Paypal Account?"
*This will take you to the major credit card and debit card section and allow you to use your credit or debit card.
Buy Now Button for Creative Counseling 101 eBook Below:
See Other eBooks For Sale Here From Creative Counseling 101.com:
Get the Set of all Four  
eBooks for only $98.95:
An incredible collection of how to do therapy eBooks!
A $159.80 Value,
You Save Over $60!
See All Ebooks Set Here:
Individual Books Available
Creative Counseling Small Groups 101
By: Dr. Michelle Stangline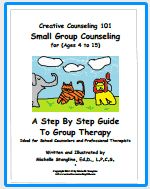 The book that was sixteen years in the making for creative counseling / therapy groups. Dr. Stangline has put together all of her creative counseling group ideas in this 252 page eBook.

This eBook is ideal for professional therapist, school counselors, social workers, and school psychologist who utilize group therapy for clients or students.
To find out more about this 252 page book hit the link below:
More Information for Creative Small Group Counseling eBook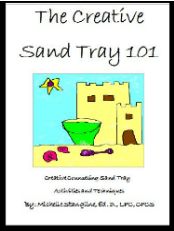 The Creative Sand Tray 101 eBook
By: Dr. Michelle Stangline
Sand Tray Therapy eBook: The Creative Sand Tray 101 Learn the secrets of Sand Tray Therapy in this eBook:
See link below:
eBooks to Sand Tray Therapy Book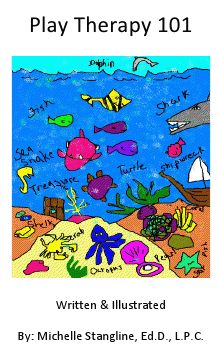 Play Therapy 101 eBook
By: Dr. Michelle Stangline
Take the same play therapy class I teach to counseling graduate students! Learn the secrets of Creative Play Therapy.
Play Therapy 101 class and eBook link below:
eBooks to Play Therapy 101 eBook 

---
Copyright © 2015 Creative Counseling 101.com 
All Rights Reserved
Disclaimer: This website and its content is intended for trained licensed mental health professionals and school certified mental health professionals to use for their clients / students at their own discretion.
*If you ignore the disclaimer above are using these techniques on yourself and you feel any discomfort or upset it is highly suggested that you seek out a licensed  mental health professional immediately.
"Beyond Art Therapy" is the concept from Dr. Stangline that combines all creative fields in therapy. It is not the traditional "art therapy" but goes beyond to include sand tray therapy, play therapy, mindfulness, meditation, color therapy, cognitive behavioral therapy, and a vast majority of other therapies.
For any other type of mental health emergency call your local 911 / Police Number immediately.
Dr. Stangline does not offer advice / suggestions to anyone who is not a professional mental health provider, or a student who is studying this field and has questions about mental health programs of study.