Creative Counseling Aromatherapy
Creating Custom Scents for Your Therapy Clients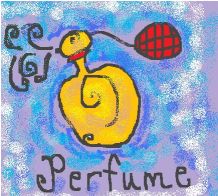 This is one of my favorite things to do for, or with clients. Not many people realize how easy it is to make homemade aromatherapy scents of perfume. All it takes is two ingredients, essential oil and a carrier oil.

The sense of smell is very powerful and can evoke many feelings and memories. We often ignore the power of "scent" in psychotherapy.
The marketing companies know the power of scent. Look at the perfume market nowadays. It is a billion dollar business.
The travel industry knows how to entice people by baking chocolate chip cookies as this smell makes most people think of their childhood when mom baked chocolate chip cookies.
As Creative Counselors we need to utilize the power of scent and aromatherapy to help our clients. Aromatherapy has the power to calm and soothe a client in many ways. I use it for clients who are stressed, depressed, anxious, hyperactive,dealing with sleep issues, or those who are having nightmares.
This activity can be used for clients of all ages. I collect beautiful perfume bottles or glass bottles with a cork. I ask clients what their favorite scents are. We process what the scents were from their childhood or happy memories.
Sometimes I even try a new scent out with them. Maybe they are having sleep issues and might be open to trying a lavender scent.
I like my office to smell like a happy memory. I have sugar cookies, cinnamon, and frosted cupcake essential oil. I burn these in a light bulb ring throughout the day.
This not helps my clients but it also calms me down and puts me in a "happier place." Therefore I preform better at being a Creative Counselor!
Clients really appreciate this "creative touch." It makes them feel special. They may enjoy helping you make the perfume or aromatherapy scent. See the below activities for ideas using aromatherapy with Creative Counseling.
As a sidebar, I don't buy perfume or sprays anymore. I simply make my own based on what I am feeling. The scent might change with the season. Why pay tons of money when you can custom make something for yourself or others that is so special!
I also give the gift of scent and aromatherapy to my friends and family based on "happy memories".
Creative Counseling Aromatherapy Ideas and Activities
Creative Counseling Aromatherapy to Make Your Own Play Therapy Tools
Creative Counseling Aromatherapy to Creative Counseling 101 Home
Disclaimer: This website and its content is intended for trained licensed mental health professionals and school certified mental health professionals to use for their clients / students at their own discretion.
*If you ignore the disclaimer above are using these techniques on yourself and you feel any discomfort or upset it is highly suggested that you seek out a licensed  mental health professional immediately.
"Beyond Art Therapy" is the concept from Dr. Stangline that combines all creative fields in therapy. It is not the traditional "art therapy" but goes beyond to include sand tray therapy, play therapy, mindfulness, meditation, color therapy, cognitive behavioral therapy, and a vast majority of other therapies.
For any other type of mental health emergency call your local 911 / Police Number immediately.
Dr. Stangline does not offer advice / suggestions to anyone who is not a professional mental health provider, or a student who is studying this field and has questions about mental health programs of study.