The Beyond Art Therapy / Play Therapy Self-Portrait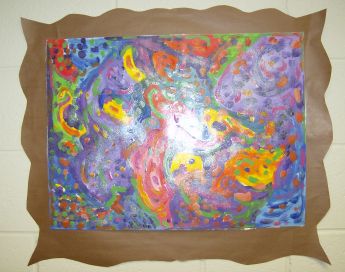 The Beyond Art Therapy / Play Therapy self-portrait is a very important piece to getting clients to open up and reveal aspects of themselves.
A beyond art therapy and play therapy self-portrait can tell many things about the client's ego and client's sense of self. It is a source of self- reflection for the client and a way to release emotions in a healthy way to begin the healing process.
I usually have a new beyond art therapy / play therapy client complete a self-portrait at the very beginning of therapy, often the first session.
Sometimes, I assign this project for homework and tell the beyond art therapy / play therapy client to be creative and use any medium they prefer. I view this project as the perfect warm up in play therapy.
When a beyond art therapy / play therapy client uses this activity for homework they have more time to self-reflect on the assignment. However, you do run the risk of the client not doing the homework assignment.
Therefore, I often get the beyond art therapy / play therapy client to do a simple beyond art therapy self-portrait drawing with a medium I have such as markers, crayons, or colored pencils.
At least I will have a beyond art therapy self-portrait from the client session if they chose not to do the homework.
If you offer this project as homework the client can do a quick self-portrait sketch in session, and then take the time to do a more thought provoking self-portrait at home.
This helps alleviate the feelings of being "rushed in session" or having a "time crunch."
Abstract beyond art therapy / play therapy self-portraits help the client move past the need to create the "perfect" match in the artwork. It also allows for a certain freedom in which feelings and emotions can come out to play. The inner child will also enjoy this beyond art therapy / play therapy project.
Try to express to the beyond art therapy / play therapy client that the journey is more important than the destination or outcome. This is the beginning of the play therapy process and is an important piece of self-awareness and self-reflection.
The play therapy self-portrait can be used several times in the therapy session as one might wish to do a past, present, or future beyond art therapy self-portrait.
It can also be used as a self-study exercise daily, similar to how one would use a beyond art therapy mandala, or the sand tray in sand tray therapy.
Famous Artist Self-Portrait:
Vincent Van Gogh, 1889- Struggled with an emotional disturbance his entire life. He ended up cutting his ear off and painting a self-portrait after that. This portrait is entitled "Self Portrait with Bandaged Head".
Frida Kahlo, Early 1900's: Explored her feelings from an accident, polio, botched surgery, and abortions. She did 55 self-portraits to show her pain and deal with her emotions as a personal therapy.
Gustave Courbet, 1911:- Staged a scene to show his mental state. In "Interior of My Studio, A Real Allegory Summing Up Seven Years of My Life as an Artist," he created a self-portrait of his own personal universe.
The painting is a stage, the small child is innocence, the nude model is nature. To the left is a group of people from his past mother, child, priest, home town life).
Critics and clients are on the right. He was the very first painter to break away from the traditional self-portrait.
Pablo Picasso, 1901:(The Father of Abstract Art) created many self-portraits of himself. He shows his emotions in raw form as he stares out at the viewer. He took a cubist approach which exaggerated his features and made the painting or drawing more emotional. In one of his paintings he shows issues dealing with old age.
Marc Chagall, 1911: Painted "I and the Village". Chagall uses his form of self-portrait to create a fairy-tale of color and characters. It is a story he wanted to tell about the people in his life. He used abstract shapes to tell this story. Jackson Pollack,1950's: He took human beings out of the painting and used abstraction as a self-portrait. His work shows a lot of energy and emotion. See "Number 8".
Mark Rothko, 1960's: "Orange and Yellow". Emotions are shown in color on this self-portrait.




Self-Portrait to Creative Counseling 101 Home
Disclaimer: This website and its content is intended for trained licensed mental health professionals and school certified mental health professionals to use for their clients / students at their own discretion.
*If you ignore the disclaimer above are using these techniques on yourself and you feel any discomfort or upset it is highly suggested that you seek out a licensed  mental health professional immediately.
"Beyond Art Therapy" is the concept from Dr. Stangline that combines all creative fields in therapy. It is not the traditional "art therapy" but goes beyond to include sand tray therapy, play therapy, mindfulness, meditation, color therapy, cognitive behavioral therapy, and a vast majority of other therapies.
For any other type of mental health emergency call your local 911 / Police Number immediately.
Dr. Stangline does not offer advice / suggestions to anyone who is not a professional mental health provider, or a student who is studying this field and has questions about mental health programs of study.