Learn How to Make a Play Therapy Miniature World
Building Personal Play Therapy Miniature Worlds with Creative Counseling 101.com
Building play therapy miniature personal worlds with your play therapy client is not only creative, but it is a valuable tool to reach the unconscious part of the play therapy client's psyche.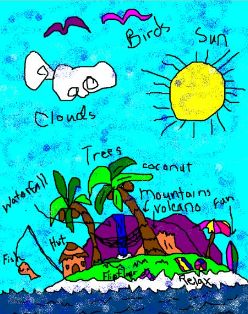 This is an example of a play therapy miniature world "My Private Island". She the link below for directions.
Play therapy clients can build a personal play therapy miniature world in the sand tray, with the doll house, mandala, art counseling, and puppet theater.

They can also create a personal play therapy miniature world using other materials such as a paper plate, a milk carton, a triarama, or theater. See the below links for more information on how to build play therapy miniature worlds.
The Creative Counselor knows no limits when it comes to different ways to help the client create a play therapy miniature world.
The play therapy miniature worlds can be made with miniatures and / or clip art. When using these miniature worlds you are taking the play therapy client out of the sand tray and making an actual play therapy world.
Using different environments for the play therapy personal miniature world encourages the play therapy client to bring out different parts of the psyche, and view their personal world from a different perspective.
Try using these techniques below to help your play therapy client create their own personal play therapy miniature world. These worlds can be taken home (unlike the sand tray, doll house, or puppet theater) and the client can revisit the world at a later date.

I have a collection of inexpensive plastic miniatures that I allow my clients to use for these play therapy miniature worlds. Clip art is also a handy tool to use for the miniature worlds.
Play therapy clients can create these worlds on paper plates, triaramas, pop-up books, cereal boxes, games, or even a cut out milk carton.
Have fun with your play therapy clients when they create these unique play therapy worlds in therapy sessions, or in the school counseling session.
Create Play Therapy Miniature Worlds With These Activities Below:
Creative Miniature Worlds to Play Therapy World Healing Garden 

Miniature Personal Worlds to Clip Art Miniatures 

Minature Play Therapy Worlds to Under The Sea Play Therapy World 

Miniature Worlds to Cereal Box Theater 

Miniature Worlds to Play Therapy Chess Game 

Miniature Worlds to The Circus Miniature World 

Miniature Worlds to Personal Fairytale World 

Miniature Worlds to Jungle World 

Miniature World to Private Island World 

Miniature Personal Worlds to Creative Counseling Home
Copyright © 2015 Creative Counseling 101.com
All Rights Reserved
Disclaimer: This website and its content is intended for trained licensed mental health professionals and school certified mental health professionals to use for their clients / students at their own discretion.
*If you ignore the disclaimer above are using these techniques on yourself and you feel any discomfort or upset it is highly suggested that you seek out a licensed  mental health professional immediately.
"Beyond Art Therapy" is the concept from Dr. Stangline that combines all creative fields in therapy. It is not the traditional "art therapy" but goes beyond to include sand tray therapy, play therapy, mindfulness, meditation, color therapy, cognitive behavioral therapy, and a vast majority of other therapies.
For any other type of mental health emergency call your local 911 / Police Number immediately.
Dr. Stangline does not offer advice / suggestions to anyone who is not a professional mental health provider, or a student who is studying this field and has questions about mental health programs of study.