Creative Counseling 101 Presents:
The Warm and Fuzzy
School Counselor's eBook for Classroom Guidance Lessons, Character Words, and Social Stories

by: 
Dr. Michelle Stangline
Get a year's worth of School Counselor Guidance Lessons, Character Words, and Social Stories with fully written lesson plans!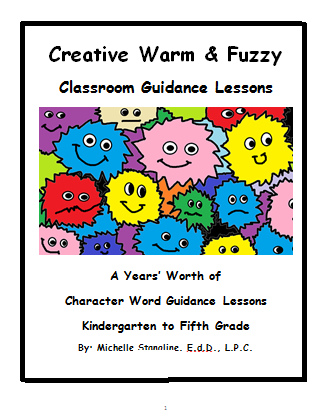 It's finally here! After a year and a half of writing, Dr. Stangline has finally published her much awaited eBook on the Warm and Fuzzy Classroom Guidance Lessons, Character Education words, and Social Stories for each month.
We begin in August and end in May in this year long classroom guidance eBook for school counselors. See the below table of contents for all lesson plans, character education words, and social stories.
This eBook includes school counselor character words, social stories, plans and lesson plans for each grade level (K-5th grade) every month. You also get extra lessons added to each month, and some great ideas for classroom management and behavior incentives! 
The Warm & Fuzzy School Counselor Classroom Guidance eBook shows you how to make your school a "Warm and Fuzzy Place". All you have to do is print the eBook and you have instant lesson plans for your students in grades kindergarten to 5th grade.
You get 252 pages of creative school counselor guidance lesson plans for your school! You never have to write a lesson plan, again and your students will adore the Warm Fuzzy Friends that help you teach each guidance lesson.
Get to see what I use every year for my school counselor guidance program!
This book is yours for only $39.95!
Order Your Warm and Fuzzy eBook today by hitting the "Buy Now Button" below:
---
---
---
See the Table of Content Pages of the School Counselor Guidance Lesson eBook Below:
Table of Contents
What in the World are Warm Fuzzies? P.12
August Guidance Lessons P. 14
The Story of Warm Fuzzy Elementary
Kindergarten- Warm Fuzzy Compliment Game
1st Grade- Warm Fuzzy Choice Game
2nd Grade- Warm Fuzzy Feelings Activity
3rd Grade- Fuzzy Feelings Charade Activity
4th Grade- Warm Fuzzy Feelings Chart Game
5th Grade- Fuzzy Feelings Self-Portrait 
September Guidance Lessons P. 34
Character Words: Goal Setting
The Story of Wish
My School Goals
Kindergarten- School Goals for the Year
1st Grade- My Wish Becomes a Goal Activity
2nd Grade- Goal Setting Activity and
Wish Wand Activity
3rd Grade- Expanding Wishes and Goals
4th Grade- Goal Setting Wish Cards
5th Grade- The Land of Warm Fuzzies Goal Setting Game
Extra Lessons:
Wish Box
Wishes Become Goals Road Map
October Guidance Lessons P.65
Character Words: Respect and Responsibility
The Story of "Prize" the Respectful and Responsible Warm Fuzzy
Kindergarten- I Am Responsible Worksheet
1st Grade- The Responsible Tattle
2nd Grade- Talk about a Time You Were Bullied
3rd Grade- Respectful Warm Fuzzy Quilt Activity
4th Grade- Responsibility Game
5th Grade- The Land of Cold Prickles Game
Extra:
Make My Day a Warm and Fuzzy One Card
November Guidance Lessons P. 86
Character Word: Grateful
The Story of "Grateful" and "Thankless"
5th Grade- Handwritten Thank You Note Activity
  4th Grade- The Gratitude Bon Bon Box
3rd Grade- Grateful Messages Activity
2nd Grade- Gratitude List Activity
1st Grade- Gratitude Charm Bracelet
Kindergarten- Gratitude Game
Extra- Grateful Graph Activity
December Guidance Lessons P. 106
Character Word: Giving
5th Grade- Finding Your True Gift
4th Grade- Mystery of Me Ornament
3rd Grade- Cracker Roll Up Activity
2nd Grade to Kindergarten Activity:
The Gingerbread Warm Fuzzy Holiday Poem
The Gingerbread Warm Fuzzy Gift Box
Gift Box Template
Classroom Wish List
"I was Caught with Good Behavior" Award Cards
Daily Behavior Chart
Candy Land Whole Class Reward Activity
January Guidance Lessons P. 128
Character Word of the Month: Charity
Snowflake and the Winter Wind Story
5th Grade- Snowflake Career Glyph
4th Grade- Popsicle Snowflake Activity
3rd Grade- Snowflake Bouquet
2nd Grade- Snowflake Fingerprints
1st Grade- Winter Wonderland Activity
Kindergarten- Snowman Name Graph Activity
Extra- Charity Lottery Drawing Cards
February Guidance Lessons P. 151
Character Words: Love & Kindness
Whole School Activities:
Random Acts of Kindness Week
Have a Heart Campaign
Kindness Tokens
Amour and the Red Dragon Story
5th Grade- Valentine Collaboration Cards
4th Grade- Random Acts of Kindness Diary
3rd Grade- Valentine Pass Activity
2nd Grade- Heart Flower Arrangement
1st Grade- Heart Candy Poetry
Kindergarten- Kindness Cards
March Guidance Lessons P. 175
Character Words: Work Ethic
Lucky and the Lazy Leprechauns Story
5th Grade-Brain Game
4th Grade- Make a Brain Dendrite Poster
3rd Grade- Make a Brain Hat with Labels
2nd Grade- Memory Cards Deck Game
1st Grade- Brain Puzzle Activity
Kindergarten- Memory Matching Game
Extra- Brain Based Juggling Whole School Activity
April Guidance Lessons P. 202
Character Words: Test Anxiety
Nervous and the Big Test Story
5th Grade- A Walk in the Meadow
Guided Imagery
4th Grade- Positive Affirmations
3rd Grade- Calming Mosaics
2nd Grade- Study Skills Activity
1st Grade- Chopstick Sentences 
Kindergarten- Warm Fuzzy Listening Game
May Guidance Lessons P. 222
Character Word: Career Choices
Are Your Dreams Big Enough? Story
5th Grade- Career Personality Type Test
Career Match Up
4th Grade- Pieces of my Puzzle
3rd Grade- Career Pyramid Box
2nd Grade- Cupcake Careers
1st Grade- A Career for Me Mini Poster
Kindergarten- Imagine Me Portrait
Extras- P. 241
Positive Behavior Reward Cards
Warm and Fuzzy Candy Store
About the Author P. 252
Creative Counseling 101.com Home
Disclaimer: This website and its content is intended for trained licensed mental health professionals and school certified mental health professionals to use for their clients / students at their own discretion.
*If you ignore the disclaimer above are using these techniques on yourself and you feel any discomfort or upset it is highly suggested that you seek out a licensed  mental health professional immediately.
"Beyond Art Therapy" is the concept from Dr. Stangline that combines all creative fields in therapy. It is not the traditional "art therapy" but goes beyond to include sand tray therapy, play therapy, mindfulness, meditation, color therapy, cognitive behavioral therapy, and a vast majority of other therapies.
For any other type of mental health emergency call your local 911 / Police Number immediately.
Dr. Stangline does not offer advice / suggestions to anyone who is not a professional mental health provider, or a student who is studying this field and has questions about mental health programs of study.