Play Therapy Techniques & Activities to Try With Your Play Therapy Clients (Adults, Teens, Kids)
Free Play Therapy Creative Counseling Techniques
In the links below you will find examples of Creative Counseling techniques for play therapy, sand tray therapy, and more! This site has hundreds of activities and techniques you can use with your play therapy clients. Make sure you check out the therapist and student page with over 800 hundred examples of play therapy, sand tray therapy, and more therapy activities found on this site.
Creative Counseling Techniques to "See All Examples
Play Therapy "Sugar Therapy Technique"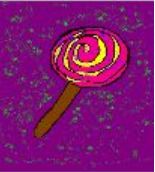 ---
See Play Therapy Sugar Therapy Technique Here
Play Therapy Feelings Cookie Activity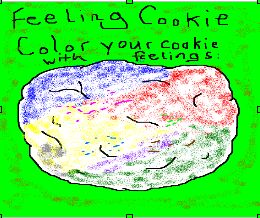 ---
Actual Photo of Play Therapy Feeling Cookie: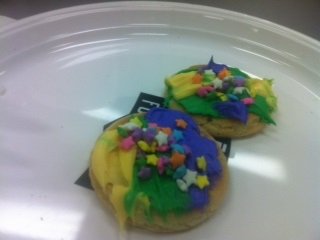 The Play Therapy Feeling's Cookie Activity:

The Play Therapy Feeling Cookie activity is one of my absolute favorite counseling activities. I use this fun activity for individual and group sessions in play therapy. My play therapy class graduate students rate this activity as their all time favorite in the play therapy class.
It is so easy to make this play therapy activity and your play therapy clients will appreciate your "thinking creatively approach to counseling." I have made this play therapy activity with children, teens, and adults and they all love it!
Actual Play Therapy  Feeling's Cookie Activity Example Below:Learn How To Make a Play Therapy Feeling's Cookie Link :
See Play Therapy Cookie Technique Here
Play Therapy Feelings Bottle Technique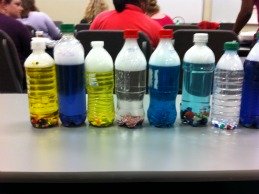 Creative Counseling Techniques to The Feeling's Bottle
Make A Play Therapy "Feeling's Bottle" Activity
Identifying Feelings in Play Therapy by Using The Feelings Bottle with Play Therapy Clients:
Learn how to help your client create a "make and take" activity called "The Play Therapy Feeling Bottle." This is a very inexpensive play therapy activity your client can create with a recycled plastic bottle.
I have used this technique over and over again with all my clients, especially play therapy clients. They can take the play therapy feelings bottle home and use it as a way to process feelings in a healthy way.
Knowing that feelings do not last forever and will go up and down can be helpful in the moment of crisis for your play therapy clients.
The "Play Therapy Feeling's Bottle" helps play therapy clients realize that feelings come and go. It is also a helpful reminder that one must use the coping skills learned in therapy.
Play Therapy Miniature Worlds
Learn to Create Play Therapy Miniature Worlds Using Miniatures

You will love learning how to help your client create miniature worlds in and out of the sand tray with the use of these free counseling techniques and activities below:
On this site we offer several ways to create a personal miniature world. As a therapist you will never get stuck because you have so many techniques and activities to offer your client based on client need.
Try one of these worlds on yourself before you try it out on your client. I always say that a professional therapist tries everything on themselves first, then you will know what your client is experiencing.
You will also never forget the activity or technique, and know if the technique is right for your client.
Using Miniatures in Play Therapy Technique and Information:

Use Miniatures in Play Therapy 


Play Therapy Creating Miniature Worlds: The Circus Miniature World

Clip Art For Sand Tray & Miniature Worlds 
Play Therapy 101 eBook:
Need More Training in Play Therapy from a Graduate School College Professor?
Creative Counseling 101 now offers you a step by step play therapy eBook by Dr. Stangline! This play therapy eBook includes all of the directions and colorful worksheets to help you be the best play therapist you can be!
This Play Therapy eBook is the exact replica of the play therapy class I teach graduate students at a Mercer University in Atlanta. While not an actual "online class" you can follow my class at your own pace. Learn all the secrets I teach graduate play therapy students! 
Play Therapy 101 eBook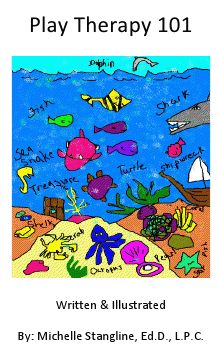 Play Therapy eBook For Sale Information
See More Play Therapy Techniques:
I truly hope that Creative Counseling 101 can open the creative doors for your practice with clients!
Learn the History of Play Therapy
What Makes a Good Play Therapist?
How to set up a Play Therapy Room
How to actually do Play Therapy
Advertise Your Play Therapy Practice for Free, Post Your Writings, Share Ideas Here:
See All Examples of Professional Play Therapists Writings and Posts & Play Therapy Graduate Student's Work Here
See More Creative Counseling Ideas Here

Free Play Therapy Techniques & Activities Below:

Play Therapy Creative Counseling Feelings & Self-Esteem Building:>
Creative Counseling Anger Management:
Creative Counseling Taste Therapy:
Play Therapy Creative Counseling Aromatherapy:
Custom Scents For Clients: Perfume
Play Therapy Grief & Loss
Play Therapy Puppets & Puppet Theaters
Play Therapy Finger Puppet Castle
Play Therapy Creative Stress Reduction Activities

Creative Counseling Techniques to Creative Counseling 101 Home 

Disclaimer: The free play therapy activities found in this website should be used by licensed mental health professionals who have training, or are seeking supervision with a trained professional in the area of Creative Counseling and Creative Psychotherapy.
For more information on Creative Counseling training see "Creative Workshops".
Copyright © 2015 Creative Counseling 101.com 

Disclaimer: This website and its content is intended for trained licensed mental health professionals and school certified mental health professionals to use for their clients / students at their own discretion.
*If you ignore the disclaimer above are using these techniques on yourself and you feel any discomfort or upset it is highly suggested that you seek out a licensed  mental health professional immediately.
"Beyond Art Therapy" is the concept from Dr. Stangline that combines all creative fields in therapy. It is not the traditional "art therapy" but goes beyond to include sand tray therapy, play therapy, mindfulness, meditation, color therapy, cognitive behavioral therapy, and a vast majority of other therapies.
For any other type of mental health emergency call your local 911 / Police Number immediately.
Dr. Stangline does not offer advice / suggestions to anyone who is not a professional mental health provider, or a student who is studying this field and has questions about mental health programs of study.