Build Self-Esteem
Starfish Earring Activity
Self-Esteem Star Fish Earrings Activity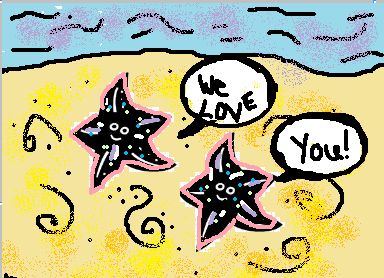 This activity is good for anyone, at any age, who needs a bit of a self-esteem boost!
I got this idea from a movie I saw in which a young mermaid plucks live starfish from the sea and puts them on her ears as earrings. The starfish then proceed to build the mermaids self-esteem by whispering in her ear how lovely she is throughout the day.
I have used this activity in my "Girl Power Group" and find it really helps young girls build their self-esteem. I even find that it works with all ages and genders (see "Pet Starfish Activity" on the Self-Esteem page if you have a client that does not wear earrings).
I even have my own pair of Self-esteem Starfish earrings. They always say something nice to me when I put them on, or when I notice them in the mirror. It is a great way to start my day!
Materials:
Clip on or pierced earring backs sold at hobby stores

Mixed Assortment of Sugar Starfish from Oriental Trader (500 for about $5.00), or you can make or buy a s pair of starfish earrings for a special friend or loved one who might like this activity.

Glue for gluing on the earring and for strengthening the Sugar Starfish.

Glitter / Sequins / Tiny Beads or Fake Gems

Clear Spray Paint

1 small cardboard box to keep earrings and affirmations in

Self – Esteem Affirmation Statements (See Below)

Use wax paper for your working and drying surface.
Directions:
1. Ask the client to pick out two starfish from your assortment. These starfish will be fragile so you will want to dip them into a container of glue and allow to drip for a few minutes as you pull them out.
2. Place the glue dipped earrings on the wax paper. Add glitter and sequins of choice to the earrings.
3. Glue the backs onto the earrings.
4. Move the earrings away from any excessive glue. Leave on the wax paper to dry.
5. After you have made the earrings process with your client about what self-esteem statements the earrings might say.
6. Write down a few of the statements on a small piece of paper that will fit in a jewelry box. The box is where the client will keep the earrings. Each time they take the earrings out of the box they will read the self-esteem statements that were written on paper and placed inside the box.
7. Once dry, spray the clear spray adhesive to the earring and allow to dry.
As clients wear the earrings throughout the day, they will remember the self-esteem affirmation statements written on the paper placed in the jewelry box. When they put the earrings back in the jewelry box they will read the self-esteem statements again.
Starfish Self-Esteem Affirmation Statements for Jewelry Box Examples (Or just make up your own.):
YOU ARE IMPORTANT

YOU ARE VALUED

YOU LOVE LIVING INSIDE YOU SKIN

YOU HAVE MANY GIFTS TO SHARE

YOU ARE SPECIAL

THERE WAS ONLY ONE YOU CREATED

YOU ARE UNIQUE AND DIFFERENT

YOU ARE CREATIVE

YOU HAVE YOUR OWN THOUGHTS AND DREAMS
Self-Esteem Starfish Earrings to Creative Counseling Self-Esteem
Self-Esteem Starfish Earrings to Creative Counseling 101 Home
Disclaimer: This website and its content is intended for trained licensed mental health professionals and school certified mental health professionals to use for their clients / students at their own discretion.
*If you ignore the disclaimer above are using these techniques on yourself and you feel any discomfort or upset it is highly suggested that you seek out a licensed  mental health professional immediately.
"Beyond Art Therapy" is the concept from Dr. Stangline that combines all creative fields in therapy. It is not the traditional "art therapy" but goes beyond to include sand tray therapy, play therapy, mindfulness, meditation, color therapy, cognitive behavioral therapy, and a vast majority of other therapies.
For any other type of mental health emergency call your local 911 / Police Number immediately.
Dr. Stangline does not offer advice / suggestions to anyone who is not a professional mental health provider, or a student who is studying this field and has questions about mental health programs of study.