Free Career Counseling Personality Type Career Test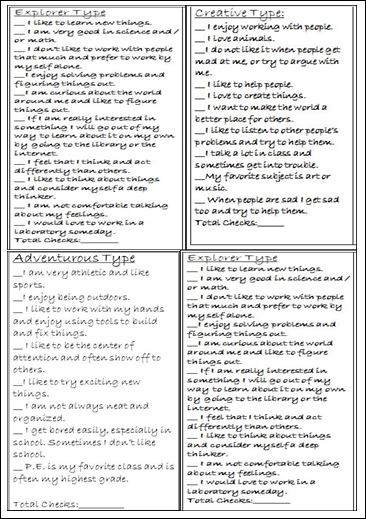 Find out what career fits your personality type today by taking this free ten minute career counseling test.
Great for all ages from 5th grade, middle school, high school, college, and beyond. Everyone needs to take this test to find out what career they will be happiest in. 

Research shows that people whose career fits their personality type are happier, last longer in their career, and make more money!
Personality Type Career Interest Test

By: Creative Counseling 101.com

Copyright 2014(c) by Creative Counseling 101.com
Place a check mark next to each item that seems to fit your career personality type and lifestyle for each of the four career personality types. 

Then add up all the numbers of checkmarks in each category. The area with the most checkmarks is most likely your "Personality Type Career Area of Interest". 
Take this Career Counseling Interest test each year to see if your interest change. Look back at your tests when you are a senior in high school and college. This test should help you make future college and career choices. 
Research shows that people are happier and more successful if they chose a career that fits their personality type.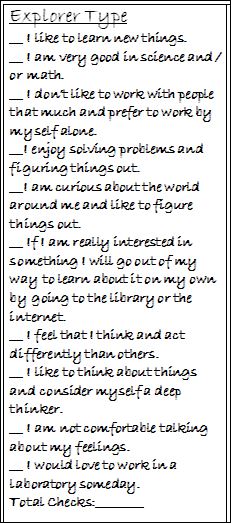 ---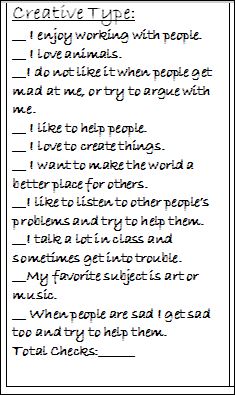 ---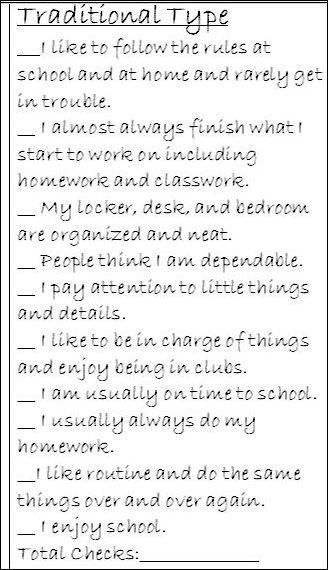 ---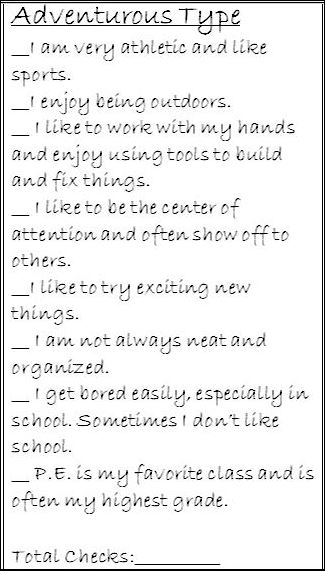 ---
Answer Sheet for Personality Type Career Counseling Match Up:
List your total check marks on the columns below for each personality type.  Your personality type will do best in the highest and next to highest career choice column.
*Note: Some careers will overlap. You may have two primary career types. This is okay. You just have more career choices.
Creative Type (Blue) Careers: Your Total:__________
Writer
Dancer
Actor
Artist
Musician
Teacher
Counselor
Nurse
Social Worker
Preacher
Physical Therapist
Flight Attendant
Make-up Artist
Hair Stylist
Art Teacher
Veterinarian / Vet Tech.
Art Therapist
Anthropologist
Singer
Child Care Worker
Human Resources
Fashion Designer
Film Maker
Floral Designer
Art History Teacher
Home Economics Teacher
Photographer
Sculptor
Social Worker  
Creative Career Key: Creative Caring Giving Helping Others People / Animals -         
Likes to Create Beauty in World -         
Wants to make the world a better place.
This type is about 9% of the world.

---
Adventurous Type (Orange) Careers:
Total:__________
Police Officer
Fireman
Farmer
Carpenter/Builder
Mechanic
Electrician
Welder
Plumber
Pilot
Truck Driver / Bus Driver
Athlete Engineer
Flight Attendant
Word Traveler
Salesman
Hair Stylist
Landscaper
Restaurant Owner / Worker
Coach
P.E. Teacher
Lifeguard
Military
Ambulance Driver
Forest Ranger
Chef / Cook / Baker
Vet Tech.
Actor / Performer
Farmer /Agriculture
Wood Worker    
Adventurous  Career Key: Active / Moving
Likes to Work Outdoors
Work with Hands
Travel
Likes Excitement          
Needs to have fun and adventure!  
This type is about 40% of the world population.
Explorer Type (Green) Careers:
Total:___________
Scientist: (Must find the ideal fit as a Scientist: Biology, Astrology, Chemistry, Psychology, Physics, Geology, Genetics, etc.)
Doctor (All Types)
Veterinarian
Computer Science
Dentist
Neurologist
Lab Technician
Researcher
Mathematician
Nurse
Engineer
Astronaut
Science Teacher
Math Teacher
College Professor
School Psychologist
Anthropologist
Animal Scientist
Military
Architect
Writer
FBI Agent
Pharmacists
Zoologist  
Explorer Career Key: Challenges
Continued Learning Research
Thinking Required
Some Creativity -         
Wants to solve world problems. -         
Likes higher learning / college & beyond  
This type is about 6% of the world's population.

Traditional Type (Gold) Careers:
Total:__________
CEO of Company
Librarian
Secretary
Sales Clerk
Banker
School Principal
Waiter
Politician
Judge / Lawyer
Paralegal
Hair Stylist
Book Keeper / Accountant
Business Owner
Office Worker
Flight Attendant
Military
Architect
Farmer /Agriculture
Clergy
Dental Hygienist
FBI Agent
Management
Housekeeper History
Teacher
Historian
Graphic Designer
Real Estate Agent
Security Guard
Wood Worker
Traditional Career Key:
Traditional Stable Consistent Predictable -         
Likes to have a schedule that stays the same.          
Likes to work with Hands
This personality type is about 45% of the world.
Which Personality Type is your first choice:
____________________________
Which Personality Type is your second choice:
____________________________
Which jobs or careers would you like to have?
What classes do you need to take in middle school and high school?      
What training do you need to get after high school (Example: College, Technical College, On the Job Training):  
---
Free Career Portfolio for Career Planning
---
See More Ideas at Creative Counseling 101.com Home
Disclaimer: This website and its content is intended for trained licensed mental health professionals and school certified mental health professionals to use for their clients / students at their own discretion.
*If you ignore the disclaimer above are using these techniques on yourself and you feel any discomfort or upset it is highly suggested that you seek out a licensed  mental health professional immediately.
"Beyond Art Therapy" is the concept from Dr. Stangline that combines all creative fields in therapy. It is not the traditional "art therapy" but goes beyond to include sand tray therapy, play therapy, mindfulness, meditation, color therapy, cognitive behavioral therapy, and a vast majority of other therapies.
For any other type of mental health emergency call your local 911 / Police Number immediately.
Dr. Stangline does not offer advice / suggestions to anyone who is not a professional mental health provider, or a student who is studying this field and has questions about mental health programs of study.