Beyond Art Therapy Alternative to Art Therapy House Tree Person Drawing
Beyond Art Therapy Activity House / Tree / Water / Sun / Moon / & Animal Drawing 
A Creative Approach to "House / Tree / Person" in Art Therapy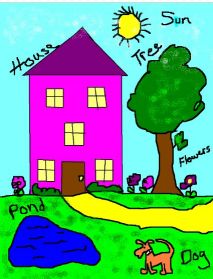 This Beyond Art Therapy activity is similar to House/Tree/Person in art therapy, but goes to a deeper level of self awareness due to adding the sun, water, and animal. This is a fantastic way to use my Beyond Art Therapy.
Materials for Beyond Art Therapy House, Tree, Sun, Water, Animal Drawing: Markers, Crayons, Paper, or Sand Tray with Miniatures
Directions for Beyond Art Therapy House, Tree, Sun, Water, Animal Drawing:
1. Ask the Beyond Art Therapy client to make a drawing that will include each of the following: A house, tree, sun or moon, water, and animal. The client can add anything else as long as these five items are included in the drawing. 

House / Tree / Water / Sun / Moon / Animal Translation:
The House in Beyond Art Therapy- The house is often translated as the Beyond Art Therapy client's perspective of themselves.
It can also mean how a Beyond Art Therapy client feels about him or herself. Look for a door, window(s), sidewalk or entry, chimney, etc. Smoke from a chimney may mean health or anxiety (only the client can tell you).
How big is the house? Are the lines of the house thick or thin? What is the roof shape? What is the color of the house? Are there curtains or bars on the window(s)?
How many windows are there? Are the windows big or little? Is there a door? A door knob? Would you like to visit this house or stay away from it?
Is the house centered and grounded, or floating? Where is it placed in the picture?
The Tree in Beyond Art Therapy- This could represent the interpersonal relationships that a person may or may not have.

Notice the leaves and branches? Are there a lot of leaves? Does the tree look healthy and full with leaves? What type of tree is it? Evergreen? Palm Tree?
Is it a tree in winter, spring, fall, or summer? Is there fruit on it or flowers? Are there roots? Is it hollow? Do animals live in or on the tree?
How big is the tree? Where is the tree located in the picture? Is it close to the house or far away from the house?
The Water in Beyond Art Therapy- Water may symbolize the "mother figure" relationship.
What kind of water is it? A lake, pond, snow, ice, a river, or ocean.
Is the water moving? Fast or slowly? Is it all over the drawing? How close is it to the house?
What color is the water? Is it fresh or salt water? Are there animals in the water?
The Sun in Beyond Art Therapy- This may symbolize the "father figure" and the relationship with the father.
How far or close to the house is the sun? Are there rays? Sunglasses? Is it smiling? Is it sad?
The Moon in Beyond Art Therapy- This is generally thought of as a person's instinct.
Is it a full moon? A crescent moon? The full moon means the person is more aware of the instinctual self. A half moon may mean they are half way using their instinct.
The Animal- in Beyond Art Therapy This animal represents the "ego" of the art therapy client. What type of animal is it? Is it aggressive? Passive? Offensive? Defensive?
Does it seem at home in the picture or sand tray? Does it have a food source?
Look up the animal in the Symbols Dictionary to fully translate what type of "ego" the play therapy client has.
Disclaimer: Symbols often have different meanings to different clients. Use this drawing tool as a piece to the puzzle in an art therapy client's life.
Never project your translations onto an art therapy client's artwork or sand tray. Talk to your art therapy client and get the client to translate what is going on in the drawing. Look for themes that reoccur.
This is only a tool for art therapy. Used with other tools or more drawings, this can help the art therapist understand the client's phenomenological world in play therapy.
Allow the client to be the ultimate translator! 





House / Tree / Water / Sun / Moon / & Animal Drawing to Home
Disclaimer: This website and its content is intended for trained licensed mental health professionals and school certified mental health professionals to use for their clients / students at their own discretion.
*If you ignore the disclaimer above are using these techniques on yourself and you feel any discomfort or upset it is highly suggested that you seek out a licensed  mental health professional immediately.
"Beyond Art Therapy" is the concept from Dr. Stangline that combines all creative fields in therapy. It is not the traditional "art therapy" but goes beyond to include sand tray therapy, play therapy, mindfulness, meditation, color therapy, cognitive behavioral therapy, and a vast majority of other therapies.
For any other type of mental health emergency call your local 911 / Police Number immediately.
Dr. Stangline does not offer advice / suggestions to anyone who is not a professional mental health provider, or a student who is studying this field and has questions about mental health programs of study.