Play Therapy & Art Therapy 
Stress Reduction Activity
Help your play therapy and art therapy clients get rid of stress with this fun activity! It only takes a moment to get it set up!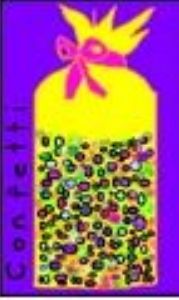 Stress Reduction Play Therapy and Art Therapy Activity: Stress Free Confetti
It is often helpful to get play therapy, or art therapy, clients to do something productive with their hands such as knitting, sewing, or building something.

When we work with our hands we calm down and go into an almost meditative state of mind. This creates an immediate stress reduction state of mind and is fantastic for play therapy and art therapy clients.
When a play therapy, or art therapy, client comes to me and is showing signs of stress or anxiety I ask them if they would like to make some "Stress Free Confetti".
The simple act of making confetti calms a play therapy / art therapy client (and therapist) down and teaches a skill that can be emulated at home with little skill or effort. However, the effects and stress reduction are worth the minimal effort.
Materials for Stress Free Confetti Play Therapy / Art Therapy Technique:

The graphic above can be used to make confetti by taking a hole puncher to the colorful circles.
Decorative Hole Punch (One or several)
Regular Hole Punch, or Three Hole Punch
Construction or Thick Type of Colored Paper
Decorative Wrapping Paper
Scissors
Glitter (Color of Choice or Assorted)
Assorted Colored Tissue Paper
(Optional) Flower Petals
Directions For Stress Reduction Play Therapy / Art Therapy Technique:
1. Take the assorted colored paper and hole punch different shapes or the colorful graphic above.
2. Cut up several small pieces of the colored paper. Add to the different shapes from the hole punch.
3. Take the tissue paper and tear off tiny bits. Add to the items above. Put in a plastic bag.
4. Once you have combined and shaken the above items in the bag add the glitter and flower petals. The flower petals will dry naturally in the bag.
5. Give your play therapy / art therapy client some extra paper to take home to cut or tear. When they get stressed out they can make more "Stress Free Confetti" and learn some valuable stress reduction skills in play therapy and art therapy.
Extensions For More Stress Reduction in play therapy / art therapy: See "Stress Free Confetti Balloons" and "Sweet Dream Confetti." 



Stress Free Confetti to Make Your Own Play Therapy Tools 

Stress Free Confetti to Message In A Bottle Balloon 

Stress Free Confetti to Creative Counseling 101.com Home
Copyright © 2015 Creative Counseling 101.com
All Rights Reserved
My wish is that you will find the benefits of play therapy either as a trained professional play therapist, or play therapy client!
I truly hope that Creative Counseling 101 can open the creative doors for your practice with clients!
Learn the History of Play Therapy
What Makes a Good Play Therapist?
How to set up a Play Therapy Room
How to actually do Play Therapy
Advertise Your Play Therapy Practice for Free, Post Your Writings, Share Ideas Here:
See All Examples of Professional Play Therapists Writings and Posts & Play Therapy Graduate Student's Work Here
See More Creative Counseling Ideas Here
Disclaimer: This website and its content is intended for trained licensed mental health professionals and school certified mental health professionals to use for their clients / students at their own discretion.
*If you ignore the disclaimer above are using these techniques on yourself and you feel any discomfort or upset it is highly suggested that you seek out a licensed  mental health professional immediately.
"Beyond Art Therapy" is the concept from Dr. Stangline that combines all creative fields in therapy. It is not the traditional "art therapy" but goes beyond to include sand tray therapy, play therapy, mindfulness, meditation, color therapy, cognitive behavioral therapy, and a vast majority of other therapies.
For any other type of mental health emergency call your local 911 / Police Number immediately.
Dr. Stangline does not offer advice / suggestions to anyone who is not a professional mental health provider, or a student who is studying this field and has questions about mental health programs of study.