Interpret Drawings For Play Therapy & Art Counseling
Use the below art therapy interpretation drawings information as a quick reference guide to your art therapy practice.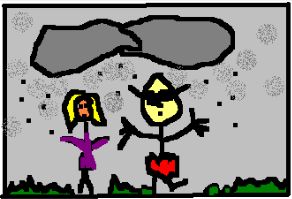 Quick Reference: Learn To Interpret At- Risk Clients Through Play Therapy & Art Counseling Drawings.

Placement of a Play Therapy Drawing:
Top of page: Lives in a fantasy world, withdrawn, avoids others
Bottom of page: Insecure, dependent, needy
Middle of page: Range of normalcy
Heavy pressure on drawing of lines: Trauma or Aggression
Light pressure: Fear
Shading: Anxiety, if on genitals then possible sexual abuse or sexual identity conflict
Lots of details in the drawing: Possible sexual abuse or need to control
Constant Erasures in drawing: Anxiety and Stress
Small Figures or Drawings: Insecurity, possible depression, low self-esteem, withdrawal
Large Figures or Drawings: Poor Locus of Control
Slanted Figures: Unstable, insecure, possible mental imbalance
A-Sexual Gender: Possible Sexual Trauma
Drawing in Profile: Withdrawn
Stick Figure: Insecure or depressed
Ears: Paranoia / Suspicious
Eyes:
Eyes/ Large: Suspicious
Eyes / Small: Guilty or withdrawn
Closed Eye: Withdrawn
Feet:
Long: Possible Sexual Relevance
Tiny: Dependency and withdrawn
Hands:
Absence of Hands: Possible sexual abuse or sense of "helplessness."
Large Hands: Aggressive or hostile
Small Hands: Insecure
Hidden Hands: Guilt
Mitten Hands: Repression of aggressive feelings but showing compliance outwardly.
Fingers:

Long : Aggressive
No Hands: Aggressive
It is very rare for a child to draw genitals or breasts. Any drawings of genitals (or possibly breasts) is usually an indicator of possible sexual abuse.
Look carefully at all parts of the drawing and do further assessments on the play therapy client.
Hair: Messy: Confused Shaded: Anxiety
Head (Ego) Large: Fantasy Thinking Small: Possible O.C.D.,
Lips: Open Mouth: Possible Sexual Relevance or neediness
Long Neck: Emotional Numbness Thick Short Neck: Aggressive
Weak Neck: Fragile
Large Nostrils: Aggression
Lopsided Shoulders: Unstable
Teeth Exposed or Jagged: Aggression or Anger
Sexual Characteristics of Drawings to be aware of:
Vampire Teeth or Monster Teeth
Deformed Image
Body without lower parts
Stick Figures
Missing Hands
Overemphasis of the mouth
Eyes hidden by dark glasses
Genitals
Monster fingers
Big hands
Cross eyed
Showing Teeth
Legs very close together
Clouds, snow, tumultuous waters , or rain
References: Lynne Cantlay, "Detecting Child Abuse"



Interpret Drawings to Art Counseling

Interpret Drawings to Creative Counseling 101 Home
Disclaimer: This website and its content is intended for trained licensed mental health professionals and school certified mental health professionals to use for their clients / students at their own discretion.
*If you ignore the disclaimer above are using these techniques on yourself and you feel any discomfort or upset it is highly suggested that you seek out a licensed  mental health professional immediately.
"Beyond Art Therapy" is the concept from Dr. Stangline that combines all creative fields in therapy. It is not the traditional "art therapy" but goes beyond to include sand tray therapy, play therapy, mindfulness, meditation, color therapy, cognitive behavioral therapy, and a vast majority of other therapies.
For any other type of mental health emergency call your local 911 / Police Number immediately.
Dr. Stangline does not offer advice / suggestions to anyone who is not a professional mental health provider, or a student who is studying this field and has questions about mental health programs of study.