Beyond Art Therapy

The Paper Crinkle "Beyond Art Therapy Activity" for
Anger Management 
This Beyond Art Therapy activity works well for an anger management technique.  The first part of this Beyond Art Therapy technique is the anger management technique. The second part of this Beyond Art Therapy Technique turns the anger into a Beyond Art Therapy project.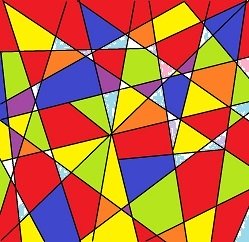 ---
Materials Needed for the Beyond Art Therapy / Anger Management Activity:
-  White paper
-  Markers or crayons
Directions for Beyond Art Therapy / Anger Management Technique:
1. When your beyond art therapy client / student's angry ask them to take a piece of paper and crumble it up into a tight ball.
2. Give them a few minutes to make sure the ball is tightly crumbled. This will help them with their anger management control.
3. Next, ask them if they want to turn their anger into something "calming and beautiful".  
4. If they say "Yes" then ask them to carefully open up the crumbled ball of paper.
5. Now, get them to color in the crumbled paper shapes as a calming anger management exercise and make a beautiful beyond art therapy piece.
6. The simple act of coloring in-between the lines will help the client / student to calm down and learn a new anger management technique.
As you can see from the recreated image above, the client started out with red and orange colors, then moved to calmer shades of pastels.
 *Note: You can take this "Beyond Art Therapy technique" one step further by having your beyond art therapy client / student identify the colors they chose in the drawing. See the "Color Translation" page for an interpretation of the color/ "Beyond Art Therapy activity".
 Continue to seek training as a Beyond Art Therapist with these Beyond Art Therapy Techniques:

What do the colors mean in Art Therapy & Color Psychology? 

Shelter House Art Therapy Technique 


Art Therapy Family Portrait Drawing 

Art Therapy Self-Portrait 


Art Therapy Interpreting Drawings 

Get More Ideas Here: Creative Counseling 101 Home 


Art Therapy Counseling Pictionary 

Art Therapy Christmas Tree Drawing & World 

The Three Animals Art Therapy Technique


The Kinetic School Drawing Art Therapy Technique/a> 

String of Lights Art Therapy & Genogram Drawing Technique 

Art Therapy / Anger Management Angry Snowball Technique
See Color Psychology Information Here
---
See More Creative Counseling Ideas Here
Disclaimer: This website and its content is intended for trained licensed mental health professionals and school certified mental health professionals to use for their clients / students at their own discretion.
*If you ignore the disclaimer above are using these techniques on yourself and you feel any discomfort or upset it is highly suggested that you seek out a licensed  mental health professional immediately.
"Beyond Art Therapy" is the concept from Dr. Stangline that combines all creative fields in therapy. It is not the traditional "art therapy" but goes beyond to include sand tray therapy, play therapy, mindfulness, meditation, color therapy, cognitive behavioral therapy, and a vast majority of other therapies.
For any other type of mental health emergency call your local 911 / Police Number immediately.
Dr. Stangline does not offer advice / suggestions to anyone who is not a professional mental health provider, or a student who is studying this field and has questions about mental health programs of study.