Art Therapy Technique
Draw a Christmas Tree World
Art Therapy & Play Therapy Counseling Technique
Create a Christmas tree World 
Have your art therapy clients / students draw a Christmas tree world during the holiday season.
This is also a great play therapy activity with miniatures.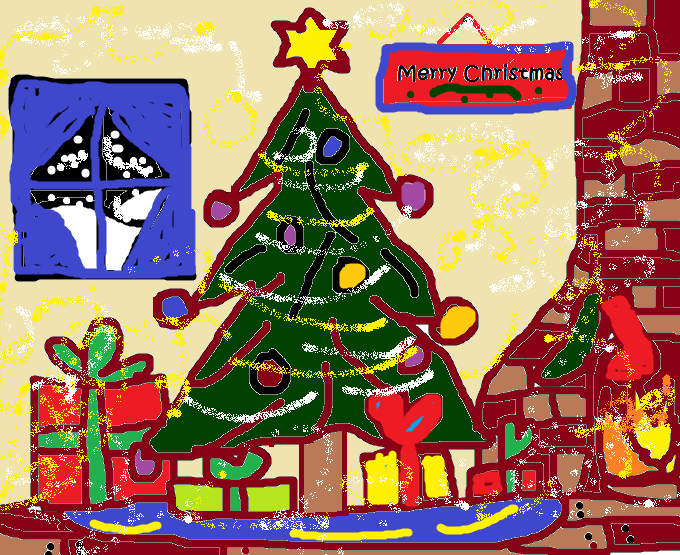 Materials:
Markers, Crayons, Paper, Glitter, Glue, Confetti
Directions:
1.  Ask your client / student to draw a Christmas tree in a home setting as an art therapy technique.
2.  Have extra materials on hand to decorate the art therapy tree. I often have extra ribbon, tinsel, glitter, and confetti on hand for this project.
3.  Allow the client / student to spend some time on the Christmas tree world art therapy technique drawing.
4.  When your client / student has finished discuss the art therapy drawing.
5.  See possible questions below:
-      What does the tree look like? Is it large, small, and centered on the page? Is it grounded on the page? Are there branches? What color is it?
-      Are there tree ornaments on the tree?
-      What is the environment like around the tree? Is it warm and inviting? Cold and Sterile?
-      Are their presents under the tree? Who are they for?
-      What other items are drawn in this art therapy world? Discuss and explore.
Notes about the Art Therapy & Counseling Technique:
-      The tree represents the family, or friend, relationships. It can also translate to "spiritual enlightenment.
-      The world around the tree will tell you what the client / student's phenomenological world is like.
-      Presents around the tree represent the positive mindset of the client. It can also mean unexpected pleasures, or demands. Another translation might be unrecognized skills, or talents.
-      Food represents care and nurturing of the self. It can also represent care from others.
-      Christmas stockings can mean expectations and the need to be recognized and praised.
-      A fireplace with a fire means a "warm and happy world". A cold atmosphere drawing represents a "cold and uncaring world."
Play Therapy Ideas: Create a miniature world in 3-D on a plate with miniatures.
See More Art Therapy Ideas Here
---
See More Creative Counseling 101 Ideas Here