Beyond Art Therapy Technique
Draw a Christmas Tree World
Beyond Art Therapy & Play Therapy Counseling Technique
Create a Beyond Art Therapy Christmas Tree World 
Have your Beyond Art Therapy clients / students draw a Christmas tree world during the holiday season.
This is also a great play therapy activity with miniatures, as well as a Beyond Art Therapy technique.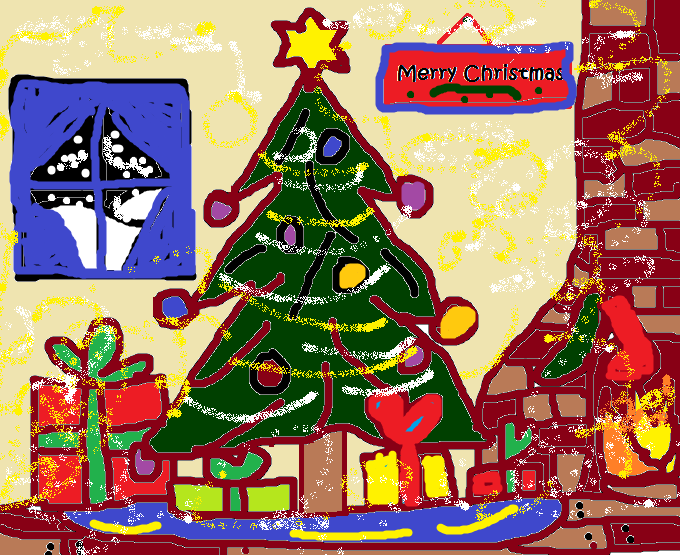 Materials for Beyond Art Therapy Technique:
Markers, Crayons, Paper, Glitter, Glue, Confetti
Directions:
1.  Ask your Beyond Art Therapy & Play Therapy client / student to draw a Christmas tree in a home setting as an art therapy technique.
2.  Have extra materials on hand to decorate the Beyond Art Therapy tree. I often have extra ribbon, tinsel, glitter, and confetti on hand for this project.
3.  Allow the Beyond Art Therapy client / student to spend some time on the Christmas tree world art therapy technique drawing.
4.  When your Beyond Art Therapy client / student has finished discuss the art therapy drawing.
5.  See possible questions below for the Beyond Art Therapy Technique:
-      What does the tree look like? Is it large, small, and centered on the page? Is it grounded on the page? Are there branches? What color is it?
-      Are there tree ornaments on the tree?
-      What is the environment like around the tree? Is it warm and inviting? Cold and Sterile?
-      Are their presents under the tree? Who are they for?
-      What other items are drawn in this art therapy world? Discuss and explore.
Notes about the Art Therapy & Counseling Technique:
-      The tree represents the family, or friend, relationships. It can also translate to "spiritual enlightenment.
-      The world around the tree will tell you what the client / student's phenomenological world is like.
-      Presents around the tree represent the positive mindset of the client. It can also mean unexpected pleasures, or demands. Another translation might be unrecognized skills, or talents.
-      Food represents care and nurturing of the self. It can also represent care from others.
-      Christmas stockings can mean expectations and the need to be recognized and praised.
-      A fireplace with a fire means a "warm and happy world". A cold atmosphere drawing represents a "cold and uncaring world."
Play Therapy Ideas: Create a miniature world in 3-D on a plate with miniatures. See the "Miniatures" tab on the left hand side of the Creative Counseling 101.com website.
---
See More Creative Counseling 101 Ideas Here
Disclaimer: This website and its content is intended for trained licensed mental health professionals and school certified mental health professionals to use for their clients / students at their own discretion.
*If you ignore the disclaimer above are using these techniques on yourself and you feel any discomfort or upset it is highly suggested that you seek out a licensed  mental health professional immediately.
"Beyond Art Therapy" is the concept from Dr. Stangline that combines all creative fields in therapy. It is not the traditional "art therapy" but goes beyond to include sand tray therapy, play therapy, mindfulness, meditation, color therapy, cognitive behavioral therapy, and a vast majority of other therapies.
For any other type of mental health emergency call your local 911 / Police Number immediately.
Dr. Stangline does not offer advice / suggestions to anyone who is not a professional mental health provider, or a student who is studying this field and has questions about mental health programs of study.