Learn a new Beyond Art Therapy Technique Today!
Shelter House Therapy combines Play Therapy and Beyond Art Therapy together. You can use the actual shelter house, or you can use the free Beyond Art Therapy worksheets below.
Shelter House Beyond Art Therapy Technique
This activity is associated with the Shelter House Therapy concept. See the link here to learn this valuable technique in creative therapy by Dr. Stangline: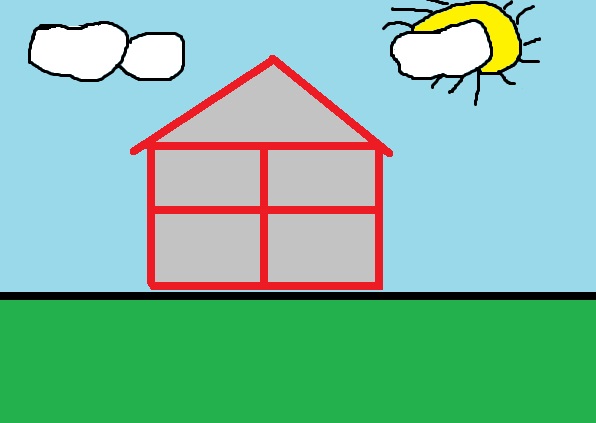 Learn More About Shelter House Therapy Play Therapy Technique
The Beyond Art Therapist can also use the Shelter House Play Therapy Technique as an art therapy activity.
Please make sure you completely understand this therapy before utilizing it with your Beyond Art Therapy clients, or students. 
See the link above for more information and tutorials on the Shelter House Play Therapy Technique and the Beyond Art Therapy Technique.
Here are the brief basics to this Beyond Art Therapy concept:
The House: This is the soul, or inner being of a person.  Basically, it is a person's entire inner world. 
With Shelter House therapy it symbolizes the different levels of consciousness. This is similar to the sand tray being the entire. "phenomenological world".
The bottom level of the Shelter House is representative of the unconscious mind, or the past. 
The next level is the subconscious. This can represent what is lying underneath the surface.
The attic would be the conscious mind. It can also represent "heaven" or the present tense. It can also represent the "masks" one wears.
The levels can also represent the past (lowest level), the present (middle level), and the future (attic level). 
---
Part Two of Art Therapy Shelter House Technique
---
Free Art Therapy Shelter House Worksheets
---
See Color Psychology Information Here
---
See More Creative Counseling Ideas Here
---
Disclaimer: This website and its content is intended for trained licensed mental health professionals and school certified mental health professionals to use for their clients / students at their own discretion.
*If you ignore the disclaimer above are using these techniques on yourself and you feel any discomfort or upset it is highly suggested that you seek out a licensed  mental health professional immediately.
"Beyond Art Therapy" is the concept from Dr. Stangline that combines all creative fields in therapy. It is not the traditional "art therapy" but goes beyond to include sand tray therapy, play therapy, mindfulness, meditation, color therapy, cognitive behavioral therapy, and a vast majority of other therapies.
For any other type of mental health emergency call your local 911 / Police Number immediately.
Dr. Stangline does not offer advice / suggestions to anyone who is not a professional mental health provider, or a student who is studying this field and has questions about mental health programs of study.