Anger Management / Beyond Art Therapy Technique
The Frozen Angry Snowball
I use this anger management / Beyond Art Therapy technique as a way to "cool off" angry feelings. 
I show the client / student that they can write, or draw, their angry feelings down on paper. Then crumple it up and put the angry feelings away in the freezer for a while.
A little tip I have is to not over soak the angry snowball. Lightly spritz it and leave it in the freezer for an hour, or so.
Your student / client will love taking apart the angry snowball. By the time the snowball freezes the angry feelings have calmed down and the talking therapy can begin.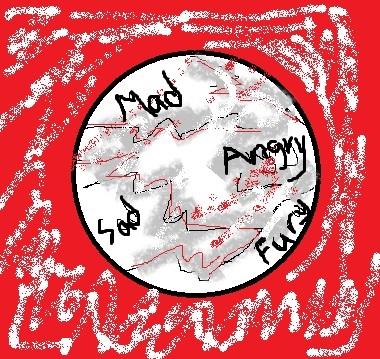 Anger Management / Beyond Art Therapy' Activity and Technique:
Freeze Your Anger in a Snowball!
Materials for Freeze Your Beyond Art Therapy Anger Snowball: 
Paper, sharpies, water
Directions for the anger management / art therapy technique:
1.   Ask your client to draw or write their angry feelings down on paper.
2.   The client can also draw a picture of something that made them angry.
---
3. Once the drawing, or words, are completed, ask the client to crumble the paper in  a ball.
4. Take the crumbled ball to a refrigerator and put it in the freezer. Explain to your client that they are agreeing to freeze their anger for a while and that you will give it back to them during the next session.
5. After a few hours, or days, you can take the frozen angry snowball out of the freezer and give to the client to unfold.
6. While they are unfolding the snowball the therapist can brainstorm ways for the client to utilize anger management skills when they get angry.
---
---
For more free ideas on creative play therapy visit the link below:
Creative Counseling 101.com Home
Disclaimer: This website and its content is intended for trained licensed mental health professionals and school certified mental health professionals to use for their clients / students at their own discretion.
*If you ignore the disclaimer above are using these techniques on yourself and you feel any discomfort or upset it is highly suggested that you seek out a licensed  mental health professional immediately.
"Beyond Art Therapy" is the concept from Dr. Stangline that combines all creative fields in therapy. It is not the traditional "art therapy" but goes beyond to include sand tray therapy, play therapy, mindfulness, meditation, color therapy, cognitive behavioral therapy, and a vast majority of other therapies.
For any other type of mental health emergency call your local 911 / Police Number immediately.
Dr. Stangline does not offer advice / suggestions to anyone who is not a professional mental health provider, or a student who is studying this field and has questions about mental health programs of study.