Make Your Own Sand Tray Therapy Bridge for Sand Tray Therapy
Rationale: The Bridge has significant meaning in the sand tray in sand tray therapy. When a sand tray therapy client adds a bridge to their tray they are symbolizing the collaboration of the conscious and unconscious mind.
It can also symbolize that some sort of conscious or unconscious opposites can be united.
Bridges can also mean that a person is making an important decision in their life. It can also mean that they are thinking about, or ready to move to a new stage of their life.
Putting a bridge in the sand tray for sand tray therapy indicates that the sand tray therapy client is trying to "connect" something important.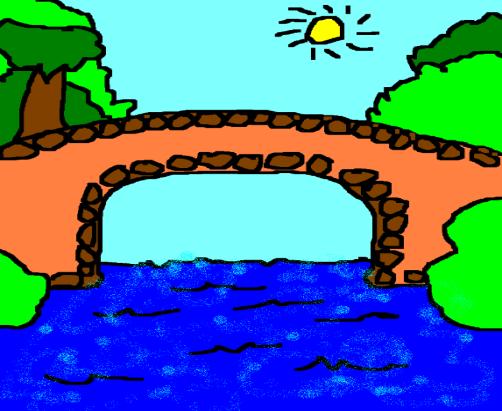 If you are beginning your career as a sand tray therapist you need to begin with your own personal bridge.
This sand tray therapy bridge will be a symbol of your openness and acceptance of getting in touch with the unconscious mind. Once you open this door there is no turning back. Are you ready?
Materials Needed for Sand Tray Therapy Bridge:
At least 250 flat-end toothpicks (Colored or Uncolored), glue, nail clippers, and nail file.
Directions for Sand Tray Therapy Bridge : Create and build your own personal sand tray therapy bridge that you will use during your journey of study in the sand and sand tray therapy.
1. Draw out a plan for your toothpick bridge on paper.
2. Use the flat end of your toothpicks to glue each piece together.
3. Clip the ends that are not flat-ended with a nail clipper. File the ends as needed.
Extra Information: Drawbridges signify the creation of boundaries.


Learn Sand Tray Therapy from a College Professor:
Dr. Stangline's eBook on Sand Tray Therapy Training:
https://www.creativecounseling101.com/sand-tray-therapy-ebook.html
See More  Links Here:
Learn Sand Tray Therapy History
Sand Tray Therapy Warm Up: The Zen Garden
Learn Reality Therapy Three Wishes Activity in Sand Tray Therapy
Learn Basic Step by Step Sand Tray Therapy
See Sand Tray Therapy Examples Page
See More Creative Counseling Ideas Here
See More on Sand Tray Therapy Here:


Sand Tray Therapy to Graduate Student Sand Tray Therapy Examples 

Sand Tray Therapy to Beginning Sand Tray Therapy 

Self-Healing in the Sand Tray for Therapists 

Sand Tray Therapy to Sand Tray Genogram 

Sand Tray Therapy to Make Your Own Sand Tray 

Sand Tray to Different Sand Tray Examples 

Sand Tray Therapy to Make Your Own Moon Sand 


Sand Tray Therapy to Sand Tray Therapy Bridge 

Sand Tray Therapy to Labyrinth Sand Trays 

Sand Tray to Sand Tray Therapy Warm Up: Bon Bon Box 

Note Disclaimer: The free activities found in this website should be used by licensed mental health professionals who have the training, or are seeking supervision with a trained professional in the area of Sand Tray Therapy, Creative Counseling, and Psychotherapy.
Sand Tray Therapy Bridge to Creative Counseling 101 Home
Disclaimer: This website and its content is intended for trained licensed mental health professionals and school certified mental health professionals to use for their clients / students at their own discretion.
*If you ignore the disclaimer above are using these techniques on yourself and you feel any discomfort or upset it is highly suggested that you seek out a licensed  mental health professional immediately.
"Beyond Art Therapy" is the concept from Dr. Stangline that combines all creative fields in therapy. It is not the traditional "art therapy" but goes beyond to include sand tray therapy, play therapy, mindfulness, meditation, color therapy, cognitive behavioral therapy, and a vast majority of other therapies.
For any other type of mental health emergency call your local 911 / Police Number immediately.
Dr. Stangline does not offer advice / suggestions to anyone who is not a professional mental health provider, or a student who is studying this field and has questions about mental health programs of study.