Sand Tray Therapy History
Margaret Lowenfeld, M.D.(1920's London) was the very first to bring Sand Play/ Sand Tray into psychotherapy.
Dr. Lowenfeld watched her children play with the Orson Well's floor game's miniatures. She took these minaitures and others into sessions with her clients.
She worked mostly with children and encouraged them to make static and moving Sand Tray worlds. Basically, she was also one of the first "Creative Counselors" as she added art, music, and play to her client sessions. Her technique became known as the "World Technique".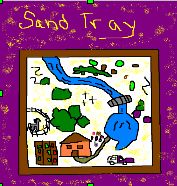 Her miniatures were mostly kept in drawers, but some were placed on shelves. She was responsible for creating the Lowenfeld Mosaic, Poleidoblocs, the Newspaper Game, outdoor play and messy play.
One of her most famous discoveries was that of "pre-verbal language" in children. This means that conventional language is limited when children try to express feelings and emotions.
It can also mean the language of the deepest part of the psyche, the one that does not use "words".
She called the Sand Tray a "living language" of non- verbal words. The language uses visuals and miniatures to speak. Humans think with visuals at the deepest part of their brain (brain stem).
She also discovered that the Sand Tray can bring forth the conscious and the unconscious psyche. Once it has been brought to the Sand Tray both can finally heal and connect.
- Humans think in images, not words. They can see this in the Sand Tray.
- Refused the transference model of therapy. She believed in building a relationship with the client and the therapist's job was to help the client express him or herself.
- She felt that the "World" and not the "Therapist" was the one to confront the "maker". Helped the "maker" decode the sand tray therapy world they created.
- Believed that energy was blocked due to defense mechanisms, mental complexes, and prior belief systems. She also believed that the sand tray therapy released these energy obstructions.
Dora Kalff:
- A Swiss Jungian analyst who worked with Carl Jung. She also studied under Lowenfeld.
- She further developed the use of the Sand Tray and called it Sand Tray Therapy.
- Believed that Sand Tray Therapy taps into the unconscious ego and the Self. She believed the fragile and wounded ego could be healed with the Sand Tray.
- Mother-Infant bonding was important to Kalff. The therapist-client relationship is the mother figure that helps with healing.
- The Self is the Primordial Wisdom or the Universal Consciousness.
- Trained in Archetypes Psychology. The miniatures were manifestations of the Archetypes.
- Displayed miniatures on open shelves for sand tray therapy clients.
- Believed in the sand tray therapy client's transference and therapist's countertransference.
- Sand Tray Therapist must guard the free and protected space. She/he is the protector of the client's fragile ego system.
- Sand Tray Therapist is the "silent witness."
Dr. Gisela Schubach De Domenico:
- Developed Sandtray-Worldplay Therapy based on work with Kalff and extensive study of Lowenfeld.
- Believes Sand Tray Therapy accesses the deepest layers of the consciousness and can heal old ego wounds.
- For Dr. De Domenico, Sand Tray Therapy is a transformational tool for the client to explore personal ancestors, interpersonal, and personal realms of the psyche in reality.
- She believed that sand tray therapy awakens different bodies of human consciousness.
- It is a multicultural tool that taps into creativity, curiosity, critical thinking, capacity to analyze and think through life challenges and experience: past, present, and future.
Dr. Barbara Turner (Sand Tray Therapist Expert):
- Researched that actual healing of levels of development can occur int the sand tray.
- Used neuroscience research along with sand tray therapy research.
Dr. Steve Armstrong
- Experiental and Humanistic Approach to the Sand Tray Therapy
- Gestalt Trained and Registered Play Therapist
References:
Armstrong, Steve (2012). http://www.sandtraytherapyinstitute.com/contact/
Kalff, M. (2003) Sandplay: A psychotherapeutic approach to the psyche.
Lowenfeld, M.(1950). The World Techniquehttp://vision-quest.us/vqisr/index.htm
Schubach De Demenico, G. (2012)
Turner, Barbara 2005). The Handbook of Sandplay Therapy 
I truly hope that Creative Counseling 101 can open the creative doors for your practice with clients!
What Makes a Good Play Therapist?
How to set up a Play Therapy Room
How to actually do Play Therapy
Advertise Your Play Therapy Practice for Free, Post Your Writings, Share Ideas Here:
See All Examples of Professional Play Therapists Writings and Posts & Play Therapy Graduate Student's Work Here
See More Creative Counseling Ideas Here
Sand Tray Therapy History to Sand Tray Therapy

Sand Tray Therapy History to Creative Counseling 101 Home
Disclaimer: This website and its content is intended for trained licensed mental health professionals and school certified mental health professionals to use for their clients / students at their own discretion.
*If you ignore the disclaimer above are using these techniques on yourself and you feel any discomfort or upset it is highly suggested that you seek out a licensed  mental health professional immediately.
"Beyond Art Therapy" is the concept from Dr. Stangline that combines all creative fields in therapy. It is not the traditional "art therapy" but goes beyond to include sand tray therapy, play therapy, mindfulness, meditation, color therapy, cognitive behavioral therapy, and a vast majority of other therapies.
For any other type of mental health emergency call your local 911 / Police Number immediately.
Dr. Stangline does not offer advice / suggestions to anyone who is not a professional mental health provider, or a student who is studying this field and has questions about mental health programs of study.