The Family Legacy:
A Sand Tray Genogram using Beyond Art Therapy
Sand Tray Genogram & Beyond Art Therapy Example Below:
Here is an example of a student's family legacy sand tray genogram using clip art. This student used photos of family members and maps of states that each family member came from.
This was a very powerful sand tray genogram sand tray. The student learned a lot about her family in the process and a deep bond was felt between the student and the genogram.
You can also use this sand tray genogram on paper instead of the sand tray.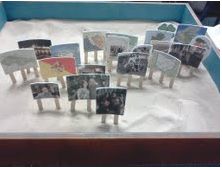 Rationale: The Beyond Art Therapy and Sand Tra Therapy client will create a sand tray family tree genogram using miniatures, clip art (see above photo), or photos of their family or ancestors.
Materials:
Miniatures, clip art (see above photo), or photos of the client's intermediate, extended, or ancestors
Sand Tray
Directions:
1. The client will create a sand tray genogram portrait of their family history by using the sand tray and miniatures, clip art, or drawings to represent the chosen miniatures.
2. Have the client pick miniatures to represent their near, distant, or ancestor relatives in this sand tray or art genogram. The client will build a world with these miniatures any way they want to.
Do not direct the client on how to build this world. The client can place these miniatures in the sand tray genogram world any way they like.
3. The Beyond Art Therapist / sand tray therapist will process with the client about who the relatives are and what they mean to the client in this family sand tray genogram. It is also helpful to explore the family ancestry and culture of the client.
What strengths did these ancestors pass down to the client? What did these ancestors have to go through? What can the client learn from this sand tray genogram?
What rituals or celebrations would the ancestors like the client to remember? Explore these aspects from the genogram in depth with the client.
4. If the client does not know who their ancestors were they can pick out a favorite culture they would like to use in their sand tray.
5. It is helpful to find out if any relative had psychological issues such as depression, addiction, anxiety, bipolar disorder, etc. The client may wish to add any psychological disorder on the label with the relative's name.
Sand Tray Genogram to Beginning Sand Tray Therapy

Sand Tray Genogram to See Other Examples

Sand Tray Genogram to Sand Tray Therapy



Sand Tray Genogram to Creative Counseling 101.com Home
Disclaimer: This website and its content is intended for trained licensed mental health professionals and school certified mental health professionals to use for their clients / students at their own discretion.
*If you ignore the disclaimer above are using these techniques on yourself and you feel any discomfort or upset it is highly suggested that you seek out a licensed  mental health professional immediately.
"Beyond Art Therapy" is the concept from Dr. Stangline that combines all creative fields in therapy. It is not the traditional "art therapy" but goes beyond to include sand tray therapy, play therapy, mindfulness, meditation, color therapy, cognitive behavioral therapy, and a vast majority of other therapies.
For any other type of mental health emergency call your local 911 / Police Number immediately.
Dr. Stangline does not offer advice / suggestions to anyone who is not a professional mental health provider, or a student who is studying this field and has questions about mental health programs of study.