Creative Counseling & Psychotherapy:
Get Creative with your Clients!
What Exactly is Creative Counseling?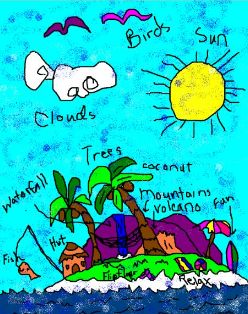 Creative Counseling combines creativity with Play Therapy, Art Counseling, Sand Tray Therapy, Senses Therapy, Music Therapy, Visual Imagery, Therapy Games, Bibliotherapy, and Movement Therapy.
Creative Counseling offers more to clients than the traditional therapies do. Let us show you the secrets of therapy and counseling with our free activities and techniques.
Dr. Stangline, a Counseling Psychologist, has taught Play Therapy, Sand Tray Therapy, Counselor Ethics, Counseling Supervision, Helping Skills, and Creative Counseling classes to graduate students at two major universities in Atlanta, Ga. She has also taught graduate counseling classes online.
The Creative Counseling approach offers a creative way of doing therapy for clients in order to promote emotional well being and healing. Let us show you what they teach in graduate school and give you the tools you need to be a Creative Counselor or Therapist!
Creative Counseling can also be modified to use in the school counseling sector for students. Dr. Stangline has worked as a school counselor for the past twelve years, as well as a private practice therapist.




Using The Creative Counseling Approach with Clients and Students Allows the Following:
A stronger therapist/client relationship develops
Creative new ways of being are developed within the psyche
Identify the client's creative strengths
Removes many mental blocks the client has
The client becomes more self-aware
The client learns new creative ways towards a healthier life
Promotes a deeper healing and growth in therapy
The unconscious mind becomes more conscious to the client
People of all ages can benefit from using creativity in therapy
Creative Counseling offers more than one, or two, therapeutic approaches. It is a conglomeration of many therapy styles and schools of therapeutic thought.
It is an eclectic way of doing therapy that promotes healing on a deeper level for the client.
The Creative Counseling allows the therapist to have greater access to tools and techniques to promote this deeper level of healing. When a therapist uses Creative Counseling they rarely get "stuck" as a therapist.
Creativity is the guide for the therapist and the client. Creative Counseling is much more than just "talk therapy".
Creative Counseling offers therapist more tools to use in their counseling sessions with clients. This website contains many basic tools using Creative Counseling.
This type of therapy is geared for the beginning therapist and the advanced more seasoned therapist who is looking for more to offer to their clients.
The activities shown have been used in the private practice setting and the school counseling setting for clients of all ages. Every age group responds well to Creative Counseling.
I have taught these activities to college students in graduate counseling programs, as well as private practice and the school counseling setting.
These creative counseling activities work well for all age groups. There is no age limit for Creative Counseling!
Are you ready to be a creative counselor or psychotherapist? Are you ready to move forward in your career and never get stuck with clients?
Then let me show you what I have shown hundreds of other therapists, graduate students, and clients!
This is the place to be if you are willing to go further in your training. On this site you will see over five hundred pages of examples in the following disciplines:
- Art Therapy & Counseling
- Play Therapy
- Doll House Therapy (See Shelter House Therapy Link)
- Sand Tray Therapy
- Scent Therapy
- Anger Management
- Stress Management
- Genograms
- Mandalas
- Games
- Bibliotherapy
- Inner Child
- Color Psychology
- School Counseling
- Creative Groups
And Much More! If you are not using Creative Counseling then you are not doing what is best for your clients. Creative Counseling is for clients of all ages and cultures. Therapist who use Creative Counseling never get "stuck" when utilizing therapy with clients.
This website has over eight hundred pages on Creative Counseling, School Counseling, Play Therapy, Sand Tray Therapy, and more. Once you learn the secrets of Creative Counseling you will never go back to the old way of doing therapy, or counseling!
Creative Small Group Counseling 101 eBook The 252 page book based on Creative Groups. See the right hand column for more information.
Disclaimer: The free activities found in this website should be used by licensed mental health professionals who have training, or are seeking supervision in the area of Creative Counseling and Creative Psychotherapy.
For more information on Creative Counseling training see the right column for on-line training classes and eBooks.
FREE CREATIVE COUNSELING & SCHOOL COUNSELING IDEAS FOR ALL MENTAL HEALTH PROFESSIONALS INCLUDING: COUNSELORS, SCHOOL COUNSELORS, SOCIAL WORKERS, PSYCHOLOGISTS, THERAPISTS, PLAY THERAPISTS, ART THERAPISTS, AND SAND TRAY THERAPIST (AND MANY MORE)!
This site contains over eight hundred pages of free play therapy, sand tray therapy, school counseling ideas and lesson plans, art therapy & counseling, and creative ideas for all mental health professionals! Learn here what they did not teach you in graduate school!
SEE WHAT IS NEW AT CREATIVE COUNSELING 101.COM:
- ART THERAPY AND COUNSELING IDEAS: Dr. Stangline is using a lot of art therapy and counseling techniques with her students and clients. Check out all the new activities and techniques written by Dr. Stangline on the link below:
Free Art Therapy & Counseling Activities and Techniques
- New Play Therapy Technique: SHELTER HOUSE PLAY THERAPY Learn the newest play therapy technique that is ideal for clients and students of all ages.
Shelter House Play Therapy Technique & Activity
WARM & FUZZY SCHOOL COUNSELOR GUIDANCE LESSONS eBook: - Check out my newest eBook that took a year and a half to create! Warm & Fuzzy School Counselor Guidance Lessons! This book includes Social Stories, Character Education Words, Lesson Plans, Reproducible Colorful Worksheets, Behavior Incentives and more! Get a year's worth of classroom guidance lessons! TEACHER LESSON PLANS FOR CHARACTER WORDS OF THE MONTH:
Read a different story each month to teach students and clients character words of the month. It is finally here! See the right hand column for more information or check this link below:
Warm & Fuzzy School Counselor Guidance Lessons eBook
- BULLYING PREVENTION COPING SKILLS IDEAS FOR YOUR STUDENTS AND CLIENTS: Stop Bullying at Your School with this Unique Card Set!
Find unique coping skills for bullying prevention for your students and clients to learn in order to stop being bullied and picked on. Parents and teachers will also want to check this out. Many adults have also benefited from reading and using these bullying prevention coping skills!
What makes a Creative Counselor different than other therapist?
Learn the Newest Play Therapy Technique | Shelter Therapy | Creative Counseling 101.com
Play Therapy for Licensed Professionals: Learn how to get creative with your clients by using creative play therapy in your practice. Get free creative activities at CreativeCounseling101 for client's
Learn how to do Art Therapy & Counseling Techniques / Creative Counseling 101
The Traveling Creative Counseling Therapist | Learn what it takes to be a creative counselor who travels! | Only at www.Creative Counseling 101.com
Sand Tray Therapy: The Creative Sand Tray Counselor Gives A Unique Perspective to Sand Tray / Sand Play
Positive Behaviors Group For Children | Lesson One | Creative Counseling 101.com
A Year in the Life of a School Counselor | Follow a School Counselor Throughout the Year and get Great Ideas for Your School!
School Counseling Guidance Lesson Ideas | Warm Fuzzies | Creative Counseling 101.com
Free Career Counseling Personality Type Career Test | Everyone Needs to Take This Test! | Great for all ages! Find your perfect career that fits your personality type! | Creative Counseling 101.com
Helping Kids Behave | Creative Counseling 101.com
Creative Counseling eBook - Learn Even More Creative Counseling 101 Techniques With This Unique E-Book
Buy Your Customized Sand Trays for Sand Tray Therapy Here | Free Sand Tray Therapy eBook with Purchase | Regulation Size | Many Colors Available | Sand Tray Lids & Stand |Creative Counseling 101.com
Regulation Shelter Play Therapy House Package for Sale | Creative Counseling 101.com
Advertise Your Counseling / Supervision / Psychotherapy Practice Free | Creative Counseling 101.com
Play Therapy 101 Class Syllabus | On-line Play Therapy Class for Professionals with Free Book | Creative Counseling 101
What is Play Therapy? Learn the basics at www. Creative Counseling 101.com
The History of Play Therapy | Learn Why It Is Important @ Creative Counseling 101.com
Learn How To Use Play Therapy Warm Ups In Sessions | Creative Counseling 101
Learn what makes the creative counseling play therapy room better than a traditional therapy room or therapist's office! | Creative Counseling 101.com
Play Therapy Room Accessories | Creative Counseling 101
Play Therapy Toys | Get Creative Toy Ideas From Creative Counseling 101
See Examples of Play Therapy Doll Houses from Creative Counseling 101
See Examples of Play Therapy Doll Houses from Creative Counseling 101
Play Therapy - Doll House - Family Portrait Activity | Creative Counseling 101
Homemade Play Therapy Puppet Theater Example #2 | Creative Counseling 101
Make Your Own Play Therapy Puppet Theatre With Creative Counseling 101
Get Creative With Play Therapy Puppets | Creative Counseling 101
Creative Counseling 101 | Examples of Homemade Play Therapy Puppets
Homemade Play Therapy Puppet Theater Example #1 | Creative Counseling 101
Homemade Play Therapy Puppets Example #2 | Creative Counseling 101
Make Play Therpay Masks | Creative Counseling 101.com
Make Your Own Play Therapy Tools with Creative Counseling 101
Free Play Therapy Creative Counseling Techniques & Ideas | Creative Counseling 101.com
Building Personal Play Therapy Miniature Worlds | Creative Counseling 101
Learn How To Use Miniatures In Play Therapy | Creative Counseling 101 | Personality Parts
Reality Therapy's Three Wishes Magic Bubble Wand Play Therapy Activity | Creative Counseling 101
Play Therapy Technique | Express Your Feelings Creatively | The Feeling Cookie At Creative Counseling 101
Learn More About Play Therapy Games Using The Creative Counseling 101 Method
Using Color Psychology With Creative Counseling 101
The Mandala is used in Creative Counseling as a creative tool.
Find Even More Mandala Examples | Creative Counseling 101.com
Creative Counseling's Play Therapy Art Counseling DrawingTechnique:
Learn How To Create A Play Therapy Self-Portrait | Creative Counseling 101.com
Learn How To Do A Play Therapy Family Portrait | Creative Counseling 101.com
Interpret Drawings For Play Therapy & Art Counseling | Creative Counseling 101.com
Anger Management Techniques, Activities, and Social Skills Stories | Creative Counseling 101.com
Self-Esteem Building With Creative Counseling 101
Learn Creative Ways To Do A Play Therapy Genogram | Creative Counseling 101.com
Build Self-Esteem With This Starfish Earring Activity | Creative Counseling 101
Learn Self-Healing in Sand Tray Therapy | Perfect for Mental Health Professionals Wanting to Learn Sand Tray Therapy | Only from Creative Counseling 101.com
Learn Beginning Sand Tray Therapy | Creative Counselor 101.com
View Sand Tray Therapy Examples | Creative Counseling 101.com
Sand Tray Therapy| Learn How To Use Sand Tray Therapy at Creative Counseling 101.com
Clip Art Miniatures For Sand Tray Therapy
Build A Family Genogram Using Sand Tray Therapy | Creative Counseling 101.com
Zen Garden Sand Tray Therapy | Sand Tray Therapy Warm-Up | Creative Counseling 101.com
Learn About Sand Tray Therapy Trays | Creative Counseling 101.com
Make Your Own Sand Tray For Sand Tray Therapy | CreativeCounseling101.com
Make Your Own Sand Tray Therapy Moon Sand | Creative Counseling 101.com
See Hundreds of Play Therapy and Sand Tray Therapy Activities & Techniques | Examples from Therapists & Graduate Students | Creative Counseling 101.com
Reconnect With Your Inner Child | Creative Counseling 101
Creative Counseling Aromatherapy | Create Custom Scents For Clients
Learn How To Calm People Down With Sugar Therapy | Creative Counseling 101.com
Learn How To Put Your Feelings In A
Bibliotherapy In Counseling | Creative Counseling 101.com
Sand Tray Therapy Warm Ups: Use of the Labyrinth | Creative Counseling 101.com
Visual Imagery In Play Therapy and Sand Tray Therapy | Creative Counseling 101.com
Affirmations In Therapy | Creative Counseling 101.com
Grief & Creative Counseling | Make a Grief Bottle | Creative Counseling For Grief & Loss
Learn Stress Reduction Activities: Make Stress Free Confetti
Creative Counseling 101 Photo Gallery | Learn How to Be More Creative for Your Clients | Creative Counseling 101.com
Dr. Stangline is a Creative Counselor who teaches counselors and students of counseling how to be Creative Counselors.
Contact Me
Disclaimer
Affliate Disclosure
Privacy Policy
Make Your Client's Aromatherapy : Sweet Dreams Perfume For Nightmares | Creative Counseling 101
Homemade Play Therapy Puppets Example #3 | Creative Counseling 101
Make Your Own Aromatherapy: Monster Go-Away Spray | Play Therapy Technique With Creative Counseling 101
Building Personal Play Therapy Miniature Worlds | The Circus Activity |Creative Counseling 101
Grief & Loss Technique | Peace, Light, & Love Box | Creative Counseling 101
Make A Play Therapy Finger Puppet Castle Theater | Creative Counseling 101
More Play Therapy Puppet Theater Examples | Creative Counseling 101
The Creative Counselor Play Therapy Room | Creative Counseling 101
Create A Mandala In Therapy | Creative Counseling 101
Learn How To Make More Creative Mandalas | Creative Counseling 101.com
See Mandala Examples | Creative Counseling 101.com
More Play Therapy Puppets & Puppet Theaters | Creative Counseling 101.com
Message In A Bottle Balloon For A Stress Reduction Activity | Creative Counseling 101.com
Make A Miniature Play Therapy World Activity | Personal Fairytale | Creative Counseling 101.com
Learn How To Create A Family Of Origin Play Therapy Genogram | Creative Counseling 101.com
The World's Most Creative Genogram | Creative Counseling 101.com
Play Therapy Feeling Masks | Creative Counseling 101.com
Taste Therapy With Lollipop Feelings | Creative Counseling 101.com
Creative Affirmation Jar | Creative Counseling 101.com
Creative Affirmation Cards
The Parts of the Human Brain | What Counselors Need To Know
Positive Behavior Management Chart For Children | The Smiley Face Game
The Play Therapy Room | Creative Counseling 101.com
How to Do Play Therapy | Learn the basics and more at Creative Counseling 101.com!
Reconnect With Your Inner Child Again | Creative Counseling 101.com | Activities To Help You Find Your Inner Child Again
Use The Mandala In Play Therapy | Creative Counseling 101.com
The Therapist's Diet & Lifestyle Plan | Self-Care | Creative Counseling 101.com
Play Therapy Miniature World Healing Garden | Creative Counseling 101.com
Learn New Ways to Make Play Therapy Miniature Worlds | Creative Counseling 101.com
Here is a new Sand Tray Activity from Creative Counseling 101.com | Help for Trauma Survivors
Sand Tray Therapy History | Learn The History of the Sand Tray | Creative Counseling 101.com
Learn How To Do Sand Tray Therapy | Creative Counseling 101.com
Make Your Own Sand Tray Therapy Bridge Miniature | Creative Counseling 101.com
How To Use The Labyrinth in Sand Tray Therapy | Creative Counseling 101.com
Sand Tray Therapy Starters: The Bon Bon Box | Creative Counseling 101.com
New Sand Tray Therapy Activity: Maslow's Hierarchy | Only at Creative Counseling 101.com
How To Stop Your Child from Using Curse Words or Bad Words | The Creative Way at CreativeCounseling 101.com
How To Help Your Child Deal With Bullies | Bullying Prevention Copying Skills That Work | Creative Counseling 101.com
Stop The Bully Tips | Bullying Prevention | Creative Counseling 101.com
The Creative Sand Tray for Sand Tray Therapy eBook | Take an actual sand tray therapy class today! | Creative Counseling 101.com
Sand Tray Therapy 101 Class and Book Syllabus | See an Actual Class Syllabus from Creative Counseling 101.com
Dream Analysis in Sand Tray Therapy Activity | Learn More About Your Dreams | Creative Counseling 101.com
Play Therapy Miniature World Activity: Under The Sea | Creative Counseling 101.com
Learn effective child discipline with this positive child behavior management program. Free help for parents and teachers | Creative Counseling 101.com
If You Have Tried Everything to Help Students Behave (And it did not work) ...Try This!
Helpful Behavior Techniques for Children | Ideal for Parents, Teachers, and Therapists to Use | Creative Counseling 101.com
Build a Stronger and Healthier Brain | Brain Juggling Activity for All Ages | Only at Creative Counseling 101.com
Help Stop Nightmares & Bedtime Terrror in Young Children: The Fireflies Magic Lantern Story & Activity | Creative Counseling 101.com
Teach Good Manners & Etiquette to Children | Meet Miss Charming Gumdrop Etiquette & Good Manner Specialist | Creative Counseling 101.com
Make the World a Better Place Day! February 9th | Teach Kids how to Make the World a Better Place | Start with February 9th!