Make your own Puppet Theater for Play Therapy
Children often prefer homemade creations in the play therapy room. An old picture frame makes a great play therapy puppet theater. Make sure it is safe to use, is self-standing and will not fall on children.
Use your imagination and make sure the play therapy stage looks appealing to children. You may wish to include child friendly fabric for the curtains.
The Puppets in Play Therapy: Create play therapy puppets out of socks, paper, or materials for your puppets. Play Therapy Puppets can be made or store bought. Play Therapy Finger puppets may also be used. Again, make the play therapy puppet kid friendly! Marionettes may also be used.
See the play therapy puppet making activity for additional play therapy puppet making ideas.
Materials for Play Therapy Puppet:
Medium to Large Picture Frame

Colorful Paint

One Wooden Dowel as a curtain rod

Fabric or two dish towels for curtains
Stitch Witchery found in craft stores
Directions for Play Therapy Puppet Frame:
1. Paint the picture frame with the color of your choice. 
2. Cutout fabric curtains. Make room for the wooden dowel to attach on top of the curtains. You can sew the ends by using Stitch Witchery and an iron. Attach the fabric to the wooden dowel with Stitch Witchery or by sewing. 
3. Attach the long dowel to the puppet theater with nails. Make sure the nail is not sticking out. Smash it up against the wood. 
Below are some wonderful examples from my past play therapy student's who took play therapy and had to create their own puppet theater and puppets as a midterm grade! 
Can you imagine taking a graduate class and having to build a play therapy puppet theater, make all your puppets, and write a script for a puppet show? Then perform the puppet show in front of the class? 
My theory is that you have to connect with children and understand their love of puppets, plays, and connection to play.
My play therapy students actually enjoyed this process and learned a lot from it.
 I did get a few gripes about having to build the play therapy puppet theater, but in the end, the students had the knowledge and the theater for their practice! 
Play Therapy Puppet Theater Examples:
Student Play Therapy Puppet Theater Example 1
Student Play Therapy Puppet Theater Example 2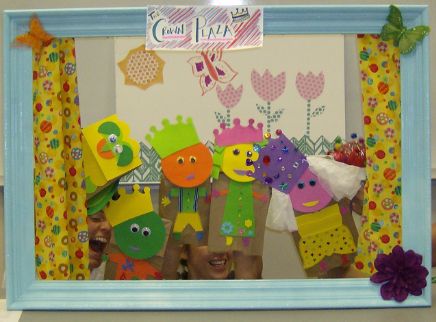 Interested In More Play Therapy Techniques and Ideas?
To date I have three play therapy puppet theaters. One is neutral (but it still sparkles). The second one is pink and is girly. The third one is "boy" oriented. I give my play therapy clients a choice of theaters to choose from.
Interesting Tidbit for Play Therapists:
For my six year old nieces birthday I gave her a homemade puppet theater with some store bought finger puppets. It was her favorite present, even more than the iPad. Now, that says something doesn't it!
See More Play Therapy Puppet Theater Technique Examples
My wish is that you will find the benefits of play therapy either as a trained professional play therapist, or play therapy client!
I truly hope that Creative Counseling 101 can open the creative doors for your practice with clients!
Learn the History of Play Therapy
What Makes a Good Play Therapist?
How to set up a Play Therapy Room
How to actually do Play Therapy
Advertise Your Play Therapy Practice for Free, Post Your Writings, Share Ideas Here:
See All Examples of Professional Play Therapists Writings and Posts & Play Therapy Graduate Student's Work Here
See More Creative Counseling Ideas Here
See Many Puppet Theater Examples Here

Play Therapy Theater Finger Puppet Castle

Make Your Own Play Therapy Tools

Make Your Own Play Therapy Puppets Technique

See More Creative Counseling Ideas Here
Disclaimer: This website and its content is intended for trained licensed mental health professionals and school certified mental health professionals to use for their clients / students at their own discretion.
*If you ignore the disclaimer above are using these techniques on yourself and you feel any discomfort or upset it is highly suggested that you seek out a licensed  mental health professional immediately.
"Beyond Art Therapy" is the concept from Dr. Stangline that combines all creative fields in therapy. It is not the traditional "art therapy" but goes beyond to include sand tray therapy, play therapy, mindfulness, meditation, color therapy, cognitive behavioral therapy, and a vast majority of other therapies.
For any other type of mental health emergency call your local 911 / Police Number immediately.
Dr. Stangline does not offer advice / suggestions to anyone who is not a professional mental health provider, or a student who is studying this field and has questions about mental health programs of study.