The Creative Counseling Play Therapy Room
The creative counseling play therapy room is different and much more unique than the traditional therapy room, or therapist's office. It is a conglomeration of a play therapy room, sand tray room, art therapy room, etc.
This special play therapy room combines play and art elements, however, it is not cluttered with toys, miniatures, or massive amounts of art supplies. Nor is it a boring therapist's office with a few toys in the corner with only paper and pen to draw with.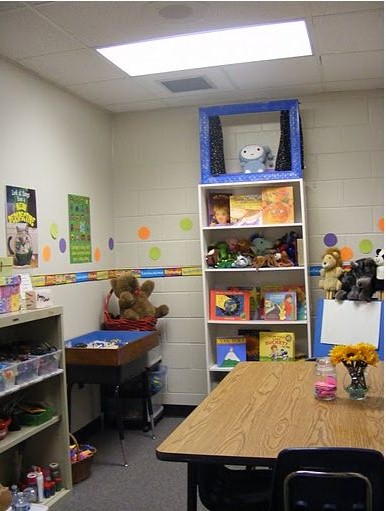 I use the five senses in my play therapy / creative counseling with my clients. Client's are able to use the sense of smell by the lingering scents of gingerbread, lavender, lemon, peppermint, cinnamon and chocolate chip cookies.
Clients see a well organized play therapy room that is visually pleasing to the eye. The room is attractive to the child as well as the teen and adult.
The client can listen to beautiful sounds such as the rainforest, whales, or a visual imagery c.d.. Clients are encouraged to touch all the objects in the room.
Nothing is off limits to my play therapy clients and they are encouraged to explore. They can taste cookies (see the feeling cookie) and ease trauma with sugar (see Sugar Therapy).
Below are some of the things you will see in my creative counseling room:
Puppets
Treasure Box
Blocks
Homemade Made Magic Wands
Celebration Box
Homemade Puppet Theater
Bibliotherapy
Homemade Doll Houses (Several)
Games
Affirmation Jar
Cookies & Lollipops
Homemade Sand Tray
C.D.'s for Music and Visual Imagery
Plastic Sand Tray for making a Wet Sand Tray
Art Cutouts
Artwork (My personal artwork that is child centered, never show the clients work to others as it violates confidentiality.)
Several Miniatures of different genres (See Miniature Section for descriptions)
Art Supplies (Glue, glitter, confetti, paper, scissors, crayons, colored sand, tape, Play Dough, wooden dowels, paper dolls, markers, pipe cleaners, fake gems, etc.)
Jewelry Beads and jewelry items
Recycled materials such as empty water bottles
Want to See More Play Therapy Room ItemsHit the link below:
Creative Play Room to See All Examples Page
I truly hope that Creative Counseling 101 can open the creative doors for your practice with clients!
Learn the History of Play Therapy
How to set up a Play Therapy Room
How to actually do Play Therapy
Advertise Your Play Therapy Practice for Free,
See All Examples of Professional Play Therapists Writings and Posts & Play Therapy Graduate Student's Work Here

Creative Room to Creative Counseling 101
Disclaimer: This website and its content is intended for trained licensed mental health professionals and school certified mental health professionals to use for their clients / students at their own discretion.
*If you ignore the disclaimer above are using these techniques on yourself and you feel any discomfort or upset it is highly suggested that you seek out a licensed  mental health professional immediately.
"Beyond Art Therapy" is the concept from Dr. Stangline that combines all creative fields in therapy. It is not the traditional "art therapy" but goes beyond to include sand tray therapy, play therapy, mindfulness, meditation, color therapy, cognitive behavioral therapy, and a vast majority of other therapies.
For any other type of mental health emergency call your local 911 / Police Number immediately.
Dr. Stangline does not offer advice / suggestions to anyone who is not a professional mental health provider, or a student who is studying this field and has questions about mental health programs of study.