Learn How to Make Your Own Play Therapy Games for Play Therapy Sessions
Learn to bring creativity in the play therapy game process and save money by making your own play therapy games. Play therapy clients will love making the game with you.
You can customize each play therapy game to fit the needs of each play therapy client.  It will also make you a better play therapist in the long run!
Here is an example of "Chess Play Therapy Board".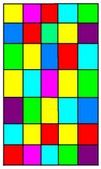 Play Therapy Games How To:
Play therapy games are a great way for a play therapist, or a school counselor, to teach social, emotional, problem solving, empathy, conflict resolution, and other life skills.
Children love games and learn well from playing skill building games. The most important aspect of a play therapy game verses a regular game is that there should be no losers.
Everyone wins in a play therapy game because every player learns a valuable tool. The therapist wants to make sure they also win in the game.
Even a young child can pick up "mellow manipulation" from fixing a game to allow someone to win. Play Therapist will want to avoid this due to the high costs of destroying trust in the relationship.
Gumdrop Play Therapy Game Example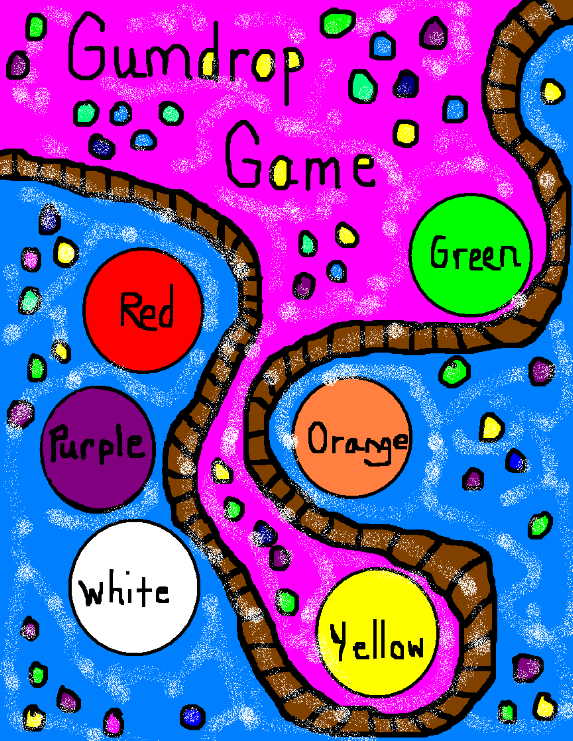 Children also love to create new play therapy games. If you allow a child to contribute to the play therapy game making process you will help that child build a stronger self-esteem.
Making play therapy games for your clients is actually fun and it saves you a lot of money.
So, don't spend big bucks on play therapy games, go and make one yourself! Let us teach you how!
Make Your Own Play Therapy Game
Materials Needed: Poster or Colored Card Stock
Markers or Paint Your Great Idea For A Play Therapy Game Dye & Tokens
Directions:
1. Based on the needs of your clients create a play therapy game that has a clear goal with a purpose.
2. Make sure the play therapy game is a win win game. Do not allow anyone, including the therapist, to lose.
3. Give a title to your play therapy game. Sometimes, if you start with the "big picture" it is easier to break the game down.
4. Pick a theme for your play therapy game. It is often helpful to pick a theme the client can respond to, or that is age appropriate.
5. Add tokens that relate to the play therapy game if you need to have tokens to move around for your game idea.
6. Add activity cards that explain what to do in the play therapy game.

7. Make clear and precise rules so the child is not confused (boundaries) in the play therapy game.
8. Make it colorful and above all fun! That is what play therapy games are all about! Therapy becomes fun and clients want to come back to see you for the next play therapy session.  
Note:
Sometimes it takes actually playing the game to work the kinks out. Try it with another counselor first so that you can make sure the game works and does not frustrate your client.
Play Therapy Games to Make Your Own Play Therapy Tools 

ay Games to The Feeling Gingerbread Man Game 

Play Therapy Games to Creative Counseling 101 Home
See More PlayTherapy Games Here
Disclaimer: This website and its content is intended for trained licensed mental health professionals and school certified mental health professionals to use for their clients / students at their own discretion.
*If you ignore the disclaimer above are using these techniques on yourself and you feel any discomfort or upset it is highly suggested that you seek out a licensed  mental health professional immediately.
"Beyond Art Therapy" is the concept from Dr. Stangline that combines all creative fields in therapy. It is not the traditional "art therapy" but goes beyond to include sand tray therapy, play therapy, mindfulness, meditation, color therapy, cognitive behavioral therapy, and a vast majority of other therapies.
For any other type of mental health emergency call your local 911 / Police Number immediately.
Dr. Stangline does not offer advice / suggestions to anyone who is not a professional mental health provider, or a student who is studying this field and has questions about mental health programs of study.