Play Therapy Game:
Feelings Hopscotch
Try this play therapy game in your private practice, or school counseling setting. Kids love to be active and play therapy is all about having fun while doing therapy!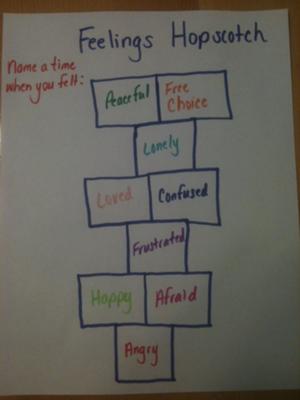 Play Therapy Game - Feelings Hopscotch by Stacy  
(Play Therapy Student for Play Therapy Graduate Class at Mercer University in Atlanta)
Play Therapy Game - Feelings Hopscotch Game Assignment:
Thinking about creating a play therapy game is overwhelming, but it was fun.
Elementary students often have difficulty identifying and expressing feelings. I like to do active projects with students and love to take them outside.
Materials Needed for Play Therapy Feelings Hopscotch Game:
- Paper and Markers
- Or Chalk for outside
Directions for Play Therapy Feeling Hopscotch Game:
Play Therapy Feelings Hopscotch Game incorporates both. Using sidewalk chalk draw a hopscotch pattern on the sidewalk and write a feeling inside.

Have the student throw a rock to a play therapy hopscotch game space and name a time when he/she felt the feeling written in the hopscotch space.
If it's raining outside, this play therapy game activity can be done on a piece of paper with a pebble, or a dice.
Try this fun play therapy game with clients, or school counseling students in a group, or private session. It's a great way to get play therapy clients active and get school counseling students out of the classroom moving around!
Join in and write your own page! It's easy to do. How? Simply click here to return to Submit Your Creative Counseling Ideas / Lessons with Other Professionals / Publish Your Ideas Here!.
Sometimes it takes actually playing the play therapy game to work the kinks out. Try it with another counselor first so that you can make sure the game works and does not frustrate your client.
Play Therapy Games to Make Your Own Play Therapy Tools 

 Games to The Feeling Gingerbread Man Game 

Play Therapy Games to Creative Counseling 101 Home
Disclaimer: This website and its content is intended for trained licensed mental health professionals and school certified mental health professionals to use for their clients / students at their own discretion.
*If you ignore the disclaimer above are using these techniques on yourself and you feel any discomfort or upset it is highly suggested that you seek out a licensed  mental health professional immediately.
"Beyond Art Therapy" is the concept from Dr. Stangline that combines all creative fields in therapy. It is not the traditional "art therapy" but goes beyond to include sand tray therapy, play therapy, mindfulness, meditation, color therapy, cognitive behavioral therapy, and a vast majority of other therapies.
For any other type of mental health emergency call your local 911 / Police Number immediately.
Dr. Stangline does not offer advice / suggestions to anyone who is not a professional mental health provider, or a student who is studying this field and has questions about mental health programs of study.