A Warm & Fuzzy School Counselor Guidance Lesson on "Goal Setting"
As a school counselor in elementary school, I use this guidance lesson story to teach students about goal setting. I read the story to each grade level, however, use a different guidance lesson activity for the seperate grade levels.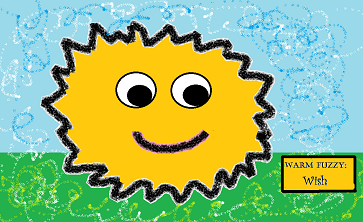 The Story of Wish
By: Dr. Michelle Stangline
School Counselor
(c) Copyright 2013 by Creative Counseling 101.com
This is the story of a golden warm fuzzy feeling named "Wish". Wish liked to wish about many things. He spent a lot of time each day wishing things would happen for him.
He wished he could be a star baseball player. He wished he could be a great scientist. He wished he made good grades in school and that other warm fuzzy friends would think he was smart.
Wish did not try very hard in school. Sometimes he did not have a lot of energy because he refused to eat the healthy breakfast his mom made him.
He came to school late every day. This made him feel behind when he got to his classroom because all the other students had started their lessons.
Wish often forgot to do his homework. It made him mad when he actually did his homework, but he left it at home.
Sometimes, he rushed through his class work so he could be the first to finish. Every now and then Wish refused to do his class work and had to sit in for recess.
Each day, Wish felt tired because he stayed up too late playing video games. His parents thought he was in bed getting 8 to 10 hours of sleep each night. It was hard to get through the day and learn what his teacher was teaching.
Wish was a smart warm fuzzy feeling. However, because of the choices he made he started to feel "dumb".
As the school year progressed, Wish started to get behind. He even started to distract other kids in class. This made the teacher get upset because she could not teach and the other students could not learn.
One day Wish's teacher had a conference with his parents. Wish was making very bad grades at this point. Wish's mom and dad were very sad. His teacher, Miss Cupcake asked, "Wish, what do you want to be when you grow up?"
Wish told his teacher and parents that he wanted to be a great scientist and a great baseball player.
Wish knew he was a really great baseball player already. His teacher asked him how he became a great baseball player?
"Well, I go home every night and I practice throwing the ball. I eat a healthy meal before I go to a game. I get to practice on time every day. I come prepared with my baseball glove, ball, and bat. I always go to bed early before a big game. And most importantly I listen to my baseball coach and ask him questions when I don't understand something.
"Well", said his teacher Miss Cupcake. "It seems to me that you have wonderful goal setting skills when it comes to baseball. This is why you are so successful at it."
"Why don't you try goal setting at school the same way you do it for baseball?"
At that moment Wish knew that he could be a great scientist and a great baseball player. He told everyone that he was going to start setting goals for school.
Wish went home that night and did his homework. He packed his homework and school supplies in his book bag and placed it by the door. After that Wish went to bed at 9 p.m. so that he could get 9 hours of sleep that night.
---
In the morning Wish got up early and ate a healthy breakfast. Because he got up early he was able to catch the school bus. If he took the bus he was guaranteed to get to school on time.
In class he sat down and completed all his work. He raised his hand and asked the teacher questions if he did not understand something. That afternoon Wish got to go to recess and play!
A few weeks later Wish got his report card. Wish had earned all "A's"! He felt so much better now that he was earning good grades. Wish now knew that goal setting and being consistent (doing it each day) was important in order to be successful in school. 
Wish smiled because he now understood that if he worked hard on his goals every day he could find success in anything he wanted!
What do you wish for? How can you start goal setting at school and make your wishes come true?
School Counselor Guidance Lessons eBook for sale: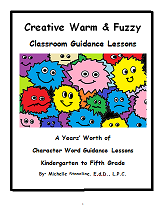 School Counselor Guidance Lesson & Social Stories eBook for sale:
Get a year's worth of school counselor guidance lessons with "Creative Warm & Fuzzy Classroom Guidance Lessons eBook". Introduce your students to the "Warm & Fuzzy Way". Click the link below for more information:
Warm & Fuzzy School Counselor Guidance Lessons eBook 
Get More Guidance Lessons and Social Stories Below: 
Warm Fuzzy Guidance Lesson Page One
School Counselor Guidance Lesson: The Story of Warm Fuzzy Elementary School: A Back to School Story
School Counselor Guidance Lesson on Goal Setting
The Story of Prize: Respect for Self Guidance Lesson
December Guidance Lesson Story for School Counselors and Teachers / The Gingerbread Warm Fuzzy
Charity Character Word of the Month Guidance Lesson Story
Love and Kindness Guidance Lesson Story
Study Skills and Test Preparation Guidance Lesson Story
---
The Warm Fuzzies go to School Guidance Lesson
---
Creative Counseling 101.com Home
Disclaimer: This website and its content is intended for trained licensed mental health professionals and school certified mental health professionals to use for their clients / students at their own discretion.
*If you ignore the disclaimer above are using these techniques on yourself and you feel any discomfort or upset it is highly suggested that you seek out a licensed  mental health professional immediately.
"Beyond Art Therapy" is the concept from Dr. Stangline that combines all creative fields in therapy. It is not the traditional "art therapy" but goes beyond to include sand tray therapy, play therapy, mindfulness, meditation, color therapy, cognitive behavioral therapy, and a vast majority of other therapies.
For any other type of mental health emergency call your local 911 / Police Number immediately.
Dr. Stangline does not offer advice / suggestions to anyone who is not a professional mental health provider, or a student who is studying this field and has questions about mental health programs of study.