School Counselor & Teacher Guidance Lesson for the month of December



The Gingerbread Warm Fuzzy Activity 
A Winter Holiday School Activity
for Teachers and School Counselors
The Gingerbread Warm Fuzzy
For Kindergarten to Fifth Grade
I have used "The Gingerbread Warm Fuzzy" activity for years with my elementary students. I began using it with only kindergarten students, but as they moved up to higher grade levels they still wanted to do the activity each holiday season.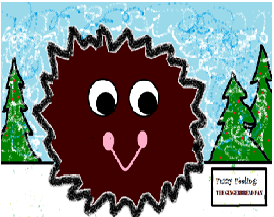 I also used this activity at home with my son and his cousins. It became a holiday tradition at our house that continues to be passed on to the younger generation.
The Gingerbread Warm Fuzzy activity is so much fun to do, especially if your entire school buys into it. I use this as my school counselor guidance lesson during the month of December.
This school counselor or teacher guidance lesson works well with all cultures and religions. It is also a wonderful way to get the students to show positive behavior during this busy time of the year.
I read the poem to each grade level and show them my little Gingerbread Warm Fuzzy Friend. I make a Gingerbread Warm Fuzzy for every classroom complete with eyes, cheeks, and mouth.
I tell the students that the teacher will hide the Gingerbread Warm Fuzzy somewhere in the classroom. He will be watching for positive behavior, good manners, and hard working students.
After I read the poem we make the tiny gift boxes together in class. The teacher collects the finished gift boxes and keeps them in a safe place until she or he decides it is time to secretly leave a gift in each of the student's desks.
It is so important that everyone, regardless of behavior, gets a tiny gift. I know, I know, this is not an ideal situation. However, the point of this activity is to try to get good behavior from students and have a little fun in the process.
A lot of teachers and school counselors will build the suspense and try to get as much positive behavior help from the Gingerbread Warm Fuzzy as possible. Many teachers create a "Wish List" of positive behavior with the students as part of this activity.
There are other activities you can use with the Gingerbread Warm Fuzzy listed below. Just check out the links at the bottom of the page.
This activity can last a few weeks and the teacher can move the Gingerbread Warm Fuzzy around the room to different hiding places. The students are challenged each day to use positive behavior because they know the Gingerbread Warm Fuzzy is watching them.
It is also a lot of fun to find the hiding place of the Gingerbread Warm Fuzzy and get a small prize of some sort if you are the one who found his hiding place! Students love to look for the Gingerbread Warm Fuzzy.
Teachers usually wait to slip the gifts in the desk the morning before the last day of school in December. The students enjoy coming into class and finding a small token gift waiting for them! Some teachers will even bring in gingerbread cookies and milk to serve when the students open their tiny gifts.
For the tiny presents, I usually buy small candy, or small toys to place in the gift box. I also like to use red ribbon, but you can use anything you like to tie the box and make it festive. Some teachers and school counselors have also used positive notes.
Sometimes, teachers or school counselors will take the students on a little Gingerbread Hunt in the hallways and other parts of the school building. I leave this up to the teacher to decide. I have included clues for teachers and counselors to use if they want to do the Gingerbread Hunt. See the Gingerbread Clue Cut Out below if you want to use it.
---
---
The Gingerbread Warm Fuzzy December Guidance Lesson & Poem Continued
---
Gingerbread Warm Fuzzy Activity December: Make a Box
---
Candyland Gingerbread House School Counselor / Teacher / Parent Activity
---
Creative Counseling 101.com Home
Disclaimer: This website and its content is intended for trained licensed mental health professionals and school certified mental health professionals to use for their clients / students at their own discretion.
*If you ignore the disclaimer above are using these techniques on yourself and you feel any discomfort or upset it is highly suggested that you seek out a licensed  mental health professional immediately.
"Beyond Art Therapy" is the concept from Dr. Stangline that combines all creative fields in therapy. It is not the traditional "art therapy" but goes beyond to include sand tray therapy, play therapy, mindfulness, meditation, color therapy, cognitive behavioral therapy, and a vast majority of other therapies.
For any other type of mental health emergency call your local 911 / Police Number immediately.
Dr. Stangline does not offer advice / suggestions to anyone who is not a professional mental health provider, or a student who is studying this field and has questions about mental health programs of study.