Self-Healing in Sand Tray Therapy Continued Page Four 
Directions for the Self-Healing Sand Tray Therapy Activity One are Below:
Note:This may take up to a week or more to complete your sand tray for sand tray therapy self-healing. It is up to you!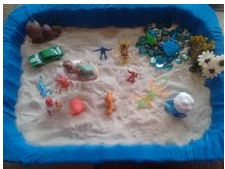 Materials for Self-Healing Sand Tray Therapy:
Play Sand
Miniature Sand Tray (Plastic, Wood, Clay, or Glass)
Assorted Miniatures of Choice
Feathers
How to do Self-Healing Sand Tray Therapy:
1. Create your miniature sand tray. Fill it with clean play sand and use a feather to stroke the sand.  Touch the sand and let it calm you. You are beginning the bonding process of your sand tray.
2. Look around your home for items that could be used as miniatures.
3. Take time to add things that have meaning to your miniature sand tray.
4. Spend a week or more adding items to your tray. Don't overthink this process. Just add, or take away anything you like.
5. Take a nature walk and pick up anything you would like to add to your sand tray.
6. Visit the Dollar Store, or Walmart. Start to gather miniatures or tokens. Add items and take away items at your leisure.
7. Look through magazines or clip art during the week. Clip out pictures that speak to you. Add them to your sand tray.
8. Get to know your sand tray and spend at least ten minutes each day with it. You are beginning to collect your feelings in the sand tray.
9. Make a list of all the items you put in your sand tray from the first item to the last item.
10. List items you removed from your sand tray in the order that they were removed.
11. Once you feel you have completed your Self-Healing Sand Tray take a picture of it and give the tray a title or name. Log this in your computer.
12. Fill out the list below as you finish each session with your tray.
Items Added in Order:    
Items Taken Away in Order:
Self-Healing in Sand Tray Therapy Page Five
---
Self-Healing in Sand Tray Therapy Page Three
---
See More Creative Counseling Ideas Here
---
How to Use The Sand Tray for Sand Tray Therapy Link:
More Ideas on Sand Tray Therapy
---
For more free ideas on creative play therapy visit the link below:
Creative Counseling 101.com Home