Play Therapy Room Accessories
Play therapist want to create a play therapy room that is a safe and special place for their play therapy clients. My play therapy accessories are just as important as the play therapy toys I put in my play therapy play room.
Below are some examples of the special play therapy activities I have placed in my play therapy room. They are all inexpensive or easy to make.
The below example is a bouquet of play therapy flowers for my clients to see when they walk through the door of my play therapy room. This sets the tone for a "warm and friendly" experience.
I found these flowers at the dollar store. They also make great play therapy wands.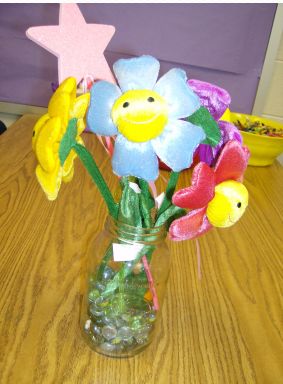 Play Therapy Warm Fuzzies
This is a basket filled with my "warm fuzzies". These little creatures are the staple of my play therapy and play counseling experience I give to clients.
Warm Fuzzies are inexpensive to use. They work for seperation anxiety, nightmares, stress, and more! They are the perfect play therapy staple for your clients.
See "Warm Fuzzies" warm up for ideas to use these wonderful little beings in play therapy.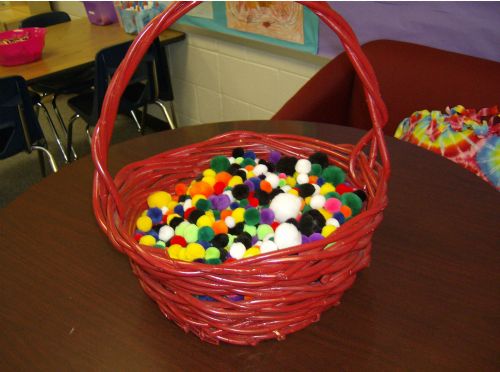 Play Therapy Room Art Work
For my play therapy room I decorate it with my own personal play therapy art work. In this way I can use examples in play therapy without breaching confidentiality with client work.
It also helps me to remember great play therapy activities to use with my clients.
My theory is that if you are going to use play therapy on clients, you had better do it on yourself first!
As you can tell I use a lot of play therapy on myself!!!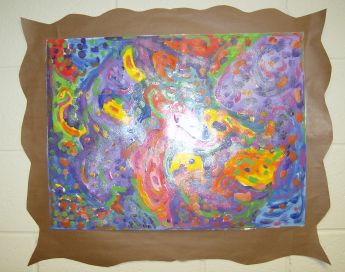 Play Therapy Wands
I like to make a little joke with my play therapy graudate students about wands. I tell them the universities I graduated from forgot to give me the magic wand for therapy.
The truth is there is no magic wand in therapy, although sometimes I think people expect me to have one to fix their problems.
So, I like to have a lot of play therapy wands floating around. These wands are colorful and can be used for many activities.
See "Play Therapy Wands" for more ideas.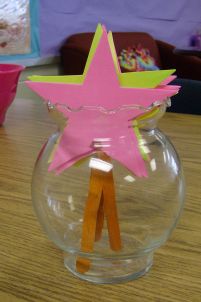 Play Therapy Puppet Holders
I make my own puppet holders in order for my play therapy puppets to be shown to clients.
They are easy to make. Just cut some wood and dowels to the size you want. Then take a drill bit and drill a hole. Fix the dowel in the hole with glue. Allow to dry.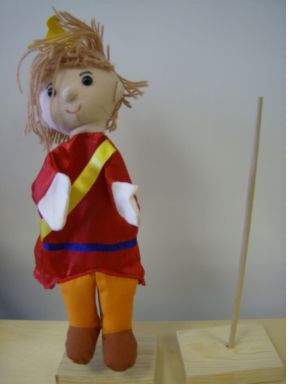 Play Therapy Accessories to Play Therapy 


Play Therapy Accessories to Creative Counseling Room

Play Therapy Accessories to Creative Counseling 101 Home
Disclaimer: This website and its content is intended for trained licensed mental health professionals and school certified mental health professionals to use for their clients / students at their own discretion.
*If you ignore the disclaimer above are using these techniques on yourself and you feel any discomfort or upset it is highly suggested that you seek out a licensed  mental health professional immediately.
"Beyond Art Therapy" is the concept from Dr. Stangline that combines all creative fields in therapy. It is not the traditional "art therapy" but goes beyond to include sand tray therapy, play therapy, mindfulness, meditation, color therapy, cognitive behavioral therapy, and a vast majority of other therapies.
For any other type of mental health emergency call your local 911 / Police Number immediately.
Dr. Stangline does not offer advice / suggestions to anyone who is not a professional mental health provider, or a student who is studying this field and has questions about mental health programs of study.