The Holiday Gingerbread Man Game for Children
A Fun Activity for Children Anxiously Awaiting Santa!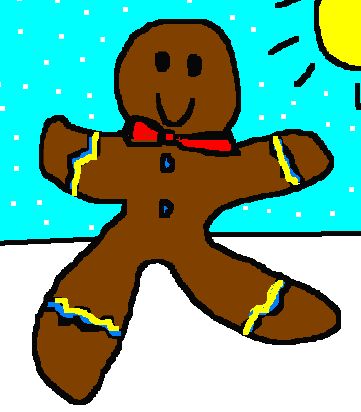 Do you have young children who get anxious when they are waiting for Santa to arrive?
"The Holiday Gingerbread Man Game" is the answer to your little one's excitement.
This game is a wonderful way to celebrate the holiday season with kids aged 2 to 9.
This game is a special way to spend an afternoon with the child or children that you love! It has become a yearly tradition at my house and has been passed down to the younger children of our family.

The Holiday Gingerbread Man Game for Children Ages 2 – 10 years old
Do you have young children who get anxious waiting for Christmas Day?
This is a wonderful game and activity to help little ones who are anxiously awaiting Santa Clause at Christmas time. I used to play this game with my son, nieces, and nephews a few days before Christmas. It helped take the edge off all the excitement and anticipation of Christmas Day.
Play this game with a child you love today. It will probably become a welcomed tradition at your house. This is also a fun game for any child, regardless of religion.
This game can also be played in the classroom as a non-religious activity that young children will enjoy. I still play this game with my elementary students during the holiday season.
One day, I hope to play this game with my future grandchildren! The children in my family and school will always remember this game and the fun we had playing it over the holiday season. Here's to making happy holiday memories!
Materials:
- Gingerbread Men Cut Outs for Clues (See Below)
- Marker
- An inexpensive gift wrapped up
- Gingerbread Cookies (Ready Made, or Homemade)
Directions: 1.In advance cut out the gingerbread men cut outs. Do not let the children see this part. Do it in advance.
2. With a marker write directions where to go for the Gingerbread Man Hunt game (See cutout below for ideas). Again, do not let the children see this part.
3.Tape the gingerbread men cut outs in the rooms you will be hunting the gingerbread men in. Try to hide the clue somewhere to make the game more exciting. Again, do not allow the children to see this part of the game preparations.
4.Place the small, inexpensive gift at the end of the trail. Hide it in your Christmas tree or somewhere that a child can find it. Again, do not allow the children to see this part of the game.
5.Tell your child that you plan on calling the Gingerbread Man and asking him to bring a present by. Also, tell your child that it is a game to try to catch the Holiday Gingerbread Man.
6. Start to bake the cookies with your child, or have some ready- made at hand for the game. I use a large gingerbread man pan and put it in the oven on timer before I start the game. I also say that this entices the Holiday Gingerbread Man to come and visit.
7. Once the cookies and gingerbread men cut outs are in place, I start the game out by acting startled as if I saw a little Gingerbread Man run across the room. I call out, "What was that running through the kitchen? Let's go find out together!"
8. With my child I run through the house looking for clues from the Holiday Gingerbread Man. The goal is to run through the hose hunting for clues together that lead to the hidden gift!
9. We find each clue and read it together. Then we run to the room the clue told us to go to and search for the next clue.
10. The last gingerbread cutout clue should lead you and your child to the small gift.
11. Hunt for the small gift and unwrap it while eating your gingerbread men cookies!
Enjoy this time with your little ones. It goes by so fast and you will one day have wonderful memories!

Holiday Gingerbread Man Cutout Below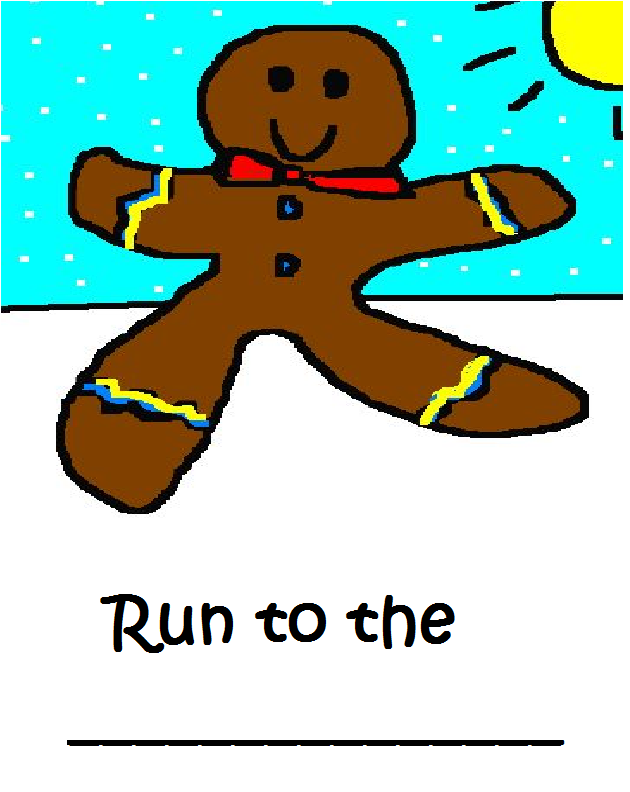 The Holiday Gingerbread Man Game to Creative Counseling 101
See More Game Activities Here
Disclaimer: This website and its content is intended for trained licensed mental health professionals and school certified mental health professionals to use for their clients / students at their own discretion.
*If you ignore the disclaimer above are using these techniques on yourself and you feel any discomfort or upset it is highly suggested that you seek out a licensed  mental health professional immediately.
"Beyond Art Therapy" is the concept from Dr. Stangline that combines all creative fields in therapy. It is not the traditional "art therapy" but goes beyond to include sand tray therapy, play therapy, mindfulness, meditation, color therapy, cognitive behavioral therapy, and a vast majority of other therapies.
For any other type of mental health emergency call your local 911 / Police Number immediately.
Dr. Stangline does not offer advice / suggestions to anyone who is not a professional mental health provider, or a student who is studying this field and has questions about mental health programs of study.