Santa's Tip for Bullying Prevention and Mean Teasing
Learn how Santa deals with bullies and mean people. Not only does Santa leave them coal and ashes, he uses emotional intelligence and practices his bullying prevention coping skills. Read below to find out more information and practice this bullying prevention tip in front of the mirror several times.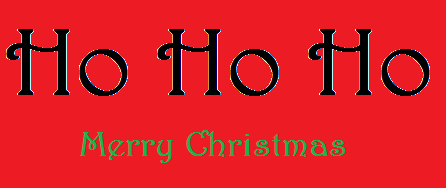 The "Ho, Ho, Ho" Bullying Prevention Coping Skills
Question: What would Santa do if he were bullied or teased? 
I came up with this the other day during one of my elementary guidance lessons. We were working on the "Gingerbread Warm Fuzzy Story / Guidance Lesson" and using the "List of Classroom Wishes for Good Behavior" Chart (See link below for the lesson.).
We were talking about how the "Gingerbread Warm Fuzzy" would be watching to make sure students were not bullying, or teasing each other during the month of December. Just then I thought of Santa laughing and we practiced it as part of our "Bullying Prevention Coping Skill".
My second grade students loved it! They got to practice the "Ho, Ho, Ho" several times and they put their hands on their belly when they laughed. The students enjoyed mimicking Santa's laugh during the lesson and got quite the giggle out of it.
Later that day I overheard some girls in the hallway saying, "What would Santa do if you said that to him"! Right after that I heard a couple of the girls go, "Ho, Ho, Ho". It looked to me as if a few students were being picked on by a student who said something mean. They stood up for each other and used their newest bullying coping skill to stop the mean teaser / bully. It really worked too!
Today, I used the same bullying prevention coping skill with my third graders. They added a "Merry Christmas" at the end of the "Ho, Ho, Ho". We roll played with students and they practiced the coping skill and worked on appropriate body language. It was great to see students being pro-active and standing up for themselves without teasing or bullying  to get the other student back. This is truly using your emotional intelligence.
It was so wonderful to see my students building their self esteem up by actually using the bullying prevention coping skill I had just taught them. Instead of using a hurtful tattle and letting an adult handle it, they had the confidence to try a new skill. The students who used this technique did not let the bully / mean teaser bother them. They laughed it off with a "Ho,Ho, Ho"!

So the next time you get bullied or teased, do what Santa would do and give a great big, "Ho, Ho, Ho"! Merry Christmas!
---
Learn More Bullying Prevention Tips Here
---
More December Counseling Activities Ideas
---
Creative Counseling 101.com Home
Disclaimer: This website and its content is intended for trained licensed mental health professionals and school certified mental health professionals to use for their clients / students at their own discretion.
*If you ignore the disclaimer above are using these techniques on yourself and you feel any discomfort or upset it is highly suggested that you seek out a licensed  mental health professional immediately.
"Beyond Art Therapy" is the concept from Dr. Stangline that combines all creative fields in therapy. It is not the traditional "art therapy" but goes beyond to include sand tray therapy, play therapy, mindfulness, meditation, color therapy, cognitive behavioral therapy, and a vast majority of other therapies.
For any other type of mental health emergency call your local 911 / Police Number immediately.
Dr. Stangline does not offer advice / suggestions to anyone who is not a professional mental health provider, or a student who is studying this field and has questions about mental health programs of study.