What is Shelter House
Play Therapy?

Part Four


Copyright 2014 (c) by Dr. Michelle Stangline
This new play therapy technique is ideal for all types of therapists, psychologists, social workers, and school counselors who need to work in the brief therapy model within a limited time frame.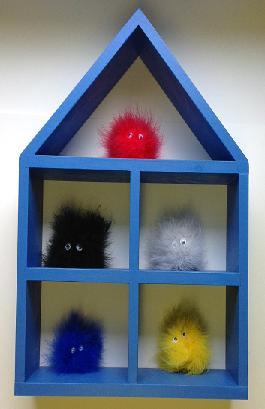 There is little need for translation when one goes directly to the feelings of the clients. All the superficial fluff is removed from the therapy process.
The school counselor, school psychologist, or school social worker will also be able to benefit from the use of Shelter House Therapy. This therapy can be modified for schools and for the students needing counseling on a school level.
"Feeling Cubes" are part of the Shelter House Therapy concept. These are recommended for the basic therapy needs for adults, teens, adolescents, and children. Six basic colored "Feeling Cubes" come with the Shelter House Therapy package.
---
---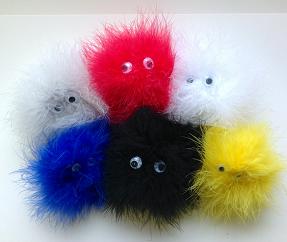 However, young children and adolescents may prefer the "Furry Feelings" that can help the younger client or student process feelings on a more "play based" level. These "Furry Feelings" (see above photo)can be purchased separately on the website at www.creativecounseling101.com.
The design of the "Shelter Therapy House" is intentional due to the view scope used in the client's phenomenological world and levels of conscious thought.
This "Shelter Therapy House" is basically a house of "feelings".  Within the confines of the five room compartments of "Shelter Therapy House" the client can feel safe and express their deepest feelings and thoughts in a secure framework.
The Shelter Therapy House is open in the back and front to allow room for movement and to bring forth several hidden feelings of the psyche. It is a world that must be entered with a trusted therapist when used in therapy. It is the job of the therapist to make the client feel safe in this "Shelter House Therapy World".
Unlike the Sand Tray Therapy technique, the "Shelter Therapy World" is much clearer for the client and the therapist. Feelings are identified and used within the house. A lot of the "mystery" is taken away.
It is true to Dr. Lowenfeld's "pre-verbal imagery" use in the sand tray. However, the "mental games and guesses" of sand tray therapy and play therapy are completely removed. The therapist will find "Shelter Therapy" a faster, more effective therapy than any therapy used today. 
---
Back to "What is Shelter House Play Therapy?" Part Three
---
Creative Counseling 101.com Home
Disclaimer: This website and its content is intended for trained licensed mental health professionals and school certified mental health professionals to use for their clients / students at their own discretion.
*If you ignore the disclaimer above are using these techniques on yourself and you feel any discomfort or upset it is highly suggested that you seek out a licensed  mental health professional immediately.
"Beyond Art Therapy" is the concept from Dr. Stangline that combines all creative fields in therapy. It is not the traditional "art therapy" but goes beyond to include sand tray therapy, play therapy, mindfulness, meditation, color therapy, cognitive behavioral therapy, and a vast majority of other therapies.
For any other type of mental health emergency call your local 911 / Police Number immediately.
Dr. Stangline does not offer advice / suggestions to anyone who is not a professional mental health provider, or a student who is studying this field and has questions about mental health programs of study.