What is Shelter House Play Therapy? (Part Two)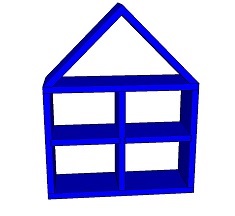 Ancient Africans called the family house, "the great living body of the universe."
The outside of the house is the human mask. The kitchen is the place for transformation, nourishment, caring and / or self care.  The bathroom is the point of self care as well.
The bedrooms are the place of rest and well being. It is also the point of birth and death, as in the past many people have been born or died in the bedroom of their home.
A messy house is representative of a chaotic life. An empty house represents feelings of insecurity.
The shape of the house is also determined on the basis that this is a generic house. It can be used by anyone. 
The house will not intimidate, nor distract or take away from one's own conscious level of thoughts. This shape will not distract from the "feelings" that need to present in the therapeutic process.
 In the past I used to have a beautiful Victorian Doll House in my private practice and school. It was probably used five times over the years that I kept it in both settings.
For some clients, this elaborate doll house was much too intimidating, or possibly vulgar to the psyche. The Shelter Therapy House should always be undecorated. It should be presented as a clean slate for the client to utilize.
One does not have to add furniture or accessories to the Shelter Therapy House. In its pure and basic form the client / student only deals with emotions. The "Feeling Cubes" or "Furry Feelings" are ideal to use for Shelter House Therapy.
If the client / student wishes, furniture and/or miniatures can be added, but it is the choice of the client to add it, not the therapist.
All furniture and miniatures should be kept apart from the house, but accessible only if the client, or student, wants to use them.
A professional licensed therapist should be the one who is working with the client for therapeutic purposes. The beauty of the Shelter Therapy House is that the licensed therapist does not have to be a trained play therapist, sand tray therapist, or art therapist.
If you are licensed mental health professional you are trained to use Shelter House Therapy.
---
Shelter House Therapy Package For Sale
---
What is Shelter House Play Therapy? Continued: Part Three
---
Back to "What is Shelter House Play Therapy?" Part One
---
Creative Counseling 101.com Home
Disclaimer: This website and its content is intended for trained licensed mental health professionals and school certified mental health professionals to use for their clients / students at their own discretion.
*If you ignore the disclaimer above are using these techniques on yourself and you feel any discomfort or upset it is highly suggested that you seek out a licensed  mental health professional immediately.
"Beyond Art Therapy" is the concept from Dr. Stangline that combines all creative fields in therapy. It is not the traditional "art therapy" but goes beyond to include sand tray therapy, play therapy, mindfulness, meditation, color therapy, cognitive behavioral therapy, and a vast majority of other therapies.
For any other type of mental health emergency call your local 911 / Police Number immediately.
Dr. Stangline does not offer advice / suggestions to anyone who is not a professional mental health provider, or a student who is studying this field and has questions about mental health programs of study.