How to Teach Kids to be Trustworthy
Students will learn how to be trustworthy in school, home, friendship, and future careers.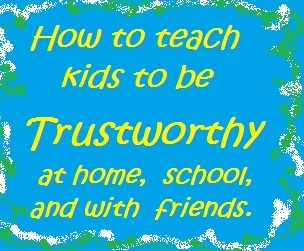 Materials:
Video: "Am I Trustworthy" on U Tube (Ten minutes long)
Trustworthy Test  On Next Page
See Link Below:
Essential Question: Do you always keep your trust with others?
Lesson on Trustworthyness:
Trust has to be earned. It can take a long time to earn someone's trust depending on the person or situation.
It can also be taken away in an instant if you make a poor choice and show that you are untrustworthy.
You can start to build trust with people by showing you can be trustworthy with little things, then move on to bigger things.
When you say you are going to do something you need to follow through. When you make promises you need to keep them.
Trustworthy Traits at School:
1.   Do your homework each night.
2.   Complete your classwork each day.
3.   Clean up your messes each day. Pick up trash, put things away in the proper place, and push your chair in.
4.   Be on time for school each day.
5.   Be helpful to your teacher and other students.
6.   Volunteer to help when needed at school.
7.   Do your very best on your classwork and home work. 
8.    Take responsibility for what you do. Apologize if you make a mistake. Don't blame others for the things you do.
9.   Be honest and always tell the truth. Be consistent as much as possible. This means trying your best and doing things the same each time.
Being Trustworthy at Home:
1.   Do your chores each day!
2.   Do your best each day and help around the house.
3.   Be kind to your sisters and brothers.
4.    Take care of your pets. Feed them, brush them, exercise them, and keep them warm and safe.
5.   Stick to a job and see it all the way through when doing chores at home.
6.   Don't steal from your family, or anyone else.
7.   Be respectful to the adults in your home.
8.   Follow the rules set by adults. 
Trustworthiness with Friends:
1.   When you borrow something from a friend always return it in good condition.
2.   Play fair, don't hit, or hurt your friends.
3.   Don't talk ugly about your friends behind their back.
4.   Listen to your friends when they need you to listen to their problems. Respect confidentiality with your friends unless they are in danger.
5.   Keep your promises to your friends. If you promise to do something, follow through. 
Free Trustworthyness Test for Kids
---
Back to Counseling Social Stories
---
See More Creative Counseling Ideas Here
Disclaimer: This website and its content is intended for trained licensed mental health professionals and school certified mental health professionals to use for their clients / students at their own discretion.
*If you ignore the disclaimer above are using these techniques on yourself and you feel any discomfort or upset it is highly suggested that you seek out a licensed  mental health professional immediately.
"Beyond Art Therapy" is the concept from Dr. Stangline that combines all creative fields in therapy. It is not the traditional "art therapy" but goes beyond to include sand tray therapy, play therapy, mindfulness, meditation, color therapy, cognitive behavioral therapy, and a vast majority of other therapies.
For any other type of mental health emergency call your local 911 / Police Number immediately.
Dr. Stangline does not offer advice / suggestions to anyone who is not a professional mental health provider, or a student who is studying this field and has questions about mental health programs of study.