Shelter House Play Therapy Technique Continued:

Part Three
By: Dr. Michelle Stangline and Creative Counseling 101.com

Copyright (c) 2014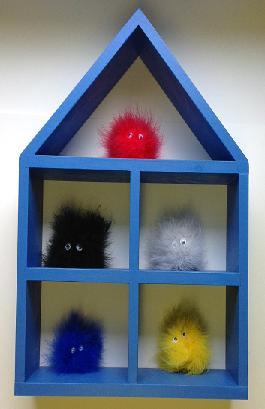 After five years of teaching this technique to students I have only had one or two completely happy childhoods expressed.
Many students come into this process trying to be brave and they try to show only positive emotions associated with their childhood "doll house".
I would warn the students that they would need to bring tissue, as 98% of the students always cried during the presentation.
The day of the final exam came and each student presented their "childhood doll house". I would start out by asking them questions about the actual doll house and then translate deeper into their childhood with questions about the past.
I would gather the other students in class and they would be encouraged to ask the student therapeutic questions.
After about ten minutes into the therapy session I would ask the student to "Show me a typical scene that happened in this house during your childhood."
This question would lead the student deeply into their subconscious and unconscious psyche. Through this "doll house" technique I would see almost everything I need to see as the professor / therapist.
I was taken to the deepest recesses of the psyche in the 30 minute presentation. I had a bird's eye view of the student's,
or client's, phenomenological world.  If I had only used talk therapy it would have taken me a year or more to get the information that one 30 minute doll house session would tell me.
The student was always shocked that so much of their inner world was being shown. I saw this resistance as a dance of sorts.
The student wanted and needed to let the world out in order to be a better therapist to others. After the 30 minute session the student would have a better understanding of their own personal baggage and what they needed to work on for their own personal and professional growth.
It was a win win situation for the student and the other students in the class as they witnessed this powerful therapy.
After the 30 minute session I would know so much more about the client / student, their family members, and their past.
Those who think they can do therapy in the present only are very wrong, and this type of therapy will prove it to everyone who utilizes it.
In order to move forward we have to go back to the source of the pain and understand it.
Today, I still love and use play therapy and sand tray therapy.
However, this new technique of the doll house was the most accessible and powerful tool I ever used to work with my clients, graduate students, and students in the school system.
As a matter of fact, sometimes I see more than I want to see in the mind of the client / student. That is the one drawback if any in using Shelter House Therapy.
The process of therapy happens much faster and the therapist needs to be a licensed therapist in order to deal with the feelings and thoughts that can and will present in the Shelter House Therapy session.
Over the years, I have documented years of this process by collecting the case study writings of the students who partook in this play therapy final exam. 
These students have testified to the power of the doll house in play therapy. You can read these play therapy / doll house testimonies on my website at the link below:
Doll House Testimony from Graduate Counseling Students
---
Back to Shelter House Play Therapy Part Two
---
Creative Counseling 101.com Home
Disclaimer: This website and its content is intended for trained licensed mental health professionals and school certified mental health professionals to use for their clients / students at their own discretion.
*If you ignore the disclaimer above are using these techniques on yourself and you feel any discomfort or upset it is highly suggested that you seek out a licensed  mental health professional immediately.
"Beyond Art Therapy" is the concept from Dr. Stangline that combines all creative fields in therapy. It is not the traditional "art therapy" but goes beyond to include sand tray therapy, play therapy, mindfulness, meditation, color therapy, cognitive behavioral therapy, and a vast majority of other therapies.
For any other type of mental health emergency call your local 911 / Police Number immediately.
Dr. Stangline does not offer advice / suggestions to anyone who is not a professional mental health provider, or a student who is studying this field and has questions about mental health programs of study.