Maslow's Hierarchy for Sand Tray Therapy Sand Tray Therapy
/ Sand Tray Therapy Miniature Activity
Below you will find a free sand tray therapy activity that is based on Maslow's Hierarcy of Needs. This activity is considered to be a form of a "directive" sand tray activity. Based on the client's needs, one must consider if the need is a "directive" activity, or non directive activity.
Directive basically tells the client how and what to do in therapy. Non directive is a "free and open" way to just do the theray. With brief therapy sessions it is often necessary to do directive therapy from time to time.
I find I often get my clients to rotate from directive to non directive based on their needs, not mine. I use this activity with my addiction and trauma clients. It lets me see what level we need to work on in therapy.
Maslow's Hierarchy of Needs is a theory based on Abraham Maslow's 1943 paper "A Theory of Motivation."
He studied exemplary human beings and then mentally ill and neurotic people. His theory included a pyramid based on basic human needs.
His theory suggests that the basic level of need must be met before a human being can go to a higher level.
This is an exciting way to actually get your sand tray therapy client to examine the levels of basic need to see if they have mastered them throughout their lifetime.
By using this activity the therapist can actually see what stages of the client's life were completed, and what stages had trauma or discourse that stiffeled the client's growth.
The Sand Tray has the power to help clients actually go back and rethink, regroup, and reconfigure the developmental stages in life.
This sand tray activity helps take the guess work out of what stages were complete and what stages had issues.
Materials:
Worksheet of Maslow's Hierarchy of Needs Below
Sand Tray with Miniatures
Directions:
1. Show your client the worksheet of Maslow's Hierarchy of Needs below. Give a brief explanation of Maslow's Theory.
2. Ask the client to create a sand tray based on each of these levels.
3. If you do not have a sand tray, ask the client to put miniatures that represent each level of need.
4. Discuss with your client about each level of need and how they see those needs being met, or not being met.
5. Add or take away miniatures as you progress up to the highest level of the pyramid. Try to find out what your client needs (in miniatures) to rise above the levels of the pyramid.
Use this sand tray therapy activity as a base for pre therapy to find out what levels your client needs to work on in therapy.
*Use the sand tray or use the Maslow's Hierarchy worksheet below: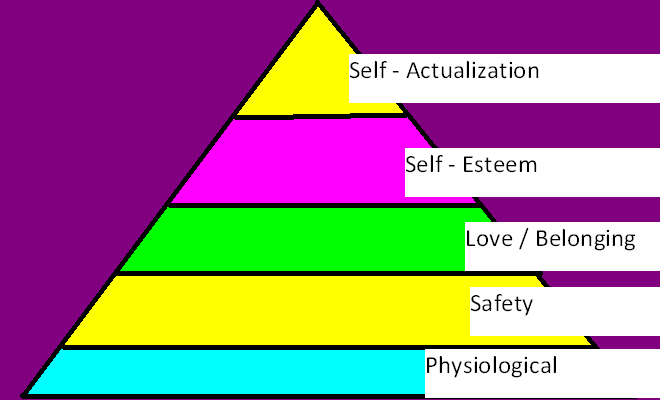 Maslow's Hierarchy to Sand Tray Therapy 


Maslow's Hierarchy to See All Examples

Maslow's Hierarchy to Creative Counseling 101 Home