Sand Tray Therapy and Anger Management:
War and Conflict (Negative Emotion) in Sand Tray Therapy Graduate Class by Graduate Student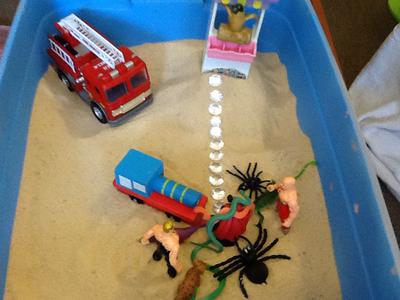 By Sand Tray Therapy Graudate Student # 10804025 (Atlanta GA)
Negative Emotion / Anger Management / Sand Tray Therapy Example 
The Sandtray for sand tray therapy class represents a negative emotion (anger management) I experience, this is feeling overwhelmed by life at times. In the sandtray for sand tray therapy class, I am represented by superman who appears overshadowed and overwhelmed by all these enemies.
Two snakes are on his shoulders, the huge wrestler are on his two sides, a large truck is about to run into him. He also has the spider right at his back, ready to sting him, another spider close by and a snake and tiger closing in. I can imagine the question in his mind, would be: "how do I get out of all of this".
This questions runs in my mind when I feel crowded in like superman in this sandtray therapy tray. The feeling of being overwhelmed is particularly felt on my shoulders represented by the two snakes on the superman's shoulder. In addition, the feeling of almost being run over is strong.
Somehow as with superman, there is always a way out. In the sandtray, the way out is represented by white stones leading to an eagle high up that gives strength to Superman, there is also a fire truck, signifying help on its way to superman. When I feel overwhelmed, I realize that if I can just hold on long enough help is on the way.
I also need to look up to where my help is rather than focus on all the enemies crowding me. If I focus on the enemies, I am overwhelmed with fear but if I look up to the eagle, I am able to see the fire truck bringing help. This sand tray therapy tray is a great way to deal with anger management issues.

How to Use The Sand Tray for Sand Tray Therapy Link:

More Ideas on Sand Tray Therapy 




For more free ideas on creative therapy visit the link below:

Creative Counseling 101.com Home 


Click here to read or post comments
Join in and write your own page! It's easy to do. How? Simply click here to return to Submit Your Creative Counseling Ideas / Lessons with Other Professionals / Publish Your Ideas Here!.
Disclaimer: This website and its content is intended for trained licensed mental health professionals and school certified mental health professionals to use for their clients / students at their own discretion.
*If you ignore the disclaimer above are using these techniques on yourself and you feel any discomfort or upset it is highly suggested that you seek out a licensed  mental health professional immediately.
"Beyond Art Therapy" is the concept from Dr. Stangline that combines all creative fields in therapy. It is not the traditional "art therapy" but goes beyond to include sand tray therapy, play therapy, mindfulness, meditation, color therapy, cognitive behavioral therapy, and a vast majority of other therapies.
For any other type of mental health emergency call your local 911 / Police Number immediately.
Dr. Stangline does not offer advice / suggestions to anyone who is not a professional mental health provider, or a student who is studying this field and has questions about mental health programs of study.