How to Use
"No Name Calling Week"
for Bullying Prevention
Great Ideas for School Counselors and Schools
No Name Calling Week 2014 / January 20th - 24th 
No Name Calling Week is sponsored by the American School Counselor Association to promote a week of bullying prevention in January with students. There are several great lesson plans online with ideas to help school counselors, teachers, and administrators with bullying prevention in the schools.
Our school celebrates "Bullying Prevention Week" in September and I use ideas such as signing the bullying prevention pledge and role playing bullying prevention coping skills in September. By January, our school is ready for something a little different in the bullying prevention area.
This year, I am planning on having my students enter into a contest to come up with positive bullying prevention coping skills that can be used at the elementary and middle school level. We will be giving away several "Warm Fuzzy" necklaces and trophies to students who come up with clever ways of dealing with bullying prevention that utilizes "emotional intelligence".

We will also be practicing these bullying prevention coping skills on our announcements and in guidance sessions.  It is so important to have students practice these skills so they are ready to handle the mean teasers and bullies.
We also will be having students take a "No Name Calling Pledge" if they chose to by wearing a bracelet and making the choice not to say anything mean. These students will wear a red and white yarn bracelet on their right wrist for one week to remind them to refrain from mean teasing and bulling.
If for some reason the student makes a poor choice and say something mean, they need to move the bracelet to the left side and first of all apologize to the "target". Then, they have to say three nice things to people throughout the day. If they do this they can move the bracelet back to the right wrist. The right wrist was chosen because it is closer to the heart.
This month we will be introducing our bullying prevention coping skill for January. Please see the links below to learn what Frosty the Snowman would do if he became a target of bullying!
---
Bullying Prevention Coping Skills Card Set (20 Cards) for sale:
Stop bullying at your school today!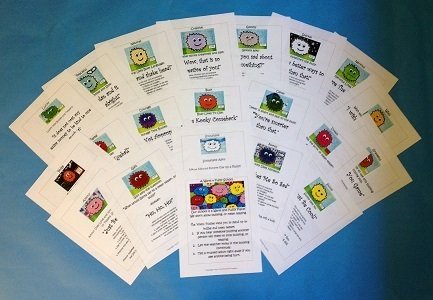 See Bullying Prevention Coping Skill Card Set
---
---
---
Help Your Child use Bullying Prevention Coping Skills
---
Creative Counseling 101.com Home
---
Disclaimer: This website and its content is intended for trained licensed mental health professionals and school certified mental health professionals to use for their clients / students at their own discretion.
*If you ignore the disclaimer above are using these techniques on yourself and you feel any discomfort or upset it is highly suggested that you seek out a licensed  mental health professional immediately.
"Beyond Art Therapy" is the concept from Dr. Stangline that combines all creative fields in therapy. It is not the traditional "art therapy" but goes beyond to include sand tray therapy, play therapy, mindfulness, meditation, color therapy, cognitive behavioral therapy, and a vast majority of other therapies.
For any other type of mental health emergency call your local 911 / Police Number immediately.
Dr. Stangline does not offer advice / suggestions to anyone who is not a professional mental health provider, or a student who is studying this field and has questions about mental health programs of study.