See Even More Play Therapy Puppet Theater Examples
When I teach play therapy to graduate students part of they are required to make a play therapy puppet theater and play therapy puppets. They also have to come up with a play therapy puppet script and perform a puppet play.
The criteria is that they have to make their own play therapy puppets, play therapy puppet theater, and play therapy script.
This is not an easy task I assure you and I get a lot of complaints about it. I have never understood this as I would much prefer making a play therapy puppet and play therapy puppet theater to writing an extensive research paper.
However, what my play therapy students walk away is more than a play therapy puppet and puppet theater. They gain the ability to build their creative skills which they will need when they are a play therapist.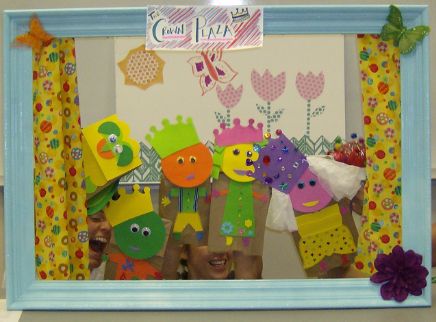 This beautiful play therapy puppet theater was made out of a wooden frame. It was painted and glitter was placed on it. The students also put flowers on it. They know I like flowers and often try to get a higher grade by doing this.
The below play therapy puppet theater was made with wood and cut out. The wood the student used was thin. The goal is to make the play therapy puppet theater light enough that if it does fall on a child they will not get hurt.
You will also need to place a board or blocks to keep the puppet theater upright.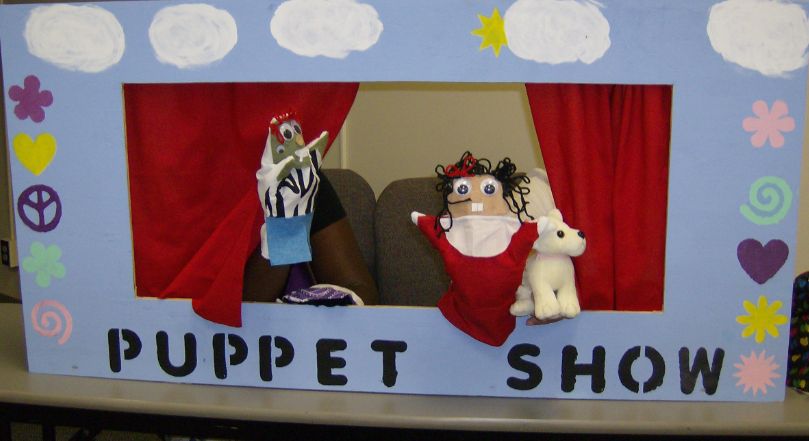 Now this play therapy puppet theater was created by adding colored paper and butcher paper to a box. I like this idea because it can be fun to make a play therapy puppet theater with you client.
Not only is the building process a therapeutic one, the client can take home the puppet theater and practice what was learned in play therapy.
When we make things in play therapy such as the play therapy puppet theater, the clients love it! This is called a "make and take" item.
When the child gets in the car and the parent asks, "What did you do in therapy today?" The child not only has a visual to show the parent, but can reenact the play therapy session.
Parents of your play therapy clients will love this!!!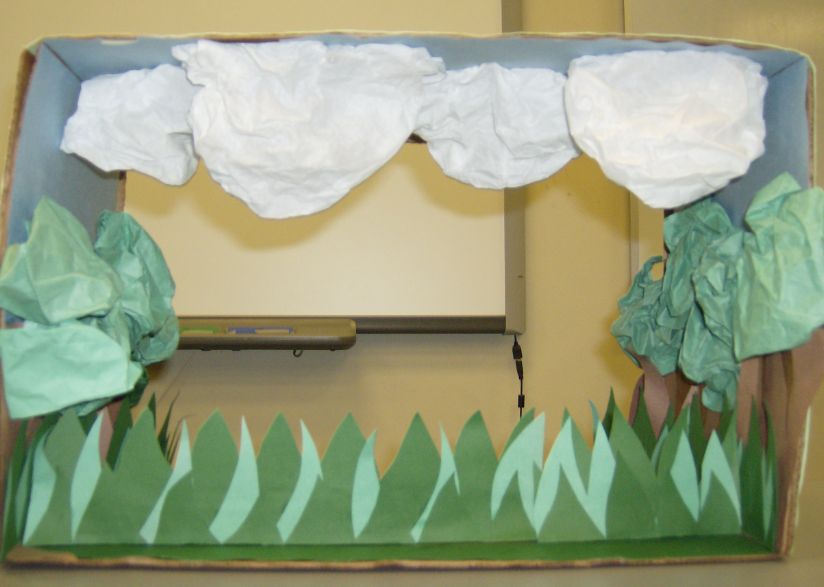 Play Therapy Puppet Theater Examples to Play Therapy

Play Therapy Puppet Theater to Creative Counseling 101.com Home
Disclaimer: This website and its content is intended for trained licensed mental health professionals and school certified mental health professionals to use for their clients / students at their own discretion.
*If you ignore the disclaimer above are using these techniques on yourself and you feel any discomfort or upset it is highly suggested that you seek out a licensed  mental health professional immediately.
"Beyond Art Therapy" is the concept from Dr. Stangline that combines all creative fields in therapy. It is not the traditional "art therapy" but goes beyond to include sand tray therapy, play therapy, mindfulness, meditation, color therapy, cognitive behavioral therapy, and a vast majority of other therapies.
For any other type of mental health emergency call your local 911 / Police Number immediately.
Dr. Stangline does not offer advice / suggestions to anyone who is not a professional mental health provider, or a student who is studying this field and has questions about mental health programs of study.