My Journey with Horticulture Therapy / Flower Therapy / Plant Therapy Continued:
*This is the beginning of my horticulture therapy - flower therapy cutting garden I started in May of 2020 before I contracted COVID19 in July 2020. I have taken over part of the dog pen in my backyard because the deer eat everything where I live in the mountains of North Georgia.
I hope to have flowers to cut and make floral arrangements for the house and for friends and family members. So far, I have no flowers, but I do have a lot of greenery which is so relaxing to be around.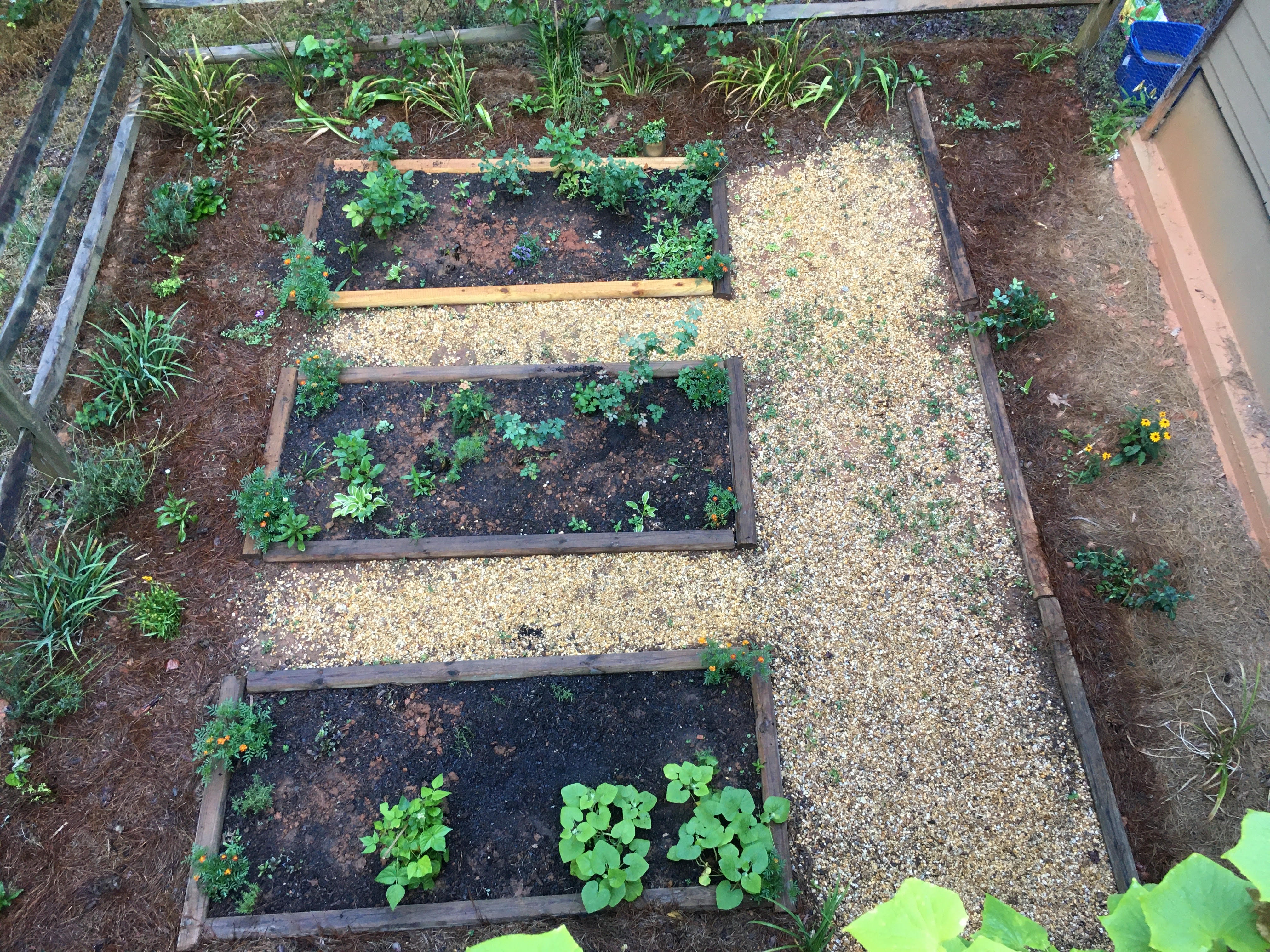 I have rescued the few plants I have left over from the deer food feast and started my experimental horticulture therapy / flower therapy garden in a rare sunny place in my backyard. My dogs (and cat) actually love their recreated pen more now because of the flowers and plants I am growing. At the end of the day we all go outside to water the plants. The girls (my dogs) love to go out and sniff the plants. 
My husband is slowly warming up to the garden. He planted some spinach seeds recently. It is an amazing family (fur family included) experience to be out in the garden together!
* After my diagnosis of Covid19 (July 2020) and hospital stay due to complications I am adding this note:
I am so grateful that I started this horticultural therapy garden and flower therapy garden. It was a true gift to myself (and hopefully someday to others). When I went to the hospital for my Covid19 complications I kept thinking about this garden and how important it was to me. I promised myself if I lived through this virus I would get a green house and devote myself to horticulture therapy and share it with others.

Later in my career, I truly realized how important Horticulture Therapy, Flower Therapy, & Garden Therapy is for children. As a school counselor, I attempted to bring back a 100 year old school garden that had been ignored and neglected for over 50 years. I worked with children ages five to eleven as a school counselor. One of my principals gave me (and the children) a great gift when she allowed me to take on this endeavor. 
Over the past five years I have learned so much about the positive effects that Horticulture Therapy, Flower Therapy, & Garden Therapy have on children. I was not attempting to do Horticulture Therapy, Flower Therapy, & Garden Therapy with the children, but witnessed this therapy naturally happening with each student.
I found that the most at-risk students (especially the emotional behavioral disorder students) worked the hardest in the garden. These EBD children put their anger and rage into digging holes for the plants and moving marble bricks to make a border. Students with anxiety and stress did an incredible job weeding the garden.
Those students who needed creative outlets were the ones who did garden planning and landscaping. Together, we learned about the cycle of life and observed the animals and insects that lived in nature. The motto of the garden was always spoken of at the beginning of each outing. The motto was, "Respect every being large and small in this garden as you are visiting their home." Even though I am terrified of snakes I learned to respect the harmless snakes I would run into. My assistant principal would run out to examine if the snake was poisonous, or not. He taught me to respect the natural order of snakes and I taught this to my students.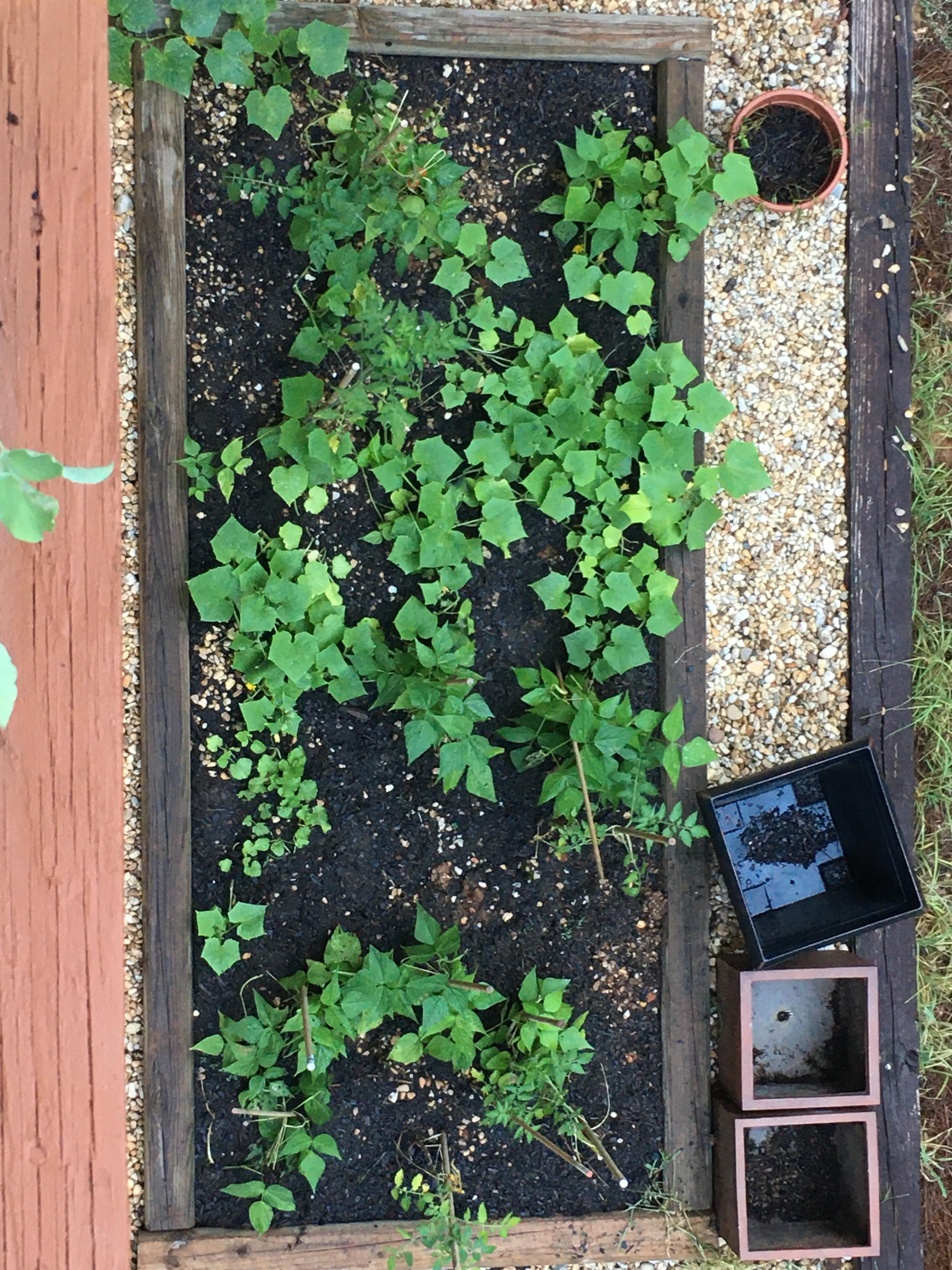 *This is my late summer garden below the deck (Late June 2020). My husband has promised to gift me with a green house next year if I can prove that I will continue my new horticulture garden obsession. I find I am catching a second wave even in the heat of mid July. I am growing green beans, cherry tomatoes, and cucumbers . I started all of these from heirloom seeds (so much better to grow with) and the plants are doing great! I am using a natural pest repellent of castille soap and water.  
When the children returned to the classroom they were able to work better, behave better, and have an overall positive effect on their mental health. They learned how to "Get out of their head and get into their body" when working in the garden and doing their own Horticulture Therapy, Flower Therapy, & Garden Therapy!
During the Covid 19 shutdown I was able to experience my own woodland garden during the month of May. I would work outside each day after sitting in front of my computer for eight hours. I started creating trails on the three acres I own. I became obsessed with plants again and started a vegetable garden after hearing that Walmart would not sell seeds during the shutdown. I researched heirloom seeds and how to grow a better vegetable garden.
My flowers began to bloom, yet faded with too much shade once the leaves were fully out. The deer ate any flower that did bloom. I turned my dog pen into a "Cutting Garden" and grew clover for the hungry deer outside of the pen. I started a vegetable garden on my deck and then added another one in the dog pen. My obsession with plants moved into the house with house plants. I would sit out on my deck and veranda at lunch and just enjoy the beautiful plants! 
Now, my home gardening plans include purchasing a greenhouse. My husband wants to wait and see if my obsession continues throughout the hard months of August and September before we take on such an endeavor with the greenhouse. I am already starting my second planting for fall vegetables and enjoying what I have grown in the vegetable garden. My cutting garden is not fully grown and I am trying to be patient! This year my Special Education Teachers and I are planning on creating a "Sensory Garden" at the school this year and explore growing more plants with seeds. We hope to share this garden with the students and staff to increase their wellbeing. 
Horticulture Therapy, Flower Therapy, and Garden Therapy is a process and I am, as always, still learning. That is the beauty of the garden:)
Yours Sincerely,
Dr. Stangline
---
Back to Page One of Horticulture Therapy / Flower Therapy / Garden Therapy
Disclaimer: This website and its content is intended for trained licensed mental health professionals and school certified mental health professionals to use for their clients / students at their own discretion.
*If you ignore the disclaimer above are using these techniques on yourself and you feel any discomfort or upset it is highly suggested that you seek out a licensed  mental health professional immediately.
"Beyond Art Therapy" is the concept from Dr. Stangline that combines all creative fields in therapy. It is not the traditional "art therapy" but goes beyond to include sand tray therapy, play therapy, mindfulness, meditation, color therapy, cognitive behavioral therapy, and a vast majority of other therapies.
For any other type of mental health emergency call your local 911 / Police Number immediately.
Dr. Stangline does not offer advice / suggestions to anyone who is not a professional mental health provider, or a student who is studying this field and has questions about mental health programs of study.
---