Grief & Loss Technique
Peace, Light, & Love Box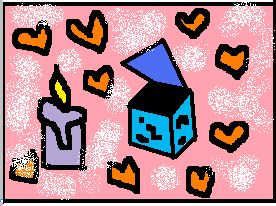 This activity helps your client let go of grief, loss, or pain. The client will make a box and fill it with a small candle and note stating, "Sending you peace, light, and love."
It is especially effective as it is done confidentially, without the receiver knowing who sent it. Or, they can offer it to the universe to let go of grief, loss, pain, or a grudge.
This tool is very powerful when the client creates the box, processes the pain, and chooses to let go by sending the box to a person or place.
Materials:
1 small box 1 small tea candle A note saying, "Sending you peace, light, and love."
Directions:
1. Identify and process any grief, pain, loss, or a grudge with your client.
2. Ask them if they are ready to let go of the grief, loss, pain, or a grudge.
3. If they are ready, then get a small box, a small tea candle, and a small note saying, "Sending peace, light, and love."
4. Place the note (signed or unsigned) in the box with the tea candle.
5. Send the box to a person or place if applicable. The client may also want to leave it in the therapist's office, or take it home and tuck away in a safe place.
*This activity helps the client begin the healing process of letting go. It also helps them move through the stages of grief and start forgiveness.
Peace Light Love Box to Grief Bottle Technique

Peace Light Love Box to Creative Techniques

Peace Light Love Box to Creative Counseling 101 Home
Disclaimer: This website and its content is intended for trained licensed mental health professionals and school certified mental health professionals to use for their clients / students at their own discretion.
*If you ignore the disclaimer above are using these techniques on yourself and you feel any discomfort or upset it is highly suggested that you seek out a licensed  mental health professional immediately.
"Beyond Art Therapy" is the concept from Dr. Stangline that combines all creative fields in therapy. It is not the traditional "art therapy" but goes beyond to include sand tray therapy, play therapy, mindfulness, meditation, color therapy, cognitive behavioral therapy, and a vast majority of other therapies.
For any other type of mental health emergency call your local 911 / Police Number immediately.
Dr. Stangline does not offer advice / suggestions to anyone who is not a professional mental health provider, or a student who is studying this field and has questions about mental health programs of study.