Free Anger Management Chart
Anger Management Chart
This anger management chart is great for kids and adults who want to track their angry outbursts.
Try this activity with your anger management students, clients, or yourself to see patterns in your anger and use your anger management coping skills.
My Anger Management Chart
(Color a Lightning Bolt Red to chart your Daily Anger Outbursts for one week)
  You can add lightning bolts to the chart by cutting and pasting additional lightning bolts to the page.
Below the anger management chart you will find questions that need to be answered honestly. Your analysis of your anger will help you in your plan for anger management skills to be utilized.
If you need more lightning bolts cut and paste more on the anger management chart below.
---
Free Personal Anger Management Print Out Chart Below:
Below you will find a free copy of the Anger Management Chart for your daily angry outburst during one week. 
Keep a copy of how many times you get angry in one week. Learn valuable angry coping skills to help you decrease the amount of anger you have each week.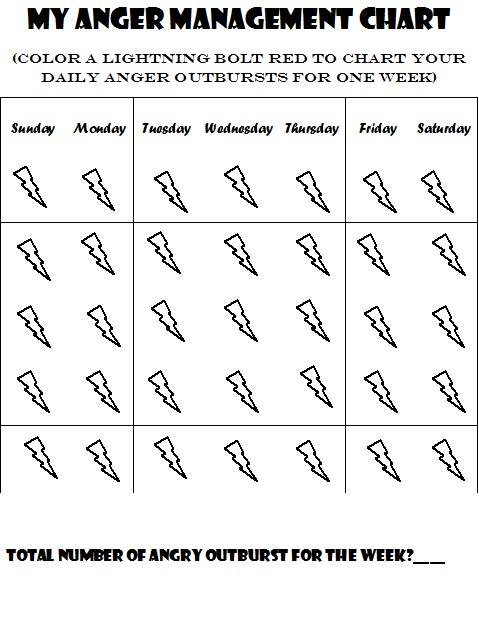 ---
My Anger Management
Analysis Record
Anger Outburst:
Date:                 Time:           
Location:
Reason for Anger:    
Was this anger outburst fear based? Intensity Scale (1 Lowest – 10 Highest):
Anger Management Coping Skill Used:      
Was this anger outburst worth it? ___Yes ____No
Make several copies of the anger management data collection page for your records.
---
See More Anger Management Ideas Here
---
More Creative Counseling Ideas Here
Disclaimer: This website and its content is intended for trained licensed mental health professionals and school certified mental health professionals to use for their clients / students at their own discretion.
*If you ignore the disclaimer above are using these techniques on yourself and you feel any discomfort or upset it is highly suggested that you seek out a licensed  mental health professional immediately.
"Beyond Art Therapy" is the concept from Dr. Stangline that combines all creative fields in therapy. It is not the traditional "art therapy" but goes beyond to include sand tray therapy, play therapy, mindfulness, meditation, color therapy, cognitive behavioral therapy, and a vast majority of other therapies.
For any other type of mental health emergency call your local 911 / Police Number immediately.
Dr. Stangline does not offer advice / suggestions to anyone who is not a professional mental health provider, or a student who is studying this field and has questions about mental health programs of study.