Brain Therapy and Brain Understanding: Learn About Reptile Brain Dysfunction
Learn how to stop "reptile brain dysfunction" with brain therapy!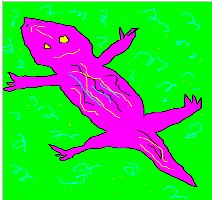 Rationale: The lowest part of the human brain derives from a mammal-like reptile.

This part of the brain is often referred to as the "Reptilian Brain." It's the most ancient part of the brain and a fundamental core of the nervous system.
The "Reptilian Brain" controls bodily functions such as breathing, temperature, heartbeat, etc. It also houses the "fight, flight, or flee" syndrome.
Other reptile brain behaviors such as post traumatic stress, sexual drive, addiction, over eating, paranoia, obsessive-compulsive behaviors, rituals, and anxiety are located here.
This part of the brain is visual and responds well to miniature work.
Materials:
1 bag of reptile or dinosaur miniatures or markers for drawing
Directions:
1. Explain to the client about the "Reptilian Brain" and how stress can cause us to use this part of the brain. When we regress and use this part of the brain we are no longer using logic, only instinctual fear.
2. The goal is to catch yourself before you regress to the "Reptilian Brain". Ask the client to relate to what they are feeling and then translate the negative feeling into a fear. Remember, all negative feelings come from a fear base. The client will then chose a miniature, or draw a picture of a reptile to represent this part of the brain.
3. Process with the client ways to avoid "Reptile Brain Dysfunction". They may wish to try yoga, Tai Chi, Qigong, exercise, self-talk, massage, meditation, or hypnotherapy from a licensed mental health professional.
3. When we are self-aware we are less likely to use our "Reptilian Brain." It is also helpful to understand our belief system and why we believe what we do.
Our belief system is set by the age of six years old. We rarely change our belief system unless we question and challenge it.
Humans are a combination of thoughts and patterns passed down through generations from well meaning family members. Yet sometimes humans get stuck in their beliefs and become rigid.
4. When the client becomes anxious, fearful, obsessive, addicted, etc. ask them to get their reptile miniature or picture out.
Then they can be reminded not to go into "Reptile Brain Dysfunction" and use coping skills to bring them back to rational thinking.
*Inspired by Candace Ford: World's Greatest School Psychologist
Disclaimer: This activity is to be used by licensed mental health professionals only.



Reptile Brain Dysfunction to The Great Human Brain

Reptile Brain Dysfunction to Creative Counseling 101.com Home
Disclaimer: This website and its content is intended for trained licensed mental health professionals and school certified mental health professionals to use for their clients / students at their own discretion.
*If you ignore the disclaimer above are using these techniques on yourself and you feel any discomfort or upset it is highly suggested that you seek out a licensed  mental health professional immediately.
"Beyond Art Therapy" is the concept from Dr. Stangline that combines all creative fields in therapy. It is not the traditional "art therapy" but goes beyond to include sand tray therapy, play therapy, mindfulness, meditation, color therapy, cognitive behavioral therapy, and a vast majority of other therapies.
For any other type of mental health emergency call your local 911 / Police Number immediately.
Dr. Stangline does not offer advice / suggestions to anyone who is not a professional mental health provider, or a student who is studying this field and has questions about mental health programs of study.