Beyond Art Therapy
Catastrophe or Not?



A "Beyond Art Therapy" Critical Thinking Skill Activity with Free Printable Worksheet:





Help your clients problem solve and practice critical thinking skills with this unique Beyond Art Therapy activity.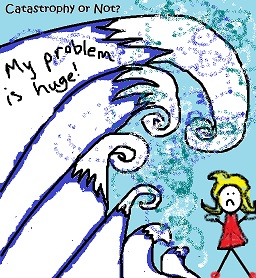 A long time ago I used to use a catastrophe scale worksheet on clients and students that was very complicated.
I changed some things around and came up with this unique Beyond Art Therapy / visual imagery / critical thinking activity.  
The "Catastrophe or Not?" Beyond Art Therapy worksheet is a simplified visual to help clients / students see if their issues are really a catastrophe, or not!  
This activity is a good way to promote critical thinking with all ages. The visual imagery part of the activity will teach your client / student transfer and apply other situations in a critical thinking manner. It will also help clients / students to reframe thinking patterns when they are stuck.
Materials Needed for the Beyond Art Therapy Creative Thinking Activity:
"Catastrophe or Not?" Worksheet Below
Markers or Crayons
Directions for the Beyond Art Therapy "Catastrophe or Not?" Activity
1. Look at the waves on the worksheet. Ask the Beyond Art Therapy client which wave they think matches their problem and then color in the wave chosen.
2. Have the Beyond Art Therapy client / student draw a face and body on the stick figure.
3. Ask the Beyond Art Therapy client / student to visualize what it would be like to be soaked by the wave they chose. Would the wave wash them under the ocean, or just get them wet?
4. Once the Beyond Art Therapy client / student has completed the worksheet and visualization ask the client if the wave they chose was actually the correct one.
For instance, if you have a death in the family you would probably chose the highest wave. If you have someone call you a name you would probably pick one of the smaller waves.
Note: Basically, the smaller waves correlate to smaller problems. The bigger waves correlate to larger problems.  
By using this Beyond Art Therapy worksheet and visual imagery technique the client removes exaggeration and can relate the problem to real life situations in a realistic way.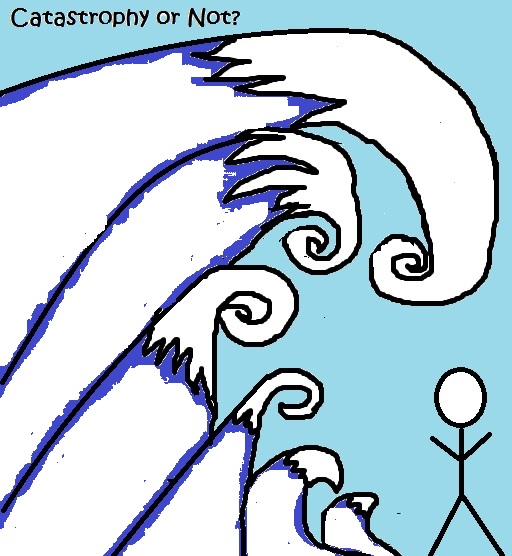 ---
Creative Counseling 101.com Home
Disclaimer: This website and its content is intended for trained licensed mental health professionals and school certified mental health professionals to use for their clients / students at their own discretion.
*If you ignore the disclaimer above are using these techniques on yourself and you feel any discomfort or upset it is highly suggested that you seek out a licensed  mental health professional immediately.
"Beyond Art Therapy" is the concept from Dr. Stangline that combines all creative fields in therapy. It is not the traditional "art therapy" but goes beyond to include sand tray therapy, play therapy, mindfulness, meditation, color therapy, cognitive behavioral therapy, and a vast majority of other therapies.
For any other type of mental health emergency call your local 911 / Police Number immediately.
Dr. Stangline does not offer advice / suggestions to anyone who is not a professional mental health provider, or a student who is studying this field and has questions about mental health programs of study.