Free "Beyond Art Therapy" 
Assessment Activity

"Sunny, Cloudy, Rainy Day" Drawing only from Creative Counseling 101.com
Learn the secrets of "Beyond Art Therapy" and how to assess your clients and students with this drawing activity. You can also identify short term and long term patterns with this "Beyond Art Therapy" assessment.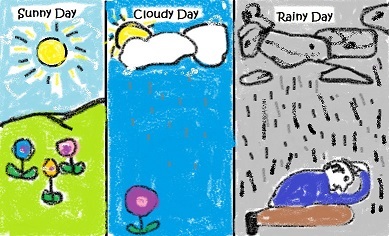 This is a great "Beyond Art Therapy Activity" to assess the client's perspective on life in different stages.
By using the "Sunny, Cloudy, Rainy Day" "Beyond Art Therapy Assessment Activity" you will be able to see how the client views good days, okay days, and terrible days.
Materials Needed for "Sunny, Cloudy, Rainy Day" Beyond Art Therapy Activity Assessment:
White Paper (Large is best) turned horizontal
Markers, Colored Pencils, or Crayons
Directions for "Sunny, Cloudy, Rainy Day" Beyond Art Therapy Assessment Activity:
1. Fold the paper into three sections.
2. Ask the client to label each section at the top of the paper.
3. The first section in this Beyond Art Therapy assessment will be "Sunny Day", the second section will be "Cloudy Day", and the third will be "Rainy Day".
4. Compare and contrast each Beyond Art Therapy section to see if they are balanced between the negative and the positive.
You can see in the drawing above the client made the "Rainy Day" part of the drawing bigger and did not draw himself in the "Sunny or Cloudy Day" slots.  
Explore: Ask your Beyond Art Therapy client to log each day either "Sunny, Cloudy, Rainy" for a week. Discuss this log at the next session.
Continue to log the information from the Beyond Art Therapy activity assessment for a month to see patterns. Discuss these patterns with the client in the short term and long term of "Beyond Art Therapy". 
---
See Color Psychology Information Here
---
See More Creative Counseling Ideas Here
Disclaimer: This website and its content is intended for trained licensed mental health professionals and school certified mental health professionals to use for their clients / students at their own discretion.
*If you ignore the disclaimer above are using these techniques on yourself and you feel any discomfort or upset it is highly suggested that you seek out a licensed  mental health professional immediately.
"Beyond Art Therapy" is the concept from Dr. Stangline that combines all creative fields in therapy. It is not the traditional "art therapy" but goes beyond to include sand tray therapy, play therapy, mindfulness, meditation, color therapy, cognitive behavioral therapy, and a vast majority of other therapies.
For any other type of mental health emergency call your local 911 / Police Number immediately.
Dr. Stangline does not offer advice / suggestions to anyone who is not a professional mental health provider, or a student who is studying this field and has questions about mental health programs of study.