"Beyond Art Therapy" Mandalas: Learn How To Create Mandalas in Creative Therapy & Beyond Art Therapy
"Beyond Art Therapy" Mandalas:
Below is an example of one of my favorite Beyond Art Therapy mandala a student did for her homework assignment. She used flowers to make a cross for her mandala. It represents her faith and in creating the mandala she realized how strong she was.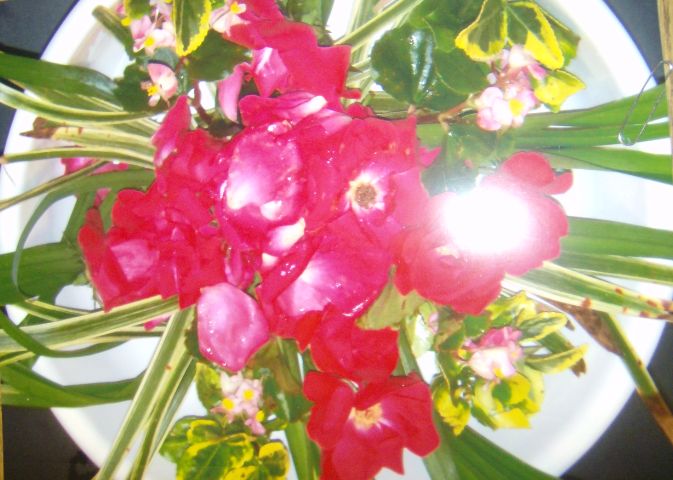 "Beyond Art Therapy" Creative Mandala Ideas Below:
This is actually one of my Beyond Art Therapy,  sand tray therapy, and play therapy classes homework assignments.
1. Use your Beyond Art Therapy mandala training to create a mandala every day. Spend some time each day creating a mandala.
2. Go to www.coloringcastle.com/mandala_coloring_pages.html for some free pages of mandalas you can print out and color.
3. Beyond Art Therapy Flower Mandala: Create a beyond art therapy flower mandala with fresh or artificial flowers.
4. Beyond Art Therapy Clay Mandala: Use clay and sculpt or scratch in ideas for your beyond art therapy mandala.
5. Sand Tray Mandala: Draw a circle in the sand tray and build a sand tray mandala.
6. Beyond Art Therapy Sand Picture Mandala: Use colored sand and glue to create a beyond art therapy sand mandala.
5. Beyond Art Therapy / Sand Tray Therapy Dirt Mandala: Go outside and create a mandala in the dirt. Use natural items to add to your circle. 6. Nature Mandala: Draw a mandala using nature as your inspiration. Include a tree, streams, mountains, etc. in your drawing.
7. Other: Take items from nature and outside to build a mandala.
8. Seashell Mandala: Make a mandala out of seashells.
9. Beach Glass Mandala: Make a mandala out of beach glass.
10. Ocean Mandala: Make an ocean mandala out of materials from the sea or beach.
11. Beach Outdoor Mandala: Create a mandala on the beach and around to add items to it. Allow the sea to wash it away.
12. Beyond Art Therapy Self-Portrait Mandala: Create a vision of yourself or parts of yourself inside the mandala.
13. Pasta Mandala: Use different pasta to create a mandala.
14. Beyond Art Therapy Above / Below Mandala: Draw a line through the center of the mandala (Side to side). Put items on top and on the bottom.
15. Beyond Art Therapy Behind / Ahead Mandala: Draw a line in the center from top to bottom. Put the past on one side and the future on the other side.
16. Affirmation Mandala: Pick an affirmation or affirmations and create a mandala with these sentences.
17. Healing Mandala: Show the need to heal a part or pieces of you.
18: Teaching Mandala: What do you need to teach? Learn?
19. Spiritual Mandala: What does your spirit need to say?
20. Other Creative Mandala: Create your own mandala. Use any material you want to. There is no right or wrong way to do a mandala.
21. Create a "Three Wishes Mandala": Put three wishes into a mandala. Look for the wish you really need to have happen.
22. Beyond Art Therapy Family Portrait Mandala: Create a family portrait in your mandala.
23. Travel Mandala: Create a mandala of your favorite vacation or of a place you would like to visit.
24. Group Mandala: Create one mandala with a family or work members. This type of mandala helps the bonding process.
More Creative Mandalas to Creative Mandalas
More Creative Mandalas to Creative Counseling 101 Home
Disclaimer: This website and its content is intended for trained licensed mental health professionals and school certified mental health professionals to use for their clients / students at their own discretion.
*If you ignore the disclaimer above are using these techniques on yourself and you feel any discomfort or upset it is highly suggested that you seek out a licensed  mental health professional immediately.
"Beyond Art Therapy" is the concept from Dr. Stangline that combines all creative fields in therapy. It is not the traditional "art therapy" but goes beyond to include sand tray therapy, play therapy, mindfulness, meditation, color therapy, cognitive behavioral therapy, and a vast majority of other therapies.
For any other type of mental health emergency call your local 911 / Police Number immediately.
Dr. Stangline does not offer advice / suggestions to anyone who is not a professional mental health provider, or a student who is studying this field and has questions about mental health programs of study.