The Angry Tornado
An Anger Management Activity

This anger management activity can show a client how anger can build up inside a person.
It can also show the client that when they feel an angry tornado building up inside of them they can use coping skills to help defuse the anger.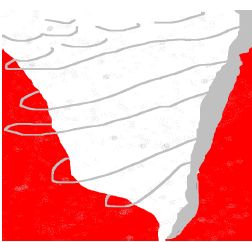 Materials Needed for Anger Management Tornado Activity:
One Empty Plastic Bottle w/lid (rinsed and clean) 
Water 
Paper and markers
Two drops of regular clear dish soap 
One drop of Food Coloring (Red for anger)
Glitter: Red (Anger), Blue (Sad), Purple (Embarrassed), Green (Envy), Yellow or Gold (Happy), Multicolor (Mixed Feelings), Black (Anxious)

Water proof tokens of choice to represent some type of anger management meaning to the client.
Directions for Anger Management Tornado Activity:

1. Process with the client and discuss the wave of emotions being felt within the body (grief, stress, anger, etc.). Identify the color felt. 

For example if grief is experienced it may be a blue color, anger might be red in color.
2. Explain to the client that emotional anger can look like a tornado inside us sometimes. The angry  tornado does not stay forever, but comes and goes at different times due to events that happen to us.
Process what events might trigger an angry tornado to happen inside the client to help with anger management.

3. Ask the client to create a tornado in the bottle by adding water, food coloring, glitter, and tokens of choice. Make a bottle to demonstrate this. 
Fill the anger management tornado bottle three quarters of the way with water. Add dish soap, food coloring of choice, and glitter, or waterproof objects (client's choice). 
Glue the top on to the anger management tornado bottle to keep it from spilling.
4. Shake the anger management tornado bottle up and down. Swirl it around. Make it resemble an angry tornado.
Now ask the client to do the same thing. Then come back to the bottle after a few minutes and see how calm the water in the bottle is.
5. Process with the client about how anger can "tornado" up inside of each of us.
Get the client to name some things they can do to calm the "tornado" inside of them. Make a list for the client to reference later on when they get angry, or upset.
6. The client can take the bottle home as a reminder that anger comes and goes. It is a natural occurrence with human beings. However, as with the tornado in the bottle things eventually settle down and go back to a normal baseline. 
By using this visual, the client can understand their own anger and have a list of coping skills handy to go to when the anger strikes.
See More Anger Management Ideas Here
---
See More Creative Counseling Ideas Here
Disclaimer: This website and its content is intended for trained licensed mental health professionals and school certified mental health professionals to use for their clients / students at their own discretion.
*If you ignore the disclaimer above are using these techniques on yourself and you feel any discomfort or upset it is highly suggested that you seek out a licensed  mental health professional immediately.
"Beyond Art Therapy" is the concept from Dr. Stangline that combines all creative fields in therapy. It is not the traditional "art therapy" but goes beyond to include sand tray therapy, play therapy, mindfulness, meditation, color therapy, cognitive behavioral therapy, and a vast majority of other therapies.
For any other type of mental health emergency call your local 911 / Police Number immediately.
Dr. Stangline does not offer advice / suggestions to anyone who is not a professional mental health provider, or a student who is studying this field and has questions about mental health programs of study.