Play Therapy Doll House
Student Example 2
Lasonya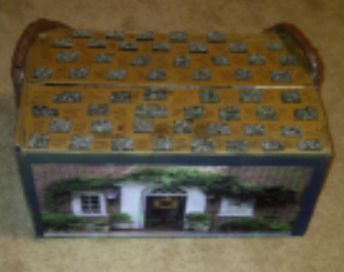 Here is another one of my talented students. She chose to build an apartment house her father lived in.
This was truly one of the most creative play therapy doll house (apartment) I have ever seen. The doll house opens up into a living area with kitchen, den, bath, and bedroom.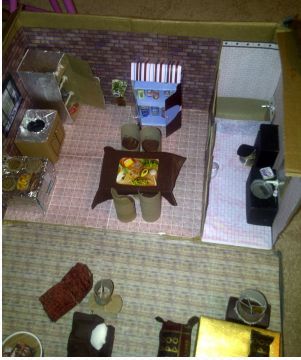 Everything inside the apartment doll house is hand made, or recycled to look like something.
I know she spent a lot of time on this apartment. It was made of mostly cardboard, but I have never seen such attention to detail with the handmade furniture items.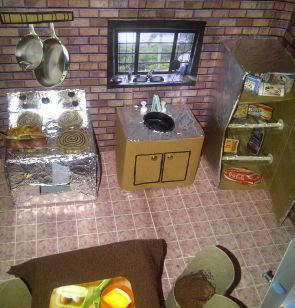 Look at the details of the handmade kitchen items. Each detail is amazing!
One can tell that a lot of love and care went into this play therapy doll house apartment. I know this gifted play therapy student will treasure it forever.
Notice the tiny trash can in the bathroom. It is a bottle top. Even the toilet paper and toilet paper holder were homemade.
Any child would love to play in this doll house apartment. Adults can also use this play therapy activity. I found this activity to be one of the most powerful tools to use with adults.
When you build your childhood home, or conglomeration of your childhood homes, you find missing pieces of yourself. Your inner child reawakens.
I ask my students to show me a typical scene of their childhood life. I would say that about 8 out of ten students started to cry as they reenacted their scenes with their family miniatures.
It was as if a powerful force took them out of the present into the past. Some students used different miniatures to recreate their family members. They often use animals or things to represent family.
The play therapy doll house is a tool that is similar to the Sand Tray. Make sure you are under supervision or are a trained in play therapy before attempting this powerful activity on clients.
It is also good to build your own childhood home(s). I always say before you use a tool on a client, you need to do it yourself first.
Play Therapy Doll House Example 2 to Creative Counseling Home

Play Therapy Doll House Example 3 to Doll House Play Therapy
Disclaimer: This website and its content is intended for trained licensed mental health professionals and school certified mental health professionals to use for their clients / students at their own discretion.
*If you ignore the disclaimer above are using these techniques on yourself and you feel any discomfort or upset it is highly suggested that you seek out a licensed  mental health professional immediately.
"Beyond Art Therapy" is the concept from Dr. Stangline that combines all creative fields in therapy. It is not the traditional "art therapy" but goes beyond to include sand tray therapy, play therapy, mindfulness, meditation, color therapy, cognitive behavioral therapy, and a vast majority of other therapies.
For any other type of mental health emergency call your local 911 / Police Number immediately.
Dr. Stangline does not offer advice / suggestions to anyone who is not a professional mental health provider, or a student who is studying this field and has questions about mental health programs of study.