Now You Can Order Your School Counselor Guidance Kit on "Charity"

Meet "Snowflake" the Warm Fuzzy Feeling for Charity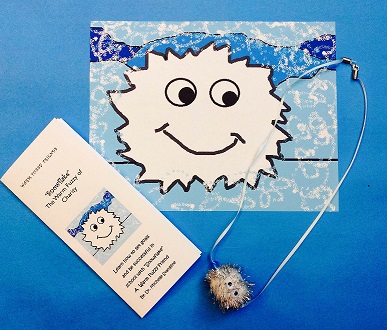 Now, you can be a super school counselor, or teacher, when you do your school counselor guidance lesson on "Charity".

Your "Charity" School Counselor Guidance Kit includes the following:
1. A Custom Made Warm Fuzzy "Snowflake" Necklace (18 inches)
2. A brochure with the story of "Snowflake and the Winter Wind" plus ideas to help your students practice "Charity". This brochure can be shared with parents and teachers. 
3. A mini poster of "Snowflake" personally signed by the artist, Dr. Michelle Stangline.
4. For a limited time you will also receive lesson plans for grades kindergarten through fifth based on the story of "Snowflake and The Winter Wind" and the character word of the month, "Charity".

 Find the "Buy Now Button" Here:
Six Lesson Plans, Character Word of the Month Story, Warm Fuzzy Necklace, Mini Poster, and Brochure for only $14.95 (Plus a Shipping and Handling Fee of $5.00)

*Please allow two weeks for orders in the United States, and three weeks for international orders. 

ALL MAJOR CREDIT CARDS, DEBIT CARDS, AND PAYPAL ACCEPTED:
Please see below for information using credit cards.... Visa, Master Card, Discover, American Express credit cards, Debit cards, and PayPal are all accepted.
Directions:
1. Hit the Buy Now Button to your right on this page. You will come to the "Pay with a Paypal Account" first. If you want to use Paypal proceed with the "Paypal Sign In."
2. If you want to use a major credit card, or debit card look directly below the Paypal Payment Sign In and click the link, "Don't Have a Paypal Account?" Click this link.  
*This will take you to the major credit card and debit card section and allow you to use your credit or debit card.
See Other eBooks For Sale here:


Creative Counseling 101 eBooks for Sale
---
See More School Counselor Guidance Lessons and Guidance Lesson Kits
---
Creative Counseling 101.com Home
Disclaimer: This website and its content is intended for trained licensed mental health professionals and school certified mental health professionals to use for their clients / students at their own discretion.
*If you ignore the disclaimer above are using these techniques on yourself and you feel any discomfort or upset it is highly suggested that you seek out a licensed  mental health professional immediately.
"Beyond Art Therapy" is the concept from Dr. Stangline that combines all creative fields in therapy. It is not the traditional "art therapy" but goes beyond to include sand tray therapy, play therapy, mindfulness, meditation, color therapy, cognitive behavioral therapy, and a vast majority of other therapies.
For any other type of mental health emergency call your local 911 / Police Number immediately.
Dr. Stangline does not offer advice / suggestions to anyone who is not a professional mental health provider, or a student who is studying this field and has questions about mental health programs of study.